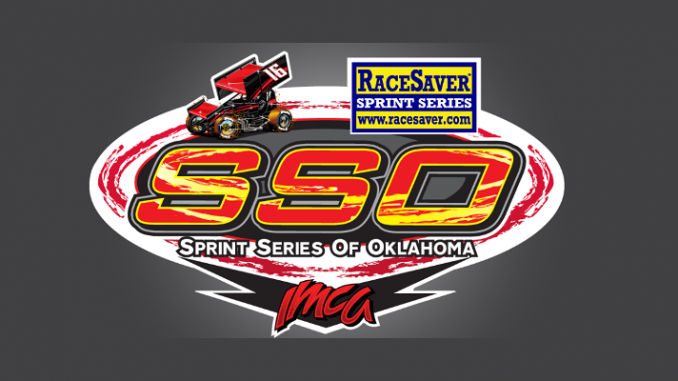 By David Smith Jr.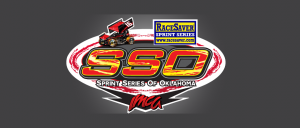 Oklahoma City, Oklahoma – July 10, 2017 – It will be a night of series' first for the Sprint Series of Oklahoma IMCA RaceSaver Sprint Car Series presented by Smiley's Racing Products as they make their way to Red Dirt Raceway in Meeker, Oklahoma this coming Friday night for the makeup-running of the "Freedom 40" event that was rained out back on June 30.
Contributions to the purse, to the tune of $1500, has been added to make this the largest purse in the two-year history for the series with Friday night's feature winner earning $1000. Just to start the twenty-car feature finale pays $275. A full night of heat races, last chance and the 40-lap feature finale will be on tap, the most laps ever run the series.
The night's racing action will conclude with a huge-fireworks show.
Jake Martens of Fairview, Oklahoma is winless thus far this season but holds a 21-point lead over defending series champion Andy Shouse. Shouse currently has three victories on the season and four in the two-year history for the series.
Wichita Falls, Texas driver Chad Koch (one feature victory on the season) sits third in the standings (-28) while Loyd Clevenger (-53) and Joe Wood, Jr. (-55) are the top five in the standings.
Sixth through tenth are Chris Kelly, Tristan Oakes, Justin Fisk, Cody Whitworth and Brandon Long.
Drivers also expected to compete include Shayla Waddell, Jerry Jumper, Steven Shebester, Dillon Laden, Gary Owens, Blake Scott, Justin Mowery, Chase Smith, James Fabian, Tanner Conn and Blake Daccus.
The SSO has visited Red Dirt Raceway/Brill Motor Speedway three times with the highest car count earlier this season (27) and the lowest (19 last season in the series debut. Thirty-five different drivers have from three states have competed in at least one event on the quarter-mile red dirt oval in Meeker. Shouse (2) and Martens have reached victory lane there.
Officials with the Sprint Series of Oklahoma IMCA RaceSaver Sprint Car Series presented by Smiley's Racing Products would like to thank the following for contributing to the purse for this event: Tim Young at Young Tool and Equipment; Paul Martens and Martens Machine Shop in Fairview; Bishop Racing Components; Victory Motorsports and Messmer Racing LLC.
Don't forget our regular race contingency partners Smiley's Racing Products; Keizer Wheels; Saldana Racing Products; Pyrotech Fuel Cells; Competition Suspension and partners Danny Holloway, Bishop Racing Components, Martens Machine Shop, Outlaw Wings and Messmer Racing LLC.
Below is the official payout for this coming Friday night's "Freedom Forty" event at Red Dirt Raceway:
Feature Finale: 1) $1000, 2) $600, 3) $500, 4) $400, 5) $375, 6) $350, 7) $345, 8) $340, 9) $335, 10) $330, 11) $325, 12) $325, 13) $325, 14) $315, 15) $310, 16) $305, 17) $275, 18) $275, 19) $275, 20) $275
B Feature: 1-4) Transfer, 5) $200, 6) $125, 7) $125, 8) $125
Balance of non-qualifiers will receive $100
Gates will open at 5:00 PM; Drivers meeting at 6:30 PM and race action will start at 8:00 PM. Also on the tracks racing card will be the "Pure Stock Fight Night" that will pay $400 to the pure stock feature winner while the tracks sport mod and dwarf cars will also be in action. There will also be a huge fireworks display after the night's racing action.
Grandstand admission will be just $15 for adults while children 10 and under will be admitted into the grandstands for free.
Pending where you are coming, here are the directions to Red Dirt Raceway:
Track directions:
From the Turner Turnpike (I-44): Exit at Chandler, 10 miles south of highway 66 on state highway 18
From I-40: Exit 186, North 16 miles on state highway 18
For more information call the track (405) 318-0198 or visit their official website www.reddirtraceway.com.
More SSO race information including purse and format, highlighted by the night's forty lap feature finale, will be announced in the next day or so.
To learn more about the Sprint Series of Oklahoma check out their official facebook page: Sprint Series of Oklahoma. More information can be obtained by SSO director Jim Messmer (405) 417-2202 and for technical inquires call Ernie Messmer (405) 818-9007.
Current 2017 Sprint Series of Oklahoma Point Standings (through 6/24):
1) Jake Martens 258, 2) Andy Shouse 237, 3) Chad Koch 230, 4) Loyd Clevenger 205, 5) Joe Wood Jr. 203, 6) Chris Kelly 182, 7) Tristan Oakes 156, 8) Justin Fisk 152, 9) Cody Whitworth 151, 10) Brandon Long 145, 11) Michelle Melton 136, 12) Shayla Waddell 122, 13) Jerry Jumper 118, 14) Steven Shebester 115, 15) Dillon Laden 115, 16) Gary Owens 113, 17) Michael Day 110, 18) Zach Blurton 103, 19) Blake Scott 99, 20) Brandon Anderson 93