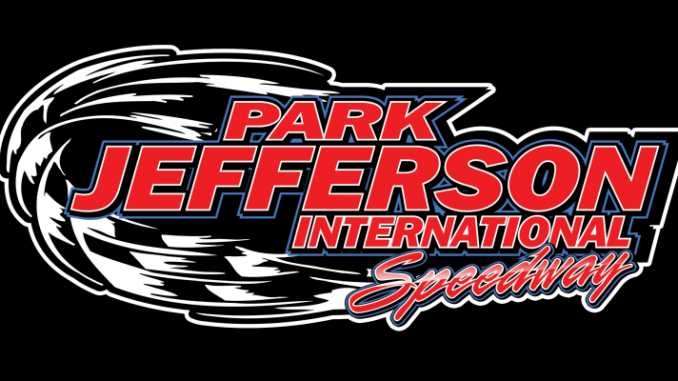 A to Z Promotions


On a race day with temperatures touching 98 and a heat index of 101, the racing action was just as hot as the final 2 features had last lap passes to end an exciting night of racing courtesy of Motor Parts Central and Central Automotive Machine.
The big shootout featuring the Carpetland Nebraska 360 Sprints vs. the Midwest Sprint Touring series featuring the Keizer Wheels 360 Sprint Cars saw Jody Rosenboom and Seth Brahmer jump into the top 2 spots from the starter stand. Working the low line of the dried out surface, Rosenboom continue on the point. Meanwhile, Nebraska's Jordan Boston and Cody Ledger found the remnants of the cushion and hammered their way past a number of cars to challenge for the top spot. Ledger, who was coming off a victory last week, was particularly impressive and able to pull to within a couple of car lengths of Brahmer. After a daring pass of Brahmer, Ledger set his sights on Rosenboom. After following Rosenboom low through 1 and 2 a slip up the track gave Ledger the inches he needed to take the win by a couple of tenths of a second over Jody Rosenboom and Seth Brahmer. Jordan Boston came from 8th to finish fourth. Greg Bakker and track point leader Cody Hansen both earned hard charger honors with by advancing 8 positions.
The IMCA RACESaver Sprints saw "The Combine" Dusty Ballenger take the top spot over previous feature winners Casey Abbas and Colin Smith. Abbas who has figured out the perfect setup for Park, was able to challenge Ballenger multiple times but in the end Ballenger's experience was too much to overcome.
Park Jefferson is dark this Saturday night but will return to action on July 29th for Liberty National Banks $5 night with adult tickets only $5 and children and senior tickets just $1.
Park Jefferson Speedway
Jefferson, SD
Saturday July 15, 2017
Midwest Sprint Touring Series
Heat Race #1 (8 Laps): 1. 14-Jody Rosenboom, [2]; 2. 76-Jay Russell, [4]; 3. 17G-Lee Goos Jr, [1]; 4. 4J-Lee Grosz, [5]; 5. 82-Eric Lutz, [6]; 6. 51A-Elliot Amdahl, [3]
Heat Race #2 (8 Laps): 1. 35L-Cody Ledger, [3]; 2. 82X-Jordan Boston, [6]; 3. 101-Chuck McGillivray, [1]; 4. 77-John Klabunde, [4]; 5. 11X-Gregg Bakker, [5]; 6. 34-Darren Orth, [2]
Heat Race #3 (8 Laps): 1. 18-Ryan Roberts, [4]; 2. 13V-Seth Brahmer, [1]; 3. 22-Shawn Murray, [6]; 4. 2H-Bill Boles, [3]; 5. 4-Cody Hansen, [5]; (DQ) 25-Dylan Peterson, [2]
Heat Race #4 (8 Laps): 1. 17H-Ryan Bickett, [2]; 2. 48-Talor Forbes, [1]; 3. 12L-John Lambertz, [4]; 4. 42-Mike Kay, [5]; 5. 17B-Jason Becker, [3]; 6. 8B-Bobby Becker, [6]
B-Main (12 Laps): 1. 11X-Gregg Bakker, [2]; 2. 82-Eric Lutz, [1]; 3. 25-Dylan Peterson, [8]; 4. 4-Cody Hansen, [3]; 5. 51A-Elliot Amdahl, [6]; 6. 8B-Bobby Becker, [5]; 7. 17B-Jason Becker, [4]; 8. (DNF) 34-Darren Orth, [7]
A-Main (25 Laps): 1. 35L-Cody Ledger, [5]; 2. 14-Jody Rosenboom, [2]; 3. 13V-Seth Brahmer, [1]; 4. 82X-Jordan Boston, [8]; 5. 17H-Ryan Bickett, [3]; 6. 18-Ryan Roberts, [4]; 7. 4J-Lee Grosz, [11]; 8. 11X-Gregg Bakker, [17]; 9. 76-Jay Russell, [6]; 10. 12L-John Lambertz, [10]; 11. 22-Shawn Murray, [9]; 12. 4-Cody Hansen, [20]; 13. 77-John Klabunde, [15]; 14. 17G-Lee Goos Jr, [13]; 15. 101-Chuck McGillivray, [14]; 16. 42-Mike Kay, [12]; 17. (DNF) 2H-Bill Boles, [16]; 18. (DNF) 82-Eric Lutz, [18]; 19. (DNF) 25-Dylan Peterson, [19]; 20. (DNF) 48-Talor Forbes, [7]
IMCA Sprint Cars
Heat Race #1: 1. 17V-Casey Abbas, [2]; 2. 05-Colin Smith, [3]; 3. 20-John Lambertz, [4]; 4. 2D-Dusty Ballenger, [5]; 5. 55-Richard Weers, [6]; 6. 33-Trevor Smith, [7]; 7. (DNF) 77R-Taylor Ryan, [1]; (DNS) 7L-Jesse Lindberg,
A-Main: 1. 2D-Dusty Ballenger, [4]; 2. 17V-Casey Abbas, [1]; 3. 05-Colin Smith, [2]; 4. 33-Trevor Smith, [5]; 5. 55-Richard Weers, [6]; 6. 7L-Jesse Lindberg, [8]; 7. 77R-Taylor Ryan, [7]; 8. (DNF) 20-John Lambertz, [3]