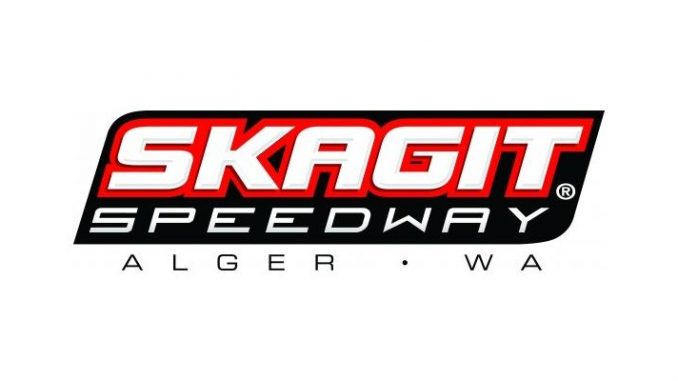 From Kaleb Hart
ALGER, Wa. (July 22, 2017) — The Budweiser 360 Sprint Cars made their final appearance before next week's $10k to win Bob's Burgers & Brew Summer Nationals, with Robbie Price standing tall in victory lane at the end of the night at Skagit Speedway. Joining Robbie in collecting top honors were Michael Bollinger, Kevin Smith and Brian Michelson.
Two weeks in a row of winning has Robbie Price feeling confident heading into next weekend's Bob's Burgers & Brew Summer Nationals. Similar to his previous win in the Budweiser 360 Sprints. Price got out to an advantage on the field lap one and just let the car rip around the top in going wire to wire for his third victory of the season. Colton Heath was the runner up with Jason Solwold advancing from eighth to take third. Solwold was the fast qualifier. Heat winners were Heath and Cam Smith.
There's nothing like the feeling of a first win. Michael Bollinger experienced that sensation Saturday night when he won his first Skagit Speedway main event in the Cook Road Shell Sportsman Sprint division. Bollinger made a mid race adjustment to his line, taking to the high side around lap 12 and finding the combination to pass Ashleigh Johnson for the lead on lap 15. Bollinger went on to survive multiple restarts to take his first victory ahead of Kelsey Carpenter and Cory Swatzina. James Bundy, Steve Parker and Swatzina were heat winners.
Kevin Smith continued his dominant run in the High Society Modifieds. Kevin led every lap of the main event once again en route to victory lane and extended his point lead in the process. Mel Decker finished a season best second with Craig Moore taking third. Heat wins went to Kevin and his brother Rick Smith.
A savvy move on a late race restart sealed the deal for Brian Michelson in the Outlaw Tuner division. After taking the lead from Dylan Acidera on lap 13, Michelson was faced with a restart following a caution for Acidera with 14 laps complete. Vance Hibbard, he of three straight wins was right behind Brian for the restart but got caught napping as Michelson restarted the race at the earliest possible point, adding the distance he needed from Hibbard to scoot away for his first win of the year. Vance would settle for second with DJ Beaver taking third. Clint Meins won the heat.
Budweiser 360 Sprints
Fast Time – Jason Solwold 11.745
Heat 1 – Colton Heath, Jason Solwold, Eric Fisher, Steve Reeves, Brandon Harkness, Barry Martinez, Steve James
Heat 2 – Cam Smith, Robbie Price, Jared Peterson, Luke Didiuk, Trevor Cook
Main – Robbie Price, Heath, Solwold, Peterson, Fisher, Harkness, Cook, Martinez, Didiuk, Smith, Bud Ashe, James, Reeves
Lap Leaders – Price 1-25
Cook Road Shell Sportsman Sprints
Fast Time – Kelsey Carpenter 12.398
Heat 1 – James Bundy, Paul Burdick, Devin Barnes, Kelsey Carpenter, Derek Roberts, Bert Johnson Jr, Trevor Cook
Heat 2 – Steve Parker, Ashley Lewellen, Michael Bollinger, Adam Hinds, Michael Millard, Raquel Ivie, Bill Rude
Heat 3 – Cory Swatzina, Brett McGhie, Ashleigh Johnson, Michael Hodel, Bailey Sucich, Julian Fuentes
Main – Michael Bollinger, Carpenter,, Swatzina, Parker, McGhie, Johnson, Millard, Hinds, Roberts, Ivie, Sucich, Rude, Fuentes, Bundy, Johnson Jr, Barnes, Lewellen, Hodel, Burdick, Cook
Lap Leaders – Johnson 1-14 Bollinger 15-26
High Society Modifieds
Heat 1 – Rick Smith, Mel Decker, Craig Moore, Louis Nutter Jr, Jeff Blanton, Adam Holtrop, Lawrence O'Connor
Heat 2 – Kevin Smith, Dan Butenschoen, Brandon Berg, Mike Knox Jr, Becky Boudreau, John Snyder, Josh Richardson
Main – Kevin Smith, Decker, Moore, R Smith, Holtrop, O'Connor, Berg, Nutter Jr, Blanton, Knox Jr, Snyder, Butenschoen, Boudreau, Richardson
Lap Leaders – K Smith 1-25
Outlaw Tuners
Heat – Clint Meins, Brian Michelson, Vance Hibbard, Dylan Acidera, Intars Spunde, DJ Beaver, TJ Campbell, Trevor Dugent, Chad Terwisscha
Main – Brian Michelson, Hibbard, Beaver, Spunde, Meins, Dugent, Campbell, Acidera
Lap Leaders – Beaver 1 Meins 2-6 Acidera 7-12 Michelson 13-17