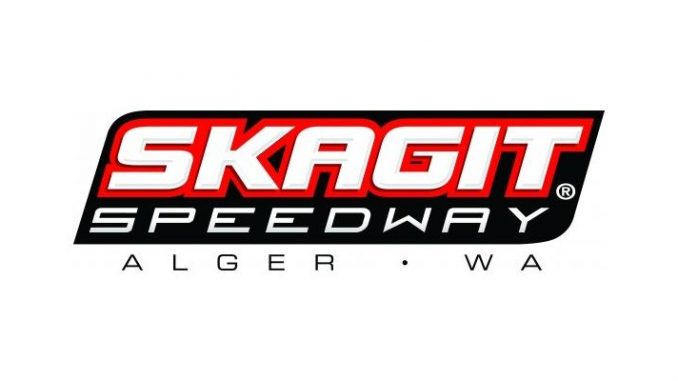 From Kaleb Hart
ALGER, Wa. (August 5, 2017) – Smoke filled skies couldn't compare to Michael Bollinger's hot performance on the track as he won for the second time in a row at Skagit Speedway in the Cook Road Shell Sportsman Sprints. Joining him in victory lane were Rick Smith and Curtis Ellis.
In the Cook Road Shell Sportsman Sprint division, Bill Rude led the first three laps until mechanical woes slowed him, handing the lead to Bollinger. Michael, who won his first feature two weeks ago, was nearly untouchable in front of the field, leading the rest of the way comfortably on his way to victory lane. Brett McGhie was second with Steve Parker taking home third. Kelsey Carpenter was quick time and won the first heat race. Other heat winners were Ashleigh Johnson and Chris Ochs.
Rick Smith made his first appearance in victory lane at Skagit Speedway in 10 years, taking home the win in the High Society Modifieds. Holding off his brother Kevin for over 20 laps, brother Rick scored the victory with Craig Moore getting around Kevin late for the second spot. Rick and Kevin were also the heat race winners.
Curtis Ellis made a 24 hour round trip from Alberta worth the tow by winning the Outlaw Tuner feature. Ellis and Jon Gunderson waged war in front of the field with Ellis taking the lead from Gunderson for good on lap 10. Gunderson took second and Ryan Ellis picked up position 3.
Cook Road Shell Sportsman Sprints
Fast Time – Kelsey Carpenter 12.164
Heat 1 – Kelsey Carpenter, Devin Barnes, Derek Roberts, Brett McGhie, James Bundy, Julian Fuentes
Heat 2 – Ashleigh Johnson, Michael Bollinger, Cory Swatzina, Adam Hinds, Bert Johnson Jr, Ashley Lewellen
Heat 3 – Chris Ochs, Michael Hodel, Bill Rude, Bailey Sucich, Steve Parker, James Setters
Main – Michael Bollinger, McGhie, Parker, Carpenter, Roberts, Barnes, Bundy, Sucich, Hinds, Rude, Setters, Lewellen, Johnson, Ochs, Hodel, Swatzina, Johnson Jr
Lap Leaders – Rude 1-3 Bollinger 4-26
High Society Modifieds
Heat 1 – Kevin Smith, Adam Holtrop, Brandon Berg, Louis Nutter Jr, DQ – Mel Decker
Heat 2 – Rick Smith, Craig Moore, Geoff Needham, Roger Drake, Becky Boudreau
Main – Rick Smith, Moore, K Smith, Decker, Drake, Berg, Boudreau, Needham, Holtrop, Nutter Jr
Lap Leaders – Moore 1 R Smith 2-25
Outlaw Tuners
Heat 1 – Ryan Ellis, Cody Bunting, Curtis Ellis, Vance Hibbard, DJ Beaver, Intars Spunde
Heat 2 – Brian Michelson, Jon Gunderson, Clint Meins, Chad Terwisscha, Howard Vos, Jack Desrosier, TJ Campbell
Main – Curtis Ellis, Gunderson, R Ellis, Bunting, Meins, Hibbard, Michelson, Beaver, Spunde, Terwisscha, Desrosier, Campbell, Vos
Lap Leaders – Gunderson 1-9 C Ellis 10-17