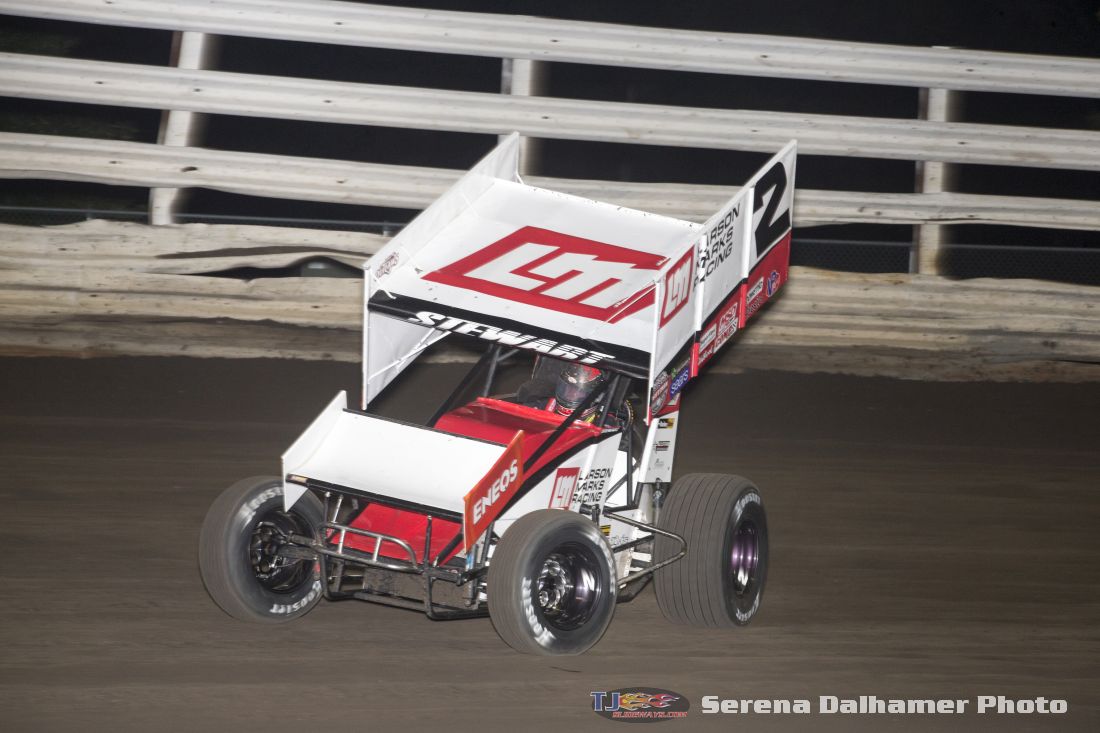 From Anthony Corini
RAPID CITY, S.D. – August 25, 2017 – It was a record-breaking night for Shane Stewart and his Larson/Marks Racing No. 2 team Friday at the Black Hills Speedway. Stewart set a new track record in Qualifying with a blistering lap of at 14.861 around the half-mile oval. Stewart threw a slide job on Brad Sweet on lap eight in the feature for the lead and never looked back, scoring his fifth win of year. Sheldon Haudenschild started sixth and charged forward for a career-best second place run, while Sweet settled for third.
Sweet set a strong pace early before a lap six caution for fourth place running Jason Johnson bunched the field back together and set up a double-file restart. Sweet elected the bottom line, allowing Stewart to get a huge run off the cushion and take command of the field on lap eight. Clyde Knipp, with a flat right rear, brought out the final caution of the evening.
Stewart built a sizable lead, masterfully working through the array of the lapped cars scattered around the track. Sweet closed in one last time looking for the lead, but simultaneously left the door open for Sheldon Haudenschild who charged by both he and Donny Schatz within a lap of each other. Sheldon, in his first appearance at the Black Hills Speedway, was quicker than Stewart in the closing laps but could never mount a true challenge for the lead as he watched Stewart take the twin checkered flags, his fifth win of the season.
"We unloaded fast and we were able to keep that momentum going throughout the night," a relieved Stewart said in Victory Lane. "I got a little nervous late there; the cushion got a little hairy to hit a couple of times. You just can't hesitate [in traffic] with these guys. If you do, you're going to get passed. Fortunately, I saw the white flag."
Stewart's pass for the lead was a daring one using a big run off the top of the track to set up a slider on Sweet. Upon taking the lead Stewart continued to rely on the cushion, "Once I made it work, I said to myself I'm not going to come off this [cushion] until someone shows me a nose underneath."
The win was Stewart's fifth of the season and third since joining forces with Lee Stauffer in late June. "I can't thank my guys enough. We've been through a lot of crew chiefs this year before finding Lee. Now we're starting to get our act together," the Bixby, OK native said.
Sheldon's second place finish was the best of his young World of Outlaws Craftsman Sprint Car Series career. "We had a fast car all night. I put ourselves back on the restart. We fell back and had to do some work to get back up there. Overall, I can't thank my guys enough. We had a fast race car," the leading contender for Kevin Gobrecht Rookie of the Year said.
After leading seven laps, Sweet settled for third. "I wasn't real sure where to go on that restart. I chose low, then didn't hit the bottom good and that opened the door for Shane. It's always good to be on the front stretch at the end of the night. Hopefully we can pick up some wins on the West Coast," Sweet, a California native, said.
Schatz and Daryn Pittman completed the top five. Brent Marks, in his Black Hills Speedway debut, picked up another KSE Hard Charger award coming from 14th to eighth.
Saturday night the World of Outlaws Craftsman Sprint Car Series heads west to Billings, Montana to compete at the BMP Speedway for the first time since 2008.
World of Outlaws Craftsman Sprint Car Series
Black Hills Speedway
Rapid City, SD
Friday August 25, 2017
Qualifying: 1. 2-Shane Stewart, 14.831; 2. 5-David Gravel, 14.919; 3. 9-Daryn Pittman, 14.977; 4. 49-Brad Sweet, 15.022; 5. 15-Donny Schatz, 15.032; 6. 93-Sheldon Haudenschild, 15.09; 7. W20-Greg Wilson, 15.198; 8. 35-Jamie Veal, 15.199; 9. 41-Jason Johnson, 15.206; 10. 7S-Jason Sides, 15.212; 11. 17-Jac Haudenschild, 15.233; 12. 4-Paul McMahan, 15.255; 13. 13-Clyde Knipp, 15.267; 14. 19-Brent Marks, 15.283; 15. 41S-Dominic Scelzi, 15.348; 16. 11K-Kraig Kinser, 15.351; 17. 3-Tim Kaeding, 15.416; 18. 1S-Logan Schuchart, 15.563; 19. 17M-Max McGhee, 15.614; 20. 1A-Jacob Allen, 15.996; 21. O-Ned Powers, 16.382; 22. 2JR-Kelly Miller, 16.485; 23. 14-Ben Holmberg, 17.451; 24. 7-Mike Sires, 17.949; 25. 4X-Adam Speckman, 18.699
Heat #1 (8 Laps) – Top 6 Transfer – 1. 2-Shane Stewart [1]; 2. 49-Brad Sweet [2]; 3. 7S-Jason Sides [4]; 4. W20-Greg Wilson [3]; 5. 11K-Kraig Kinser [6]; 6. 13-Clyde Knipp [5]; 7. 17M-Max McGhee [7]; 8. 2JR-Kelly Miller [8]; 9. 4X-Adam Speckman [9]
Heat #2 (8 Laps) – Top 6 Transfer – 1. 15-Donny Schatz [2]; 2. 5-David Gravel [1]; 3. 17-Jac Haudenschild [4]; 4. 3-Tim Kaeding [6]; 5. 19-Brent Marks [5]; 6. 35-Jamie Veal [3]; 7. 1A-Jacob Allen [7]; 8. 14-Ben Holmberg [8]
Heat #3 (8 Laps) – Top 6 Transfer – 1. 41-Jason Johnson [3]; 2. 93-Sheldon Haudenschild [2]; 3. 9-Daryn Pittman [1]; 4. 4-Paul McMahan [4]; 5. 1S-Logan Schuchart [6]; 6. 41S-Dominic Scelzi [5]; 7. 7-Mike Sires [8]; 8. O-Ned Powers [7]
Craftsman Club Dash (6 Laps) – 1. 49-Brad Sweet [1]; 2. 2-Shane Stewart [4]; 3. 41-Jason Johnson [2]; 4. 15-Donny Schatz [3]; 5. 5-David Gravel [5]; 6. 93-Sheldon Haudenschild [6]
Feature (25 Laps): 1. 2-Shane Stewart [2][$10,000]; 2. 93-Sheldon Haudenschild [6][$5,500]; 3. 49-Brad Sweet [1][$3,200]; 4. 15-Donny Schatz [4][$2,800]; 5. 9-Daryn Pittman [9][$2,500]; 6. 5-David Gravel [5][$2,300]; 7. 17-Jac Haudenschild [8][$2,200]; 8. 19-Brent Marks [14][$2,100]; 9. 3-Tim Kaeding [11][$2,050]; 10. W20-Greg Wilson [10][$2,000]; 11. 11K-Kraig Kinser [13][$1,500]; 12. 4-Paul McMahan [12][$1,200]; 13. 35-Jamie Veal [17][$1,100]; 14. 41S-Dominic Scelzi [18][$1,050]; 15. 41-Jason Johnson [3][$1,000]; 16. 13-Clyde Knipp [16][$900]; 17. 7S-Jason Sides [7][$800]; 18. 2JR-Kelly Miller [22][$800]; 19. 4X-Adam Speckman [24][$800]; 20. 14-Ben Holmberg [23][$800]; 21. 7-Mike Sires [21][$800]; 22. 17M-Max McGhee [19][$800]; 23. 1S-Logan Schuchart [15][$800]; 24. 1A-Jacob Allen [20][$800] (0-Ned Powers DNS [$300]) Lap Leaders: Brad Sweet 1-7, Shane Stewart 8-25; KSE Hard Charger Award: 19-Brent Marks[+6]