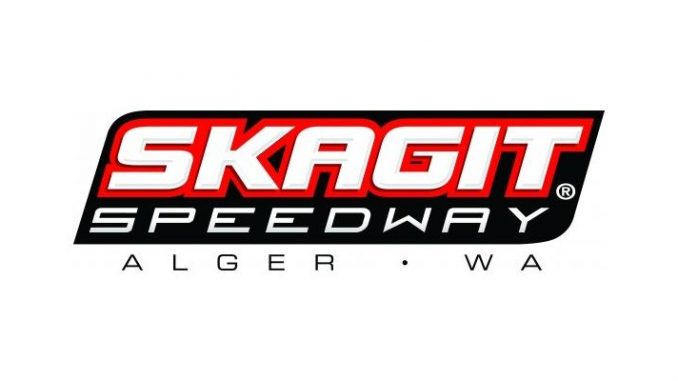 From Kaleb Hart
ALGER, Wa. (August 26, 2017) – One week before the World of Outlaws Craftsman Sprint Car Series comes to town, three classes of open wheel action filled the card at Skagit Speedway on a sunny Saturday. Colton Heath was dominant in the 360 main event but the talk of the night was Bailey Sucich's win in the Sportsman Sprint division.
For Heath, his win in the Budweiser 360 division came after outdueling Jayme Barnes early in the race as the pair traded sliders over the first couple of laps. Heath came out on top of each exchange and after moving exclusively to the top side of the track, clipped off lap after lap with ease as he charged to the win. Robbie Price would run second with Jason Solwold taking third after setting quick time. Barnes and Price won the heats.
For the first time in over a decade, a woman parked her sprint car in victory lane at Skagit Speedway. 15 year old Bailey Sucich led al 25 laps of the Cook Road Shell Sportsman Sprint Car main event to score the victory, becoming the first woman since Shawna Wilskey to take a sprint car win at Skagit. Sucich had a little luck on her side, as the first three starts of the race wiped out cars starting in positions 1, 3 and 5. Originally scheduled to start seventh, Sucich now sat on the inside pole and took full advantage of her new starting spot by jetting out to an early lead. Four time track champ Steve Parker kept her in sight for most of the race, but Sucich kept a good rhythm around the low groove and dispatched of slower traffic quickly to score the incredibly popular win. Parker took second with James Bundy in third. Brett McGhie was quick time.. Heat winners were Ashleigh Johnson and Kelsey Carpenter.
The Northwest Focus Midget Series was the third open wheel class in action on Saturday night. Garrett Thomas was steady around the bottom of the track as he chased down race leader Tristin Thomas was three laps to go and passed him off the bottom of turn two to take the lead and eventual victory. Tristin and Evan Margeson made up the remainder of the podium. Heat winners were Tristin, Hannah LIndquist and Ryan Cully. Shane Biles won the B Main.
Outlaw Tuner action saw Vance Hibbard win race five of his 2017 campaign with Brian Michelson threatening his lead over the final few laps and Jon Gunderson taking third. Michelson won the heat.
Budweiser 360 Sprints
Fast Time – Jason Solwold 11.879
Heat 1 – Jayme Barnes, Jason Solwold, Eric Fisher, Colton Heath, Taylor Malsam, Brock Lemley
Heat 2 – Robbie Price, Brandon Harkness, Bud Ashe, Steve Reeves, Steve James
Main – Colton Heath, Price, Solwold, Fisher, Harkness, Lemley, Reeves, Ashe, James, Barnes, Malsam
Lap Leaders – Heath 1-25
Cook Road Shell Sportsman Sprints
Fast Time – Brett McGhie 12.621
Heat 1 – Ashleigh Johnson, Julian Fuentes, Derek Roberts, Bill Rude, Brett McGhie, Michael Millard, Adam Hinds, Michael Hodel
Heat 2 – Kelsey Carpenter, Cory Swatzina, Steve Parker, Bailey Sucich, Devin Barnes, James Bundy, Michael Bollinger
Main – Bailey Sucich, Parker, Bundy, Hinds, Millard, Bollinger, Carpenter, Fuentes, Rude, Swatzina, Barnes, Roberts, McGhie, Johnson
Lap Leaders – Sucich 1-25
Northwest Focus Midget Series
Heat 1 – Tristin Thomas, Evan Margeson, Otto Jorgenson, Ashley Thompson, Chris Bullock, Greg Thornhill, Jonathan Jorgenson, Nick Evans, Brian Hayes, Dave Mead
Heat 2 – Hannah Lindquist, Chance Crum, Eric Turner, Nik Larson, Nate Vaughn, Shane Biles, Randy Hodel, Matt Loving, Dana Geary, Dave Mills
Heat 3 – Ryan Cully, Michael Vollbrecht, Garrett Thomas, Sawyer Lind, Robin Brigge, Hailey Bower, Brian Aune, Ray Stebbins, Tyler Ketchum, Renee Angel
B Main – Shane Biles, Thornhill, Loving, Aune, Ketchum, Angel, Geary, Mills, Mead, Evans, Bower, Hodel, Hayes, Stebbins
A Main – Garrett Thomas, T Thomas, Margeson, Turner, J Jorgenson, Vollbrecht, Lindquist, Larson, Biles, Vaughn, Thompson, Brigge, Bullock, Aune, O Jorgenson, Loving, Crum, Lind, Thornhill
Lap Leaders – Vollbrecht 1-7 T Thomas 8-22 G Thomas 23-25
Outlaw Tuners
Heat – Brian Michelson, Vance Hibbard, Jon Gunderson, Clint Meins, Dylan Acidera, DJ Beaver
Main – Vance Hibbard, Michelson, Gunderson, Beaver, Meins, Acidera
Lap Leaders – Gunderson 1-2 Hibbard 3-17