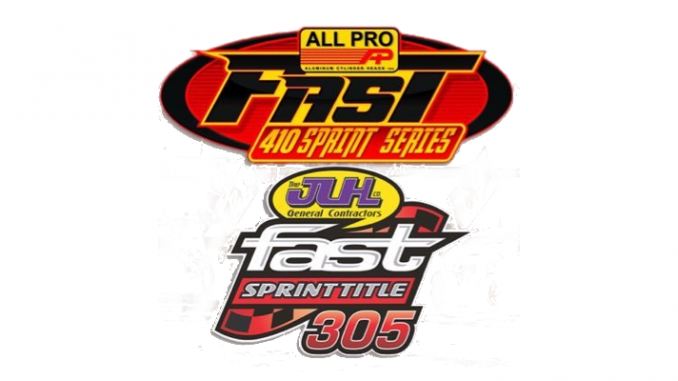 By Brian Liskai
FREMONT, Ohio –

Just three events are left for the FAST 410 teams and two for the FAST 305 race teams.
"This weekend presents great opportunities for some teams to either close the point gaps or for others to put an exclamation point on the title chase. It's going to be a great weekend of racing," said Rich Farmer, FAST President.
The FAST 410 teams will be part of the two-day Attica Ambush this weekend, competing for $5,000 to win on Kistler Engines Night, Friday, Sept. 1 at AtticaRacewayPark. With the Dirt Classic Ohio $10,000 to win event on Saturday, Sept. 2 at Attica, several big name drivers could battle the FAST stars on Friday.
FAST 410 winners at Attica in 2017 include current series point leader DJ Foos, four time FAST champion Byron Reed (2 wins), Carson Macedo and Tim Shaffer.
For more information on the Attica Ambush go to www.atticaracewaypark.com. Gates open Friday, Sept. 1 at 4:30 p.m. with racing underway at 7:45 p.m. The American Late Model Series will also be in competition as they battle for $5,000 to win as well.
The FAST 410 series then heads to the bull ring of WaynesfieldRacewayPark in Waynesfield, Ohio on Sunday, Sept. 3 in a make-up affair from the Summer Sprint Sizzler on July 3 when rains fell during qualifications. Over 90 winged sprint cars were in attendance on July 3 as the Great Lakes Sprint Series and National Racing Alliance 360 sprints joined the FAST 410 and FAST 305 sprints. It will be the first ever appearance of the FAST 410 sprints as they battle for $3,000 to win. The GLSS/NRA sprints will battle for $4,000 to win.
The FAST 305 sprint teams will compete for $1,000 to win at Waynesfield Sunday, Sept. 3, before wrapping up their season Friday, Sept. 15 at Fremont Speedway to help kick off the 10th Annual Jim Ford Classic at "The Track That Action Built."
For more information on the Summer Sizzler at Waynesfield go to www.waynesfieldmotorsportspark.com. Pit gates will open at 3 p.m. with spectator gates at 4 p.m. and racing at 7 p.m. There is a rain date of Monday, Sept. 4.
The FAST 410 season wraps up on Friday, Sept. 15 as part of the Jim Ford Classic as well.
Going into final three nights of competition for the All Pro Aluminum Cylinder Heads FAST 410 Championship Series, Fremont, Ohio's DJ Foos continues to sit atop the point standings. The 2012 FAST 305 Champion and the Jay Kiser owned team have done what championship caliber teams do – turn bad nights into decent nights. Foos has recorded two FAST wins this season – 1 at Attica and 1 at Fremont. He has recorded five top fives and eight top 10 finishes to hold a 73 point lead over Sandusky, Ohio's Chris Andrews.
Andrews, who locked up his second AtticaRacewayPark championship last week, has driven the Burmeister Racing machine to three top five and eight top 10 finishes in 2017.
Young charger Tyler Gunn of Napoleon, Ohio has come on strong as of late in the family owned #68G and is third in the FAST standings with three top five and five top 10 finishes. He is followed by Genoa, Ohio's Brian Lay who scored a series win in June at Fremont Speedway among his pair of top five and four top 10 finishes. Tiffin, Ohio's Duane Zablocki rounds out the top five in the FAST standings with one top five and four top 10 finishes.
Sixth through 10th in the FAST 410 standings are Shawn Valenti, Stuart Brubaker, Reed, Jody Keegan and rookie Dan McCarron.
In the JLH General Contractor FAST 305 Championship Series Fremont, Ohio's Paul Weaver has been dominate all season. He recently wrapped up his third AtticaRacewayPark track title and holds a commanding 119 point lead in the FAST standings. Weaver, the defending FAST champion, has scored four series wins among his seven top five and seven top 10 finishes.
Sandusky, Ohio's Kyle Capodice has recorded four top five and four top 10 finishes to sit second in the FAST standings while two time series champion Nate Dussel is third with two top five and six top 10 finishes.
Seth Schneider is fourth in the FAST standings with two top five finishes including his first ever sprint win at Fremont Speedway. Kelsey Ivy rounds out the top five with three top five and four top 10 finishes.
Sixth trough 10th in the FAST 305 standings are Jason Keckler, Landon LaLonde, Dustin Rall, former series champion Bobby Clark and Steve Rando who has a series win in 2017.
Those who are seeking additional information regarding the 2017 All Pro Aluminum Cylinder Heads FAST Series presented by Ohio Logistics, or the 2017 JLH General Contractors FAST '305' Series presented by Engine Pro, can do so by logging on to the official online home of the FAST Series at www.fastondirt.com. Be sure to stay updated on everything FAST related and 'Like' FAST on Facebook at fb.com/fastondirt and follow FAST on Twitter at @FASTseries.
FAST On Dirt, Inc. would like to thank the following contributors to the 2017 FAST Series point fund:
All Pro Aluminum Cylinder Heads, Ohio Logistics, JLH General Contractors, Engine Pro, Kistler Racing Products, Engler Machine & Tool, CP-Carillo Pistons, Design Graphics Group Inc., SCS Gearbox, Reebar Die Casting, Hoseheads.com, Level Performance, Young's RV Centers, Gressman Powersports, Hoserville Ohio, Jon Wright's Custom Chrome Plating, Fremont Fence, Baumann Auto Group, Fricker's, Goofy Golf, NAPA Auto Parts, Hoosier Tire, UNOH, Welty Financial Services, EZ Shop, US Army, Darmofal Racing, Weld Racing Wheels and Pub 400