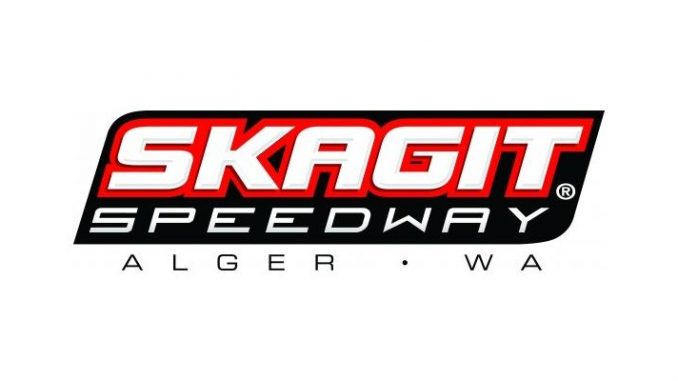 From Kaleb Hart
ALGER, Wa. (September 16, 2017) – The final night of racing at Skagit Speedway for 2017 is in the books, and of the four feature winners on Scrap It Stow It night, only one of them was the respective champion of his class. Colton Heath, Kevin Smith, Steve Parker and Jon Gunderson were the feature winners while Robbie Price, Smith, Kelsey Carpenter and Vance Hibbard secured the season point titles.
In the grand finale' of the evening, Heath went wire to wire for the win in the Budweiser 360 sprints, capturing his fourth win of the 2017 campaign as fended off challenges on restarts from eventual second place driver Jason Solwold on lap 21 and 23. Jayme Barnes advanced from seventh to pick up third. In qualifying, Chase Goetz set fast time for the drivers outside the top eight in owners points. Heath won the scramble. Robbie Price was crowned champion at the end of the night on the strength of three wins on the year – the championship is the first for the Cobble Hill, BC 19 year old in his 11 years of racing.
Kevin Smith was the only driver to secure his championship with a win on Saturday night, as he led all 25 laps for his sixth Skagit Speedway triumph of the year in the High Society Modifieds. Smith was pressured by his brother Rick who ended up second and Mel Decker who ran a solid third. Kevin won the scramble. The former Sportsman Sprint champion becomes the first driver to win a Skagit Speedway title in the Sprint Car and Modified since its inception as a weekly division two years ago.
Steve Parker won the battle, but Kelsey Carpenter won the war in the Cook Road Shell Sportsman Sprint class. Parker and Carpenter exchanged the lead multiple times over the course of the main before a bold move on the inside of turn two on lap 23 secured the lead for good for Parker, netting him his first victory of the season. Carpenter would settle for second and the point title to boot, his fifth at Skagit Speedway overall and the second for his car owner Bill Rude. Rude had quite the night of his own, as he set a new track record in time trials at 12.062. Third in the main event was Bailey Sucich who claimed rookie of the year honors in a title battle with Ashleigh Johnson.
The never ending Vance Hibbard retirement tour might have found a fantastic place to stop, as his second place finish in the main event secured him his first Skagit Speedway track championship. Jon Gunderson was the feature winner, leading laps 4-17 en route to victory lane, followed by Hibbard and Clint Meins.
Budweiser 360 Sprints
Fast Time – Chase Goetz 11.693
Scramble – Colton Heath, Robbie Price, Eric Fisher, Brandon Harkness, Jason Solwold, Bud Ashe, Jayme Barnes, Steve Reeves
Main – Colton Heath, Solwold, Barnes, Fisher, Cam Smith, Greg Hamilton, Devin Madonia, Price, Harkness, Luke Didiuk, Reeves, Steve Vague, Ashe, Chase Goetz
Lap Leaders – Heath 1-25
Season Champion – Robbie Price
Cook Road Shell Sportsman Sprints
Fast Time – Bill Rude 12.062 NTR
Scramble – Kelsey Carpenter, Steve Parker, Brett McGhie, Bailey Sucich, Devin Barnes, James Bundy, Adam Hinds, Derek Roberts
Main – Steve Parker, Carpenter, Sucich, McGhie, Trevor Cook, Bundy, Hinds, Bill Rude, Roberts, Michael Bollinger, Cory Swatzina, Barnes, Michael Millard, Ashleigh Johnson, Rick Smith, Julian Fuentes, Ryan Cully
Lap Leaders – Carpenter 1-15 Parker 16-20 Carpenter 21-22 Parker 23-25
Season Champion – Kelsey Carpenter
High Society Modifieds
Scramble – Kevin Smith, Rick Smith, Adam Holtrop, Mel Decker, Craig Moore, Brandon Berg, Louis Nutter Jr, Becky Boudreau
Main – Kevin Smith, R Smith, Decker, Holtrop, Shane Kerrigan, Mike Knox Jr, John Snyder, Cliff Ballenger, Berg, Austin Kerrigan, Josh Richardson, Boudreau, Dan Butenschoen, Moore, Nutter Jr, Jeff Jansma
Lap Leaders – K Smith 1-25
Season Champion – Kevin Smith
Outlaw Tuners
Scramble – Vance Hibbard, Clint Meins, Brian Michelson, Sam Desrosier, Dylan Acidera, DJ Beaver, TJ Campbell
Main – Jon Gunderson, Hibbard, Meins, Michelson, Chris Green, Acidera, Trevor Dugent, Desrosier, Beaver, Jalen Vick, Howard Vos, Campbell
Lap Leaders – Hibbard 1 Meins 2-3 Gunderson 4-17
Season Champion – Vance Hibbard