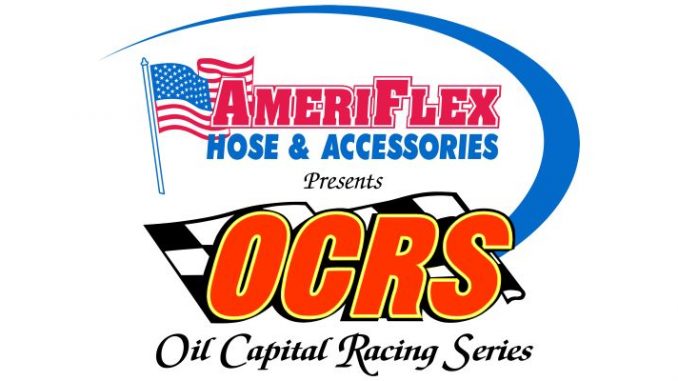 From John Lemon
TULSA, Ok. (September 26, 2017) – On Saturday night, the Ameri-Flex / OCRS sprint cars will make their final appearance to one of their favorite tour stops for the 2017 racing season, the 1/4-mile oval of the Caney Valley Speedway. Race fans can get two racing events for the price of one this weekend.
For each adult ticket purchased for the Ameri-Flex / OCRS sprint car show this Saturday night, Caney Valley Speedway promoter Kerry Gorby will also include a ticket to any one of the 3-day NOW600 Midwest Cup micro sprint event that will be held on October 20, 21 and 22 at the speedway. That's 2 nights of open wheel racing action for the price of one!
One driver leading the charge into this weekend's sprint car race is Shane Sellers who is coming off a big win 2 weeks ago at the 11th Annual Oklahoma State Championship race at the Oklahoma Sports Park. Another driver on the march, Zach Chappell, leads Sellers and the entire group of drivers on the chase for the 2017 championship and will be a threat to win as well. Chappell and Sellers are only separated by 67 points and 105 points can be earned on a given night.
Seasoned veteran and crowd favorite Joe Wood Jr. has announced his plans to travel east from Newcastle OK. 'Woody" will be in the Danny Holloway owned #28 sprinter. 2017 Creek County Speedway champion Alex DeCamp has indicated he will take on the traveling warriors as well. DeCamp would be no stranger to victory lane in the series as he owns 7 career Ameri-Flex / OCRS wins. Sheldon Barksdale, who sits third in the point standings, has 7 career wins also, all from 2016. Alex Sewell is the only driver to finish in the top 5 in all main event starts he has entered in 2017 and he has indicated his presence will be had as well.
The weekends event will draw the series closer to a 2017 climax as only 3 dates will remain thereafter. Those dates are:
October 7th – Enid Speedway / Enid OK ($2500 in lap money will be on the line)
October 8th – Red Dirt Speedway / Meeker OK (40-Lap Salute To State Fair Speedway)
October 14th – 81 Speedway / Park City KS. (Ameri-Flex / OCRS Season Finale)