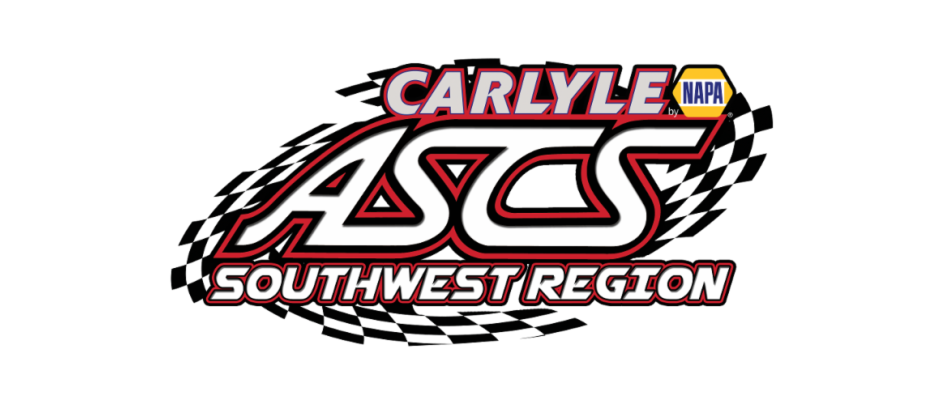 QUEEN CREEK, Ariz. (October 7, 2017) – Saturday was a Roller Coaster of a day for Jesse Baker, whose rig arrived at the Arizona Speedway via Tow Truck after breaking down in Heber, Ariz. Despite the sour start, 25 laps of racing ended with sweet victory for the New Mexico shoe with the ASCS Southwest Region in the second annual McSpadden Classic.
Drawing third on the grid, Baker advanced to the runner-up spot with the lead not far behind as early race leader, Billy Chester, clipped an infield tire on Lap 10.
Putting the No. 22 at the front of the field, Baker would go on to lead the remainder of the feature event for his second career ASCS Southwest triumph.
Winning by 0.543 seconds, Rick Ziehl crossed second with ninth starting J.T. Imperial coming up too grab third. Lance Norick and Matt Rossi made up the top-five. ASCS Southwest point's leader, Colton Hardy, crossed sixth with Jeff Lowery, Derrik Ortega, Royal Joes, and Michael Curtis completing the top-ten.
Put together by the McSpadden family, lap money was awarded. Billy Chester earned an extra $250 with Baker pocketing $525, as well as the Hard Luck Award. Other drivers earning lap money includes Rick Ziehl ($325) and J.T. Imperial ($150). Imperial also pocketed $200 as the Hard Charger. The $200 longest tow went to Rick Ziehl.
The ASCS Southwest Region races again on Saturday, October 14 at Canyon Raceway Park in Peoria, Ariz. For continued updates on the American Sprint Car Series, from the National Tour to any of the seven regional tours that make up the over 150 races across the ASCS Nation in 2017, log onto http://www.ascsracing.com.
Race Results:
ASCS Southwest Region
Arizona Speedway – Queen Creek, Ariz.
2nd annual Lealand McSpadden Classic
Saturday, October 7, 2017
Car Count: 20
Heat 1 (8 Laps): 1. 20Z-Rick Ziehl, [3]; 2. 74-Colton Hardy, [5]; 3. 75X-J.T. Imperial, [2]; 4. 5A-Michael Curtis, [6]; 5. 71H-Corey Hurley, [7]; 6. 7D-Danny Mathus, [4]; 7. 7-Mark Clark, [1]
Heat 2 (8 Laps): 1. 90-Lance Norick, [1]; 2. 22X-Jesse Baker, [4]; 3. 45-Jeff Lowery, [2]; 4. 01-Josh Shipley, [3]; 5. 115-Nick Parker, [5]; 6. 7K-Mason Keefer, [7]; 7. 29-Darrell Sickles, [6]
Heat 3 (8 Laps): 1. 8-Derrik Ortega, [2]; 2. 2B-Billy Chester III, [1]; 3. 02-Matt Rossi, [3]; 4. 131-Royal Jones, [4]; 5. 91-Casey Buckman, [5]; 6. 99-James Aragon, [6]
A Feature (25 Laps): 1. 22X-Jesse Baker, [3]; 2. 20Z-Rick Ziehl, [5]; 3. 75X-J.T. Imperial, [9]; 4. 90-Lance Norick, [4]; 5. 02-Matt Rossi, [6]; 6. 74-Colton Hardy, [8]; 7. 45-Jeff Lowery, [10]; 8. 8-Derrik Ortega, [7]; 9. 131-Royal Jones, [13]; 10. 5A-Michael Curtis, [2]; 11. 91-Casey Buckman, [14]; 12. 29-Darrell Sickles, [16]; 13. 71H-Corey Hurley, [11]; 14. 01-Josh Shipley, [12]; 15. (DNF) 7K-Mason Keefer, [17]; 16. (DNF) 2B-Billy Chester III, [1]; 17. (DNF) 7-Mark Clark, [15]