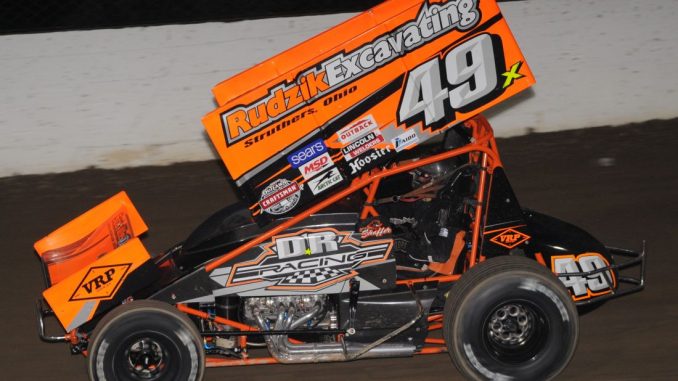 From Anthony Corini
RANSOMVILLE, New York – October 16, 2017 – The 'Steel City Outlaw' Tim Shaffer led flag-to-flag in the World of Outlaws Craftsman Sprint Car Series first visit to the Ransomville Speedway in 20 years. Shaffer fell off the narrow frontstretch in lapped traffic with two to go, but was able to corral his No. 49X and pilot it to his second World of Outlaws Feature win of the year. Brad Sweet and Shane Stewart completed the podium at 'The Big R Outlaw Shootout' presented by Budweiser.
The Craftsman Club Dash inversion was zero lining Shaffer on the pole of the Dash, which he would win to earn the pole of the 30-lap Feature.
Shaffer reached lapped traffic quickly and was nearly taken out by a spinning Dane Lorenc on lap eight. "I have no idea how we missed the 00," was the first thing Shaffer mentioned after the race.
Sheldon Haudenschild brought out the only other caution on lap ten, as he was battling inside the top ten before a broken front axle sidelined the No.93.
Shaffer was untouchable in open air and had a commanding lead with ten to go with Brad Sweet and David Gravel waiting for lapped traffic to make their move in on the 'Steel City Outlaw'. With three to go, Shaffer had to slow his pace significantly with a hoard of lapped cars battling for position in front him. Shaffer actually slipped off the frontstretch into the small moat with three to go, allowing Sweet and Gravel to close in. Shaffer recovered quickly and went to claim the win .581 seconds in front of Sweet.
"I thought I was in trouble when I slid off, but here we are," the Aliquippa, Pennsylvania native said. Quite possibly the most remarkable feat of the victory was it was just Tim and his crew chief, Cody Jacobs, tonight at Ransomville. "Hats off to Cody, he gave me a great race car that was a lot of fun to drive," Shaffer said sincerely in Victory Lane.
It was Shaffer's second World of Outlaws Craftsman Sprint Car Series win in the past month as he scored a victory at Eldora in late September. Shaffer hinted that he and his Demyan-Rudzik Racing No.49X may head West with the Series to Kansas next week.
Sweet settled for second "My one shot was when Tim went off the edge. I'd like to do that lap over again," the Grass Valley, California native cited. "It's nice to be on the podium, we'll keep pushing to get some wins," Sweet added.
David Gravel blew a tire running third, coming to the checkered, allowing Shane Stewart to inherit the final podium spot. "Lately, I've been the one blowing tires," Stewart said with a smile as he expressed his condolences to Gravel. "I'm thankful to be here, we'll settle for third and move forward," Stewart added.
Donny Schatz finished fourth with Gravel limping the CJB Motorsports No.5 to the finish to complete the top five.
Schatz set fast time over the 32-car field in qualifying at a 12.629 easily establishing a new Ransomville Track Record. The previous track record was 14.360 set by Mark Kinser back in 1997.
The World of Outlaws Craftsman Sprint Car Series schedule is winding down, as the Series makes one final trek West to compete at the Lakeside Speedway Friday October 20 and the Salina Highbanks Speedway the following night. After that, The Greatest Show on Dirt has two dates at the Dodge City Raceway Park on October 27-28 before heading to The Dirt Track at Charlotte Motor Speedway for the World of Outlaws World Finals on November 2-4.
Qualifying: 1. 15-Donny Schatz, 12.629; 2. 49-Brad Sweet, 12.738; 3. 5-David Gravel, 12.877; 4. 2-Shane Stewart, 12.956; 5. 49X-Tim Shaffer, 12.97; 6. 4-Parker Price-Miller, 12.973; 7. 9-Daryn Pittman, 13.002; 8. 19-Brent Marks, 13.022; 9. 5W-Lucas Wolfe, 13.057; 10. 11K-Kraig Kinser, 13.094; 11. 93-Sheldon Haudenschild, 13.113; 12. 1A-Jacob Allen, 13.185; 13. 1S-Logan Schuchart, 13.193; 14. 18-Ian Madsen, 13.216; 15. 41-Jason Johnson, 13.262; 16. 49K-Scott Kreutter, 13.264; 17. 17-Jac Haudenschild, 13.267; 18. 19P-Paige Polyak, 13.273; 19. 13-Clyde Knipp, 13.342; 20. 5R-Tyler Ross, 13.432; 21. W20-Greg Wilson, 13.462; 22. OO-Dane Lorenc, 13.524; 23. 7S-Jason Sides, 13.562; 24. 5B-Justin Barger, 13.575; 25. 19JK-Joe Kubiniec, 13.801; 26. 10-Paul Colagiovanni, 13.814; 27. 18X-Ryan Susice, 13.927; 28. 7K-Dan Shetler, 14; 29. 98-Joeseph Trenca, 14.165; 30. 36-Matt Billings, 14.413; 31. 58-Joe Lockhart, 14.54; 32. 54J-Scott Just, 14.654
Heat #1 (8 Laps) – Top 5 Transfer: 1. 49X-Tim Shaffer [2]; 2. 15-Donny Schatz [1]; 3. 5W-Lucas Wolfe [3]; 4. 1S-Logan Schuchart [4]; 5. 17-Jac Haudenschild [5]; 6. W20-Greg Wilson [6]; 7. 98-Joeseph Trenca [8]; 8. 19JK-Joe Kubiniec [7]
Heat #2 (8 Laps) – Top 5 Transfer: 1. 49-Brad Sweet [1]; 2. 11K-Kraig Kinser [3]; 3. 4-Parker Price-Miller [2]; 4. 18-Ian Madsen [4]; 5. 19P-Paige Polyak [5]; 6. 36-Matt Billings [8]; 7. OO-Dane Lorenc [6]; 8. 10-Paul Colagiovanni [7]
Heat #3 (8 Laps) – Top 5 Transfer: 1. 5-David Gravel [1]; 2. 9-Daryn Pittman [2]; 3. 93-Sheldon Haudenschild [3]; 4. 41-Jason Johnson [4]; 5. 7S-Jason Sides [6]; 6. 13-Clyde Knipp [5]; 7. 18X-Ryan Susice [7]; 8. 58-Joe Lockhart [8]
Heat #4 (8 Laps) – Top 5 Transfer: 1. 2-Shane Stewart [1]; 2. 19-Brent Marks [2]; 3. 1A-Jacob Allen [3]; 4. 49K-Scott Kreutter [4]; 5. 5B-Justin Barger [6]; 6. 5R-Tyler Ross [5]; 7. 7K-Dan Shetler [7]; 8. 54J-Scott Just [8]
Craftsman Club Dash (6 Laps): 1. 49-Brad Sweet [2]; 2. 49X-Tim Shaffer [1]; 3. 2-Shane Stewart [4]; 4. 5-David Gravel [3]; 5. 15-Donny Schatz [5]; 6. 11K-Kraig Kinser [6]; 7. 9-Daryn Pittman [7]; 8. 19-Brent Marks [8]
Last Chance Showdown (12 Laps) – Top 4 Transfer: 1. 13-Clyde Knipp [1][-]; 2. OO-Dane Lorenc [4][-]; 3. W20-Greg Wilson [3][-]; 4. 10-Paul Colagiovanni [6][-]; 5. 7K-Dan Shetler [8][$300]; 6. 98-Joeseph Trenca [9][$250]; 7. 5R-Tyler Ross [2][$225]; 8. 36-Matt Billings [10][$200]; 9. 58-Joe Lockhart [11][$200]; 10. 19JK-Joe Kubiniec [5][$200]; 11. 18X-Ryan Susice [7][$200]; 12. 54J-Scott Just [12][$200]
Feature (30 laps): 1. 49X-Tim Shaffer [2][$10,000]; 2. 49-Brad Sweet [1][$5,500]; 3. 2-Shane Stewart [3][$3,200]; 4. 15-Donny Schatz [5][$2,800]; 5. 5-David Gravel [4][$2,500]; 6. 11K-Kraig Kinser [6][$2,300]; 7. 9-Daryn Pittman [7][$2,200]; 8. 19-Brent Marks [8][$2,100]; 9. 17-Jac Haudenschild [17][$2,050]; 10. 41-Jason Johnson [15][$2,000]; 11. 4-Parker Price-Miller [10][$1,500]; 12. 18-Ian Madsen [14][$1,200]; 13. 1S-Logan Schuchart [13][$1,100]; 14. 5W-Lucas Wolfe [9][$1,050]; 15. 1A-Jacob Allen [12][$1,000]; 16. 7S-Jason Sides [19][$900]; 17. 10-Paul Colagiovanni [24][$800]; 18. 49K-Scott Kreutter [16][$800]; 19. W20-Greg Wilson [23][$800]; 20. 13-Clyde Knipp [21][$800]; 21. 5B-Justin Barger [20][$800]; 22. 93-Sheldon Haudenschild [11][$800]; 23. OO-Dane Lorenc [22][$800]; 24. 19P-Paige Polyak [18][$800]; Lap Leaders: Tim Shaffer 1-30; KSE Hard Charger Award: 17-Jac Haudenschild[+8]