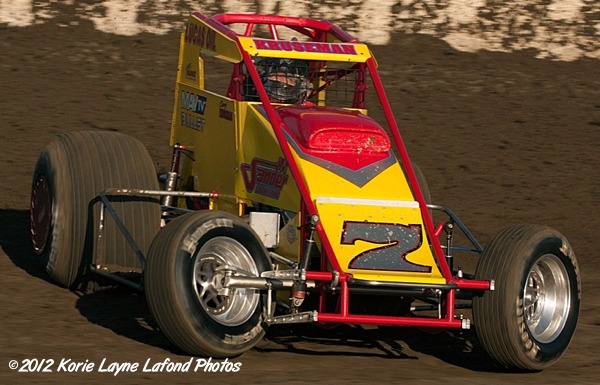 From Scott Daloisio
PERRIS, Ca. (October 16, 2017) – Two-time race winner Cory Kruseman has been named Grand National of the 22nd Annual Budweiser Oval Nationals Presented by All Coast Construction at Perris Auto Speedway. The race will take place on November 9th, 10th and 11th at the famous Riverside County half-mile clay oval and will feature the USAC National and CRA Sprint Cars.
Kruseman, whose list of racing accomplishments includes driving Tony Stewart owned cars to wins at the Oval Nationals in 2003 and 2004, is looking forward to being on hand for the big race.
"The only bad thing about it is I have to realize I am old enough to be a Grand Marshal," Kruseman said with a laugh. "Seriously though, it is a big honor to be the Grand Marshal of such a big race. It is also so close to my home (Kruseman lives in Ventura) and I spent a lot of time racing there. It is very nice to be remembered with this and I am glad I am able to do it with so many of the guys I competed against racing in this year's event. I have fond memories of not only winning the Oval Nationals, but just of competing in them against the best drivers in the country. I also have great memories of Perris Auto Speedway so this means a tremendous amount to me."
Promoter Don Kazarian, who started the Grand Marshall program for the race more than a decade ago, is a huge fan of Kruseman on and off the track.
"Everything Cory Kruseman does and did on and off the track is so professional," the longtime promoter said. "In the 22-year history of Perris Auto Speedway, he is one of its greatest ever competitors and one of its biggest ever winners. I could not be happier than to have Cory as 2017 Oval Nationals Grand Marshal."
Kazarian continued.
"It is not just what Cory did at Perris Auto Speedway, but what he has done on racetracks across the country," Kazarian said. "He has won races everywhere and those race wins are backed up with championships. His resume is outstanding and he is a shoe in for the National Sprint Car Hall of Fame and likely the Midget Hall of Fame, too. Now days he is giving back to the sport with his successful driving classes and as a car owner giving many drivers a chance to fulfill their racing dreams."
The Oval Nationals, which pays $25,000.00 to win on the final night, is three nights of full points paying races for the USAC/CRA and USAC National Sprint Car Series.' Advance tickets for the most prestigious non-wing sprint car race in the nation are available at the following link: http://pas.tix.com/Schedule.aspx?OrgNum=7 or by calling 1-800-595-4849. For fans who not wish to buy advance tickets, there will be plenty available for everyone each night at the ticket window.