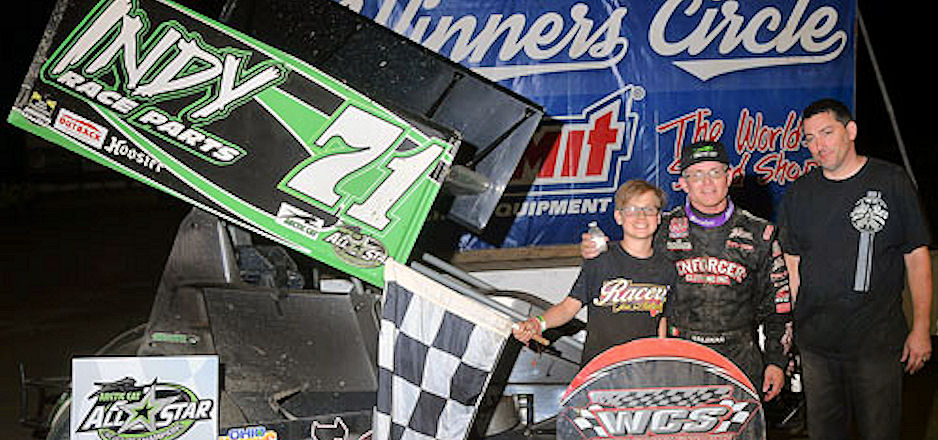 From Rudeen Racing
The Washington state based, Rudeen Racing has expanded to a two-car team for the upcoming 2018 season. Veteran driver, Joey Saldana, will pilot the No.26 Rudeen Racing machine, alongside Tayler Malsam, in the Rudeen Racing No.26R entry.
"I'm very excited to have Joey on board with Rudeen Racing for the upcoming season," explained Kevin Rudeen, owner. "A driver as talented as him can elevate our team on and off the track. I'm really looking forward to seeing what Joey and Tayler can do out on the road next year."
Saldana and team are scheduled to compete in roughly 60 events over the course of the year, starting with the World of Outlaws Craftsman Sprint Car series during their West Coast swing. Saldana is slated to compete primarily with the World of Outlaws Craftsman Sprint Car series, in conjunction with several Arctic Cat All Star Circuit of Champions events, as well as other venues throughout the season. Rob Hart, who has previously worked with Rudeen Racing, will kick off the season as the highly experienced crew chief for the No.26 car.
"I'm looking forward to running for Kevin Rudeen and the Rudeen Racing No.26 next season," commented Joey Saldana. "I've known Kevin for over 12 years now. We talked about racing together back in 2005, and it just wasn't meant to be at the time. He and I stayed in touch over the years, and I eventually got to drive for him during the Winter Heat Series in 2015. This is great opportunity to run the schedule we want to as a team, and get some solid wins along the way."
Malsam is also slated to fulfill a 60-plus race schedule for the 2018 season. The former NASCAR driver, has been with Rudeen Racing since 2005, piloting the No.26 throughout the years, whenever time away from his pavement career allowed. Malsam will be aboard the Rudeen Racing No.26R car, which will pay tribute to the late son of owner Kevin Rudeen. The Rayce Rudeen Foundation will be a large part of the No.26R team over the course of the season. Malsam plans to run a more fluid schedule, but will compete in the Midwest and on the West Coast. The crew chief for the No.26R team will be named at a later date.
"I'm really looking forward to getting back on the road next year," explained Malsam. "The goal is to compete for wins every time we show up, and continue to gain as much experience as possible, night in, and night out. It will be great to have a vet like Joey to bounce stuff off of throughout the season."
Follow along with Rudeen Racing (@RudeenRacing) on social media for schedule updates, results, highlights, news and more. Also, be on the lookout for a new and improved RudeenRacing.com in the coming weeks.