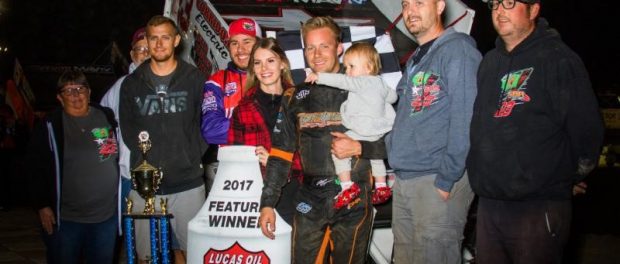 From Bryan Hulbert
SOMERTON, Ariz. (November 11, 2017) — A third-place finish to start off the weekend improved to second the following night, and finally, victory for Seth Bergman to close out the 2017 season with the Lucas Oil American Sprint Car Series presented by the MAVTV Motorsports Network at the Cocopah Speedway
"We were bad fast all weekend, and we've been knocking at the door all year, so to close this season out with a win tonight, it's something we've been working very hard on," said a jubilant Seth Bergman who gave nothing but high praise and thanks to his family, sponsors, and crew.
Despite the smiles and high-fives, Seth also explained that the win was nearly not, as an issue with the cooling system came close to dashing his hopes of finishing, much less winning.
"We fought a Radiator issue in our Hot Lap session. We had a really bad leak, and we thought we had it fixed but we started the Feature and all the sudden I was soaked. I had coolant all over me, but at that point in my mind, I knew how tough this year and been already and just decided to run it until it wouldn't run anymore and once we got going, we actually set a pretty good pace."
Seth's 10th career Lucas Oil ASCS National Tour score since 2012, the final race of the 2017 season saw 30 non-stop laps and was enough to move Seth into the top-five in the series final standings.
Earning the pole for the $5,000 to win affair, Seth used that front-row starting spot to rush into the lead over the Dissolvalloy No. 87. Keeping Aaron at a 10 car length deficit until the back of the field came into play, both drivers began carefully picking their way through. Bringing Reutzel within striking distance of the No. 23, several chances at a pass were voided as traffic played to the favor of Seth Bergman.
Running through the backmarkers, the two lead cars pulled slide job after slide job through the field with Seth consistently keeping one to two cars between himself and the No. 87 until Lap 20.
"I knew with the guys behind me, I had to run a flawless race, and I made one mistake in traffic when I tried to slide Justin [Sanders] too early and Aaron made me pay for it," explained Bergman. "When you race with this caliber of drivers, you're going to pay for your mistakes, and the one mistake I feel I made the entire race cost me."
Surrendering the lead on Lap 21, Bergman began working to regain his lost momentum. With traffic working into the favor of the Corridor Electric No. 23 once more, Seth began closing the gap with five laps to go. Working back to the No. 87 with a full head of steam, Seth regained the lead in traffic on Lap 28 and would not relinquish the top spot.
Crossing 2.669 seconds ahead of Aaron Reutzel, the No. 87 was also lucky to finish as the engine had started to turn sour in the last few laps. Along with traffic, it all played into the hands of Seth Bergman. Finishing third was Joey Saldana with Sam Hafertepe, Jr. and Wayne Johnson making up the top-five.
A true showing of the pace set by Seth Bergman, as only three drivers failed to finish, Travis Rilat crossed sixth with Jason Solwold and Harli White rounding out the drivers left on the lead lap. First car a lap down in ninth was driven by Lucas Wolfe with Johnny Herrera finishing tenth.
For Hafertepe, the fourth-place run put him finishing the season with a 376 point buffer over second place, and his second career Lucas Oil ASCS National Tour Championship worth $60,000, which was presented to him by series founder, Emmett Hahn, on the front straightaway. Hafertepe ends the season with a record tying 15 Lucas Oil ASCS National Tour wins.
Skylar Gee was also honored with a $2,000 bonus and a set of Brodix Cylinder Heads as the 2017 Rookie of the Year.
With Qualifiers set up by event points, four were contested with Harli White, Matt Covington, Lucas Wolfe, and Justin Sanders picking up wins. The B-Main was topped by Billy Chester. The CP-Carrillo Hard Charger of the Night was Skylar Gee.
The 2018 season is in the works with plans to release the lineup for the series 27th season during the Performance Racing Industries Tradeshow in Indianapolis in December.
For continued updates on the American Sprint Car Series, from the National Tour to any of the seven regional tours that make up the over 150 races across the ASCS Nation in 2017, log onto http://www.ascsracing.com. Make sure to like the American Sprint Car Series on Facebook at http://www.facebook.com/LucasOilASCS, follow us on Twitter at http://www.twitter.com/LucasOilASCS, and check out our Instagram @LucasOilASCS.
Race Results:
Lucas Oil ASCS National Tour
ASCS Southwest Region
Cocopah Speedway – Somerton, Ariz.
Saturday, November 11, 2017
Car Count: 35
Event Count: 36
Hoosier Tire Qualifiers (Top 2 in each advance to the A-Feature)
LCQ 1 (8 Laps): 1. 17W-Harli White, [2]; 2. 91-Chase Goetz, [1]; 3. 96-Greg Hamilton, [4]; 4. 52-Blake Hahn, [3]; 5. 83T-Tanner Carrick, [5]; (DNS) 21-Robbie Price, ; (DNS) 17G-Dustin Gates,
LCQ 2 (8 Laps): 1. 95-Matt Covington, [2]; 2. 37-Mitchell Faccinto, [1]; 3. 2B-Billy Chester III, [4]; 4. 2L-Logan Forler, [3]; 5. 74-Colton Hardy, [5]; 6. 90-Lance Norick, [6]; 7. 14-Cody Sickles, [7]
LCQ 3 (8 Laps): 1. 8-Lucas Wolfe, [1]; 2. 9R-Reece Goetz, [2]; 3. 12H-Tony Bruce Jr, [4]; 4. 01-Josh Shipley, [6]; 5. 77X-Alex Hill, [3]; 6. 29-Darrell Sickles, [5]; (DNS) 224-Sammy Swindell,
LCQ 4 (8 Laps): 1. 18S-Justin Sanders, [1]; 2. 3-J.J. Hickle, [2]; 3. 17-Cameron (Cam) Smith, [4]; 4. 99-Skylar Gee, [5]; 5. 20Z-Rick Ziehl, [3]; 6. 0-Ned Powers, [6]; (DNS) 77C-John Carney II,
BMRS B-Main (Top 6 advance to the A-Feature)
B Feature (15 Laps): 1. 2B-Billy Chester III, [2]; 2. 12H-Tony Bruce Jr, [3]; 3. 99-Skylar Gee, [8]; 4. 2L-Logan Forler, [6]; 5. 74-Colton Hardy, [10]; 6. 96-Greg Hamilton, [1]; 7. 17-Cameron (Cam) Smith, [4]; 8. 83T-Tanner Carrick, [9]; 9. 77X-Alex Hill, [11]; 10. 01-Josh Shipley, [7]; 11. 21-Robbie Price, [13]; 12. 0-Ned Powers, [16]; 13. 20Z-Rick Ziehl, [12]; 14. 90-Lance Norick, [14]; 15. 14-Cody Sickles, [17]; 16. (DNF) 29-Darrell Sickles, [15]; 17. (DNF) 52-Blake Hahn, [5]; (DNS) 17G-Dustin Gates, ; (DNS) 224-Sammy Swindell, ; (DNS) 77C-John Carney II,
Protect the Harvest A-Feature:
A Feature (30 Laps): 1. 23-Seth Bergman, [1]; 2. 87-Aaron Reutzel, [2]; 3. 26-Joey Saldana, [4]; 4. 15H-Sam Hafertepe Jr, [5]; 5. 2C-Wayne Johnson, [6]; 6. 1-Travis Rilat, [3]; 7. 18-Jason Solwold, [7]; 8. 17W-Harli White, [9]; 9. 8-Lucas Wolfe, [11]; 10. 45X-Johnny Herrera, [8]; 11. 18S-Justin Sanders, [12]; 12. 95-Matt Covington, [10]; 13. 91-Chase Goetz, [13]; 14. 99-Skylar Gee, [19]; 15. 3-J.J. Hickle, [16]; 16. 2B-Billy Chester III, [17]; 17. 12H-Tony Bruce Jr, [18]; 18. 37-Mitchell Faccinto, [14]; 19. 2L-Logan Forler, [20]; 20. 96-Greg Hamilton, [22]; 21. (DNF) 9R-Reece Goetz, [15]; 22. (DNF) 74-Colton Hardy, [21]; 23. (DNF) 20Z-Rick Ziehl, [23]
Lap Leader(s): Seth Bergman 1-20, 28-30; Aaron Reutzel 21-27
CP-Carrillo Hard Charger: Skylar Gee +5
FSR High Point Driver: N/A
Provisional(s): Rick Ziehl (Regional)