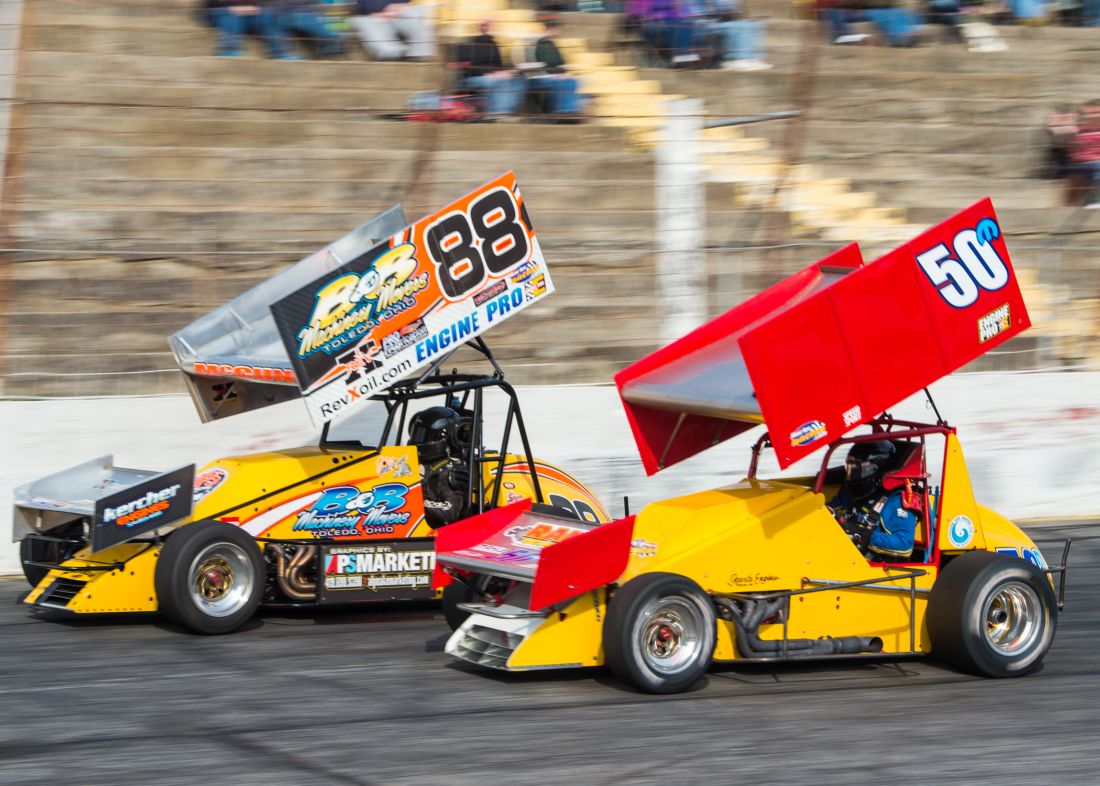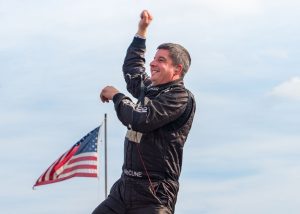 From Jacob Seelman
NEWTON, N.C. (November 18, 2017) — Jimmy McCune ended the 2017 Must See Racing Sprint Car Series season exactly the way he started it: standing in victory lane and celebrating with a big trophy.
McCune completed a near-perfect weekend at Hickory Motor Speedway on Saturday during the MSR Championships, following up his Friday qualifying race win by redrawing the pole and then dominating the season-ending 50-lap feature.
The No. 88 Abe's Auto Parts & Sales/B&B Machinery Movers/Rev-X Oil sprinter was out front for all but three circuits around the historic .363-mile oval, as McCune weathered a mid-race challenge from Brian Gerster to capture his record-extending and series-leading eighth win of the season.
Saturday's victory marked the 24th of McCune's Must See Racing career and his 101st feature win overall.
All told, McCune's win percentage for the season was a whopping 66.7, as he took home top honors in two of every three Must See Racing events contested.
Though McCune already had his third-consecutive series championship locked up before the weekend ever began, carrying a 97-point lead entering the Hickory event, he stressed that he wanted to finish strong — and that's exactly what he did.
"Man, I don't know what it is about coming down here, but our car loves these Southern tracks," said McCune, who picked up his third-straight win at Hickory and fifth in a row below the Mason-Dixon Line.
"It's really special to clinch another championship, and to do it down here where we've had so much success lately means a lot. Most of my career I never really raced for points, but now we've been really fortunate the last few years and things have worked in out favor. We always go after wins because those look really good on my wall, but championship trophies are pretty cool too."
McCune never lost focus, despite a restart on lap 22 after nephew Anthony slowed in turn four, which first allowed Gerster to close in on his back bumper bar.
"I was trying to get a little breathing room on the restart, but I spun the tires and Gerster was right there," McCune explained. "I knew if he got a run, it'd be close quarters, but I just waited a couple laps (after losing the lead) to pull a big slider and then let it ride from there."
Perhaps the bigger note was that McCune sat out the first practice of the day with motor issues, before storming back come feature time to capture the victory.
"We always seem to struggle during the early part of the day when we come down here, but we manage to get it right and figure it out when it counts," McCune explained. "In the spring here, I threw three springs at it and still didn't know what we'd have for the race, but it all worked out then, just like it did today. This was a good win for us."
McCune led the first 23 laps before Gerster used a huge dive entering turn three to move inside for the lead, edging him out for the top spot on lap 24 before clearing him completely to assume command moments before the crossed flags were displayed for halfway.
But it was only two more rotations before McCune used a similar move to reclaim the point for good, diving to Gerster's inside in turns one and two on lap 27 as Gerster was held up by slower traffic to take command back and drive away from there.
McCune ultimately drove off to a three-second margin when the twin checkered flags were displayed, while Gerster was left to settle for second one more time.
"It was a good race," Gerster said. "We had something go wrong with our motor, though, because I was probably only running on six cylinders for most of the feature. I was really surprised I could hang with him on the restart, but once I got a crack at him I figured I'd bury it down into the corner and see what happened."
"We got the lead, but I knew if I didn't get up off the corners real well he'd be right back there and drag-race me. He put the big dive-bomb on me there and I just didn't have an answer for it. We were lucky to finish; we'll take this and come back next year to take another crack at it."
Aaron Pierce completed the podium finishers in third, using a huge outside-inside crossover to pass Johnny Petrozelle for the position after Petrozelle was forced three-wide by a lapped car while looking to take second from Gerster late in the race.
Once Pierce cleared Petrozelle for third with 13 laps to go, the Denton, N.C. native didn't have the steam to get back by, but his fourth-place finish was more than enough to clinch the Must See Racing South division championship.
Steve Surniak completed the top five, followed by Bronzie Lawson, who came home sixth and outdueled Adam Biltz for Rookie of the Year honors in the final outing of the season.
The 2018 Must See Racing Sprint Car Series season kicks off April 20 at South Carolina's Anderson Motor Speedway.
RESULTS: Must See Racing Sprint Car Series; MSR Championships; Hickory Motor Speedway; Nov. 18, 2017
1-800-RADIATOR A-Feature (50 laps): 1. #88 – Jimmy McCune [1]; 2. #50m – Brian Gerster [3]; 3. #26 – Aaron Pierce [5]; 4. #59 – Johnny Petrozelle [2]; 5. #1st – Steve Surniak [4]; 6. #4B – Bronzie Lawson IV [12]; 7. #9s – Charlie Schultz [7]; 8. #8A – Adam Biltz [9]; 9. #4L – Anthony Linkenhoker [8]; 10. #33 – Joe Larkin [10]; 11. #12 – Glenn Worrell [11]; 12. #88VA – Bobby Rice [13]; 13. #17s – Jeremiah Simonis [14]; 14. #8 – Anthony McCune [6].
Lead Changes: Two between two drivers.
Lap Leader(s): J. McCune 1-23; Gerster 24-26; J. McCune 27-50.
Laps Led: J. McCune (47); Gerster (3).
Hard Charger: #4B – Bronzie Lawson IV (+6)