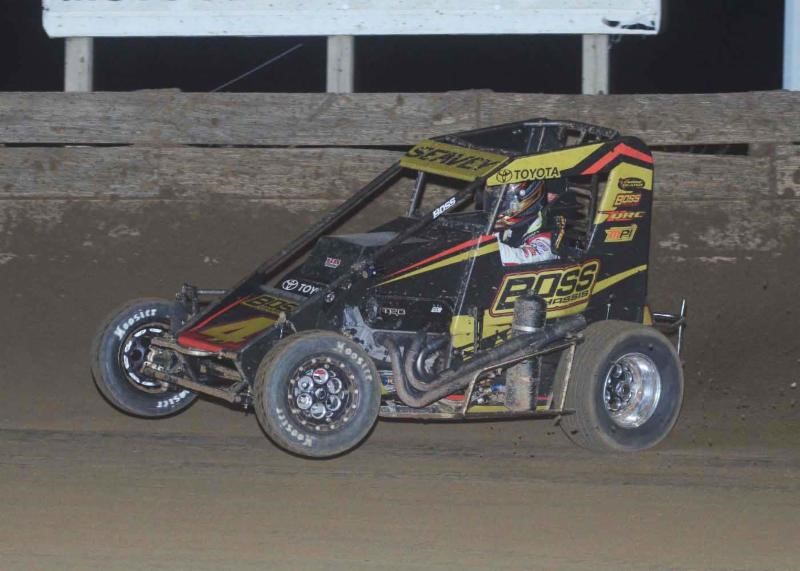 From POWRi
BELLEVILLE, Ill. (November 19, 2017) – In what has been a banner year for the Sutter, California driver, Logan Seavey captured not only the 2017 POWRi Lucas Oil National Midget League championship, but also took Rookie of the Year honors with the League. Wrapping up the 2017 season with only two wins, it is clear that it was Seavey's consistency that brought home the championship for the rookie midget driver.
Piloting the Toyota-powered Factory Boss Performance, Rockwell Security/RAM's Racing-sponsored entry, Seavey's first victory of 2017 came in the final night of Illinois SPEED Week at Lincoln Speedway with a last lap pass over Michael Pickens for the win. Seavey again found victory lane, this time at Macon Speedway for the Third Annual Camfield Memorial. With 18 top tens, and nine top five finishes in 23 starts, Seavey was able to garnish 5300 points for the season over runner-up Tucker Klaasmeyer's 5130.
Klaasmeyer's nine top fives and 16 top tens bolstered the Paola, Kansas driver to the second position, but were not enough to overcome Seavey. Jake Neuman finished the season in third with 4730 overall points in 23 starts. Spencer Bayston, the driver with the most victories in 2017 (five) filled the fourth position with 4560 points. Zach Daum, the defending League champion finished fifth with 4490 after suffering a season-ending crash at Spoon River Speedway in the final phase of the season.
Andrew Felker took sixth with Ryan Robinson in seventh. Rookie Aidan RoosEvans finished eighth. Tanner Thorson and Tyler Thomas rounded out the top ten, each tallying four victories with the POWRi Lucas Oil National Midget League in 2017 while running a condensed schedule.
For further information, visit www.powri.com, "Like" POWRi on Facebook and follow @POWRi_Racing on Twitter.