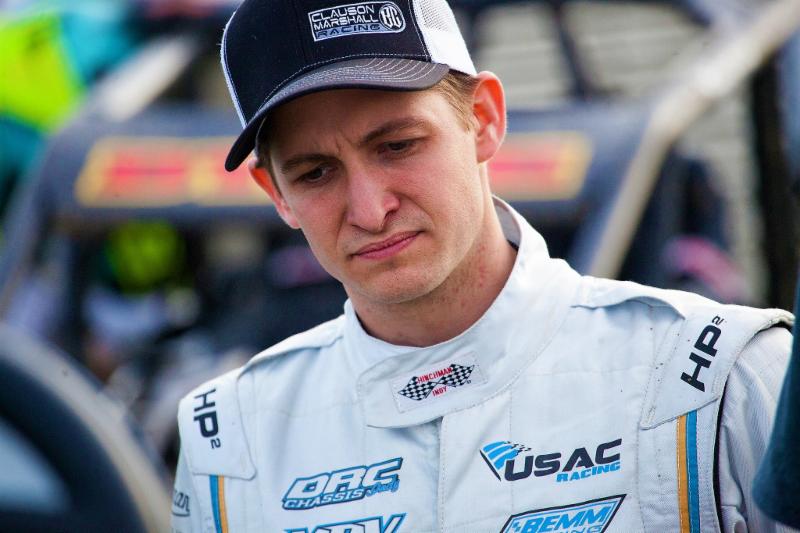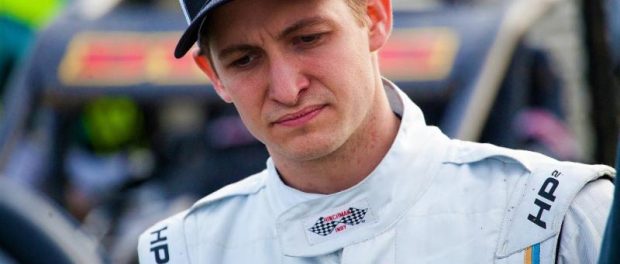 From Richie Murray
Justin Grant's consistent performances in all three of USAC's national divisions has earned him the coveted Mike Curb Super License for 2017 for which he will be awarded at the December 8 "Night of Champions" at the Indiana Roof Ballroom in Indianapolis.
Grant's total accumulation of 4070 points in USAC's Silver Crown, AMSOIL National Sprint Car and National Midget series outdistanced Tyler Courtney's 3601 on his way to the $5000 award and a "Super License" to compete with USAC during the 2018 season.
Grant was the only driver to make a start in all 70 USAC National points races in 2017 (10 Silver Crown, 37 Sprint & 23 Midget). He also became the first driver since Tracy Hines in 2011 to finish in the top-five of the point standings in all three series during a single year (4th in Silver Crown, 2nd in AMSOIL National Sprint & 5th in National Midget). Grant, along with Courtney, were the lone two to win feature events in all three divisions in 2017.
Ione, California's Grant became the first driver in the history of USAC to record season-opening victories in both a National Sprint Car and National Midget in the same season. He captured the first of his four National Sprint Car wins on night one of "Winter Dirt Games" at Bubba Raceway Park in Ocala, Fla. before reeling off three more at Plymouth (Ind.) Speedway, Ohio's Eldora Speedway and Iowa's Knoxville Raceway.
He won twice in a midget, indoors at the Southern Illinois Center in Du Quoin and a thrilling last lap, last corner victory at Susquehanna Speedway during "Pennsylvania Midget Week." In August, he broke through for his first career Silver Crown win in the "Bettenhausen 100" at the Illinois State Fairgrounds' mile in Springfield.
Please join Spencer and the rest of USAC's 2017 champions at the Indiana Roof Ballroom as the United States Auto Club celebrates its best at the 62nd Annual USAC Night of Champions at the Indiana Roof Ballroom in downtown Indy on Friday night, December 8, 2017.
Each of USAC's champions and special award winners will be honored in the ceremony that will take place on PRI weekend at the beautiful facility located atop the Indiana Repertory Theater at 140 W. Washington St. in Indianapolis, Indiana.
Cocktails are set to begin at 6pm with dinner and the awards ceremony scheduled to begin at 6:30pm.
Tickets are $65 each and must be reserved by Friday, December 1st. To reserve your seat, please contact Nikki Klepper at nikki@usacracing.com or by phone at (317) 247-5151 Ext. 103.
2017 FINAL MIKE CURB SUPER LICENSE STANDINGS
1. (4070) Justin Grant
2. (3601) Tyler Courtney
3. (3359) Brady Bacon
4. (2946) Chris Windom
5. (2275) Dave Darland
6. (2232) Kevin Thomas, Jr.
7. (2086) C.J. Leary
8. (2052) Chase Stockon
9. (1974) Chad Boespflug
10. (1925) Jerry Coons, Jr.
11. (1883) Robert Ballou
12. (1472) Spencer Bayston
13. (1416) Shane Golobic
14. (1392) Tanner Thorson
15. (1332) Thomas Meseraull
16. (1261) Josh Hodges
17. (1243) Jarett Andretti
18. (1154) Chad Boat
19. (1055) Holly Shelton
20. (1021) Kody Swanson
21. (995) Tanner Carrick
22. (976) Shane Cottle
23. (962) Isaac Chapple
24. (871) Aaron Farney
25. (853) Hunter Schuerenberg
26. (777) Ryan Robinson
27. (739) Kyle Cummins
28. (633) Tyler Thomas
29. (627) Brayton Lynch
30. (542) Alex Bright
31. (511) Stevie Sussex
32. (506) Carson Short
33. (462) Jon Stanbrough
34. (457) Kyle Robbins
35. (439) Michael Pickens
36. (436) David Byrne
37. (402) Aaron Pierce
38. (359) Gage Walker
39. (355) Matt Goodnight
40. (350) Bobby Santos
41. (337) Joe Liguori
42. (326) Ryan Greth
43. (304) Jake Neuman
44. (302) Joss Moffatt
45. (300) Landon Simon
46. (283) Zach Daum
47. (248) Damion Gardner
48. (231) Max McGhee
49. (213) Tyler Hewitt
50. (212) Jeff Bland, Jr.
51. (201) Matt Westfall
52. (198) Dallas Hewitt
53. (188) Joe Axsom
54. (182) Mario Clouser
55. (181) Davey Ray
56. (168) Davey Hamilton, Jr.
57. (167) Tanner Swanson
58. (165) Aric Gentry & Davey Hamilton
60. (164) Dakota Jackson
61. (161) Steve Buckwalter
62. (158) Corey Smith
63. (153) Kyle Schuett
64. (151) Brandon Mattox
65. (150) Austin Nemire
66. (147) Shane Cockrum
67. (146) Robert Bell
68. (141) Mark Smith
69. (138) Patrick Lawson
70. (134) Rob Caho, Jr.
71. (131) Jeff Swindell
72. (130) Patrick Bruns
73. (129) Tony DiMattia
74. (105) Shawn Westerfeld
75. (101) Shane Butler
76. (100) Johnny Petrozelle
77. (97) Bill Rose
78. (95) A.J. Russell
79. (93) Kevin Studley
80. (90) Toni Breidinger
81. (89) Annie Breidinger
82. (87) J.C. Bland
83. (86) Jacob Wilson
84. (82) Casey Shuman & David Shain
86. (78) Chris Fetter & Troy Thompson
88. (77) Josh Spencer
89. (73) Tom Harris
90. (71) Brian Tyler
91. (70) Logan Jarrett
92. (65) Cooper Clouse
93. (60) Tyler Clem
94. (56) Chris Urish
95. (55) Bear Wood
96. (53) Clinton Boyles
97. (48) Joey Moughan
98. (47) Dave Berkheimer
99. (43) Henry Clarke
100. (41) Korey Weyant
101. (40) Ted Hines
102. (39) Terry Babb
103. (34) David Budres
104. (33) Danny Long
105. (30) Kent Schmidt
106. (28) Keith Burch
107. (27) Ryan Newman
108. (25) Ken Schrader
109. (23) Cody Gerhardt
110. (20) Kenny Gentry
111. (13) Russ Gamester
112. (10) A.J. Fike & Cody Gallogly