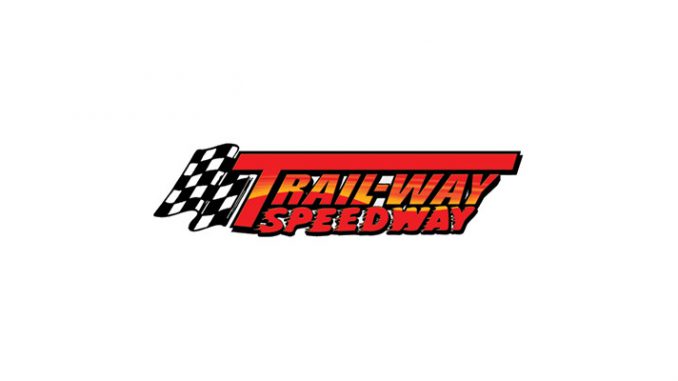 From Kalida Landon
HANOVER, Pa. (December 9, 2017) – Drivers, crew members and personnel celebrated another successful season at Trail-Way Speedway, Saturday night at the Southeastern Adams Volunteer Emergency Services Hall in Hanover, PA. Awards were presented to 33 drivers from the six main divisions that raced during Trail-Way's 45th season. Trail-Way Speedway track announcer and banquet emcee, Scott Hockensmith, thanked Hoosier Tire Mid-Atlantic, Precise Racing Products, Trone Outdoor, Insinger Performance and Crown Trophy for their season sponsorship.
Steve Owings won his first Hoosier Tire Mid-Atlantic 358 Sprint Car championship. Owings claimed the title by 37 points over Isaac Sneeringer. Owings' season was highlighted by five wins and 13 top fives out of 14 starts. Sneeringer also had a great season claiming three wins including the Insinger Fuels Spring Championship. Brody Treaster was awarded the 2017 358 Sprint Car Rookie of the Year award.
The Precise Racing Products 358 Late Model Series championship was awarded to Travis Mease. Mease's season highlights featured seven top fives in ten starts.
Brian Walls was named the 2017 Street Stock champion. Walls dominated the division with six wins and ten top fives in 11 starts. Runner-up, Jeremy Stremmel, posted three wins with seven top fives in 11 feature starts. John Wright received top honors for the 2017 Street Stock Rookie of the Year award.
Brad Weber claimed the 600cc Micro Sprint title over the young up-and-comer, Zane Rudisill. Weber's season included three wins with seven top fives in nine feature starts. While Rudisill finished the season winless, he did compile four top fives and six top tens in nine feature starts. Mike Sherman was named the 2017 600cc Micro Sprint Rookie of the Year.
Brian Marriott claimed the 270cc Micro Sprint championship by 16 points over Levi Peck. Marriott's season highlights featured two wins, one of which was on opening day, eight top fives and ten top tens in ten feature starts. Branstin Shue was awarded the 2017 270cc Micro Sprint Rookie of the Year award.
The Limited Stock championship was awarded to Jason Chronister. Chronister's first track championship was highlighted by three wins and 11 top fives in 14 feature starts. Runner-up, Robbie Carroll, finished 27 points behind Chronister with six wins and 11 top fives finishes in 16 starts. Matt Worley was awarded the 2017 Limited Stock Rookie of the Year award.
The 45th annual event included awards such as the "Armin Hostetter Annual Appreciation Award" given to Sherril "Pop" Guise, an award for the Trail-Way Speedway Central PA Legends track champion, Chris Transeau, and the annual Lynn Sheaffer Video Award, presented to Roy Denike.
Brad Hostetter, race director, announced opening race dates for the 2018 season. Trail-Way Speedway's 46th season will open with a practice session on Saturday, March 24, followed by the first of three AMA Motorcycle Short Track races, Saturday, March 31. The 600 & 270 Micros along with the Central PA Legends will kick off the 2018 race season, Saturday, April 7. The Friday night opener will be April 13, and will feature the Hoosier Tire Mid-Atlantic 358 Sprint Cars and the Large Tire Street Stocks. The 2018 schedule will be posted to the website once it is finalized.
The Large Tire Street Stocks will be a part of our weekly Friday night racing series in 2018. Trail-Way track management and tech inspectors put a lot of time in this offseason to compile a very competitive and thorough rules package.
Additional improvements for the 2018 racing season include the addition of 20 loads of clay, re-painted walls, upgraded LED pit lights and a new fire aide suppression system which is portable and non-toxic to the driver. The scales in the pits have been raised and will be operational and we anticipate adding new LED track lights to the speedway in the coming months.
Motorama Races and Shows will be held at the Pennsylvania Farm Show Complex in Harrisburg, PA on February 17-18, 2018. Be sure to join us for the nation's largest all indoor motorsports event with one million square feet of exhibit space and five rooms of racing! Discount tickets are available through the website www.motoramaevents.com until February 5, 2018. For more information, visit the website.
For all the latest news and related information from Trail-Way Speedway, fans are reminded to visit the speedway website at www.trail-wayspeedway.com or the Speedway's Facebook page www.facebook.com/trailwayspeedway. The complete story and agate from each race night is posted shortly after the final checkered flag falls.