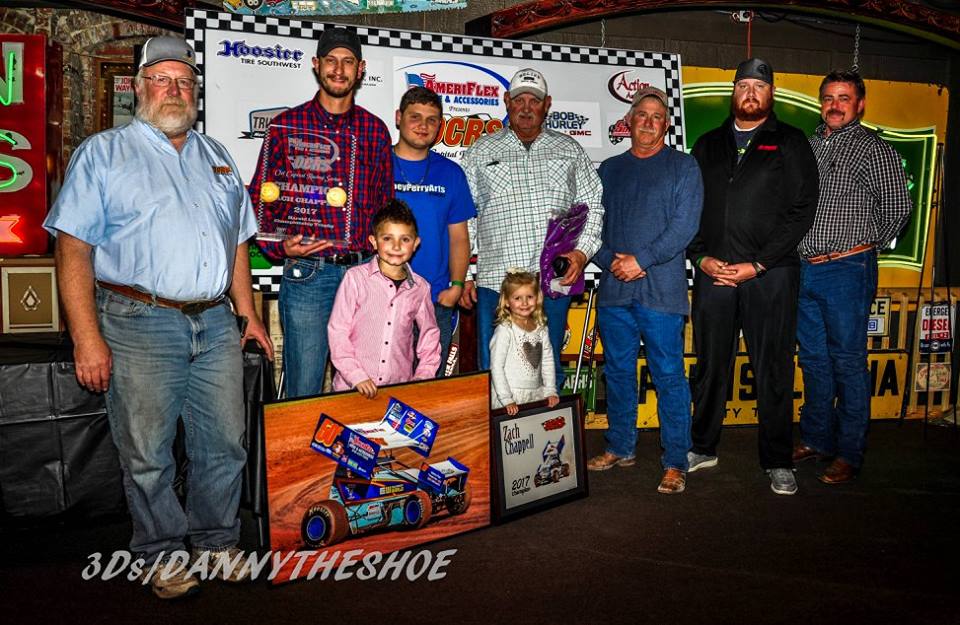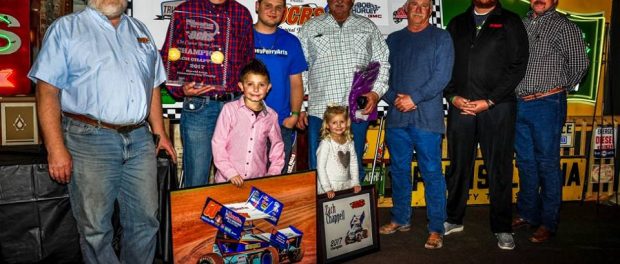 From OCRS
TULSA, Ok. (December 11, 2017) – Zach Chappell was presented with the Harold Leep Championship trophy last Saturday night as the 2017 AMERI-FLEX / OCRS sprint car series champion at the Signs of the Times event center in Sapulpa Oklahoma. It is the first AMERI-FLEX / OCRS title for Chappell who began racing regularly with the series in 2015 and becomes the seventh overall champion in the history of the Tulsa based sprint series.
Chappell won the title utilizing a Maxim Chassis with DSO Racing Engines power. Sponsors of the David Chappell owned car include: Ameri-Flex Hose & Accessories, Hoosier Racing Tires, Smiley's Racing Products, Crazy Cow Trucking, Metro Fire Protection, T Bar D Trucking and Amsoil. In the latter part of the racing season, Chappell overcame a serious challenge by early points leader Shane Sellers who was also searching for his initial crown. In the end, only 66 points separated the two drivers (1212 – 1147).
The awards event began with dinner followed by a show from magician Steve Lancaster with the AMERI-FLEX / OCRS awards ceremony closing out the evening. Other top 10 drivers that were honored for their accomplishments in addition to Chappell and Sellers in order were: Sheldon Barksdale, Whit Gastineau, Joe Bob Lee, Johnny Kent, Mickey Walker, Alex Sewell, Shayla Waddell and Cameron Hagin. Rob Forehand accepted on behalf of Alex Sewell.
Robert Sellers, Frank Taft and Joseph Miller were acknowledged for qualifying for the annual point fund as supplied by Tom Lorenz of Hoosier Tire Southwest and Smiley's Racing Products. Noah Gass was honored as the 2017 Rookie of the Year while John Rittenoure was presented a Lifetime Achievement Award for his 54 years of service (and still going) in the racing industry.
Some of the special attendees of note were:
Corvan Robison and Jen Whorton of Ameri-Flex Hose & Accessories
Bryce Hall of the Salina Highbanks Speedway
Randy Gass of the Thunderbird Speedway
Pat Grady of Amsoil
Rick & Rita Whitehead of Drive Shafts Inc.
Rob Forehand of Action Auto Collision
Corvan Robison received a special gratitude award on behalf of Grand National Trailer for their gracious support in 2017 and Zach Chappell did the same for another major sponsor, Truck Lungs. The AMERI-FLEX / OCRS series is extremely grateful to these companies that came on board this season.
Larry and Linda Dean presented their annual Dena Dean Angel Award with Pepper Kent Fish selected as this years recipient. The Dean's also presented the D&P Escort Award which honors the best looking car for the season. That award went to Shayla Waddell who sported a mid 80's replica color scheme of the Gambler dirt champ house car that Shane Carson made famous in that era. Carson, a member of the National Sprint Car Hall of Fame, was on hand and was provided a second plaque by the Dean's for his connection to Waddell's tribute car.
Additional awards presented were:
Spirit of the Year: Johnny Kent
Newcomer of the Year: Joe Bob Lee
Perseverance of the Year: Robert Sellers
Hardest Charger of the Year: Sheldon Barksdale
Most Improved Driver: Shane Sellers
Mechanic of the Year: Rob Forehand
Joey Perry of Joey Perry Arts presented a hand drawn portrait Chappell's car to Zach Chappell for his championship. Perry also auctioned off a beautiful 24″ x 36″ canvas portrait of a sprint car with the American flag as the back drop. The winning bidder was Corvan Robison. Perry is looking forward to his future education as a professional graphic arts designer.
Greg and Bob Shields, two dedicated race fans that visit multiple races each year were also in attendance. Special thanks goes out to Julie Barksdale of Prato Eyewear for the sunglasses she provided the racing staff and the drivers that received awards. The series wishes to thank the multiple parties that contributed to the door prizes they were given away:
Ameri-Flex Hose & Accessories for the hose & reel package and multiple sunglasses
Cinemark Movie Theater for the movie tickets
White River Fish Market for the free dinners
Finishline Restaurant for their certificates
Linda Mar Hamburgers for their certificates
Ike's Chili for their certificates
Freedies Hamburgers for the Tulsa Hurricane Basketball Tickets
Danny Clum for the multiple 8×10 photos
JD Etter for the tumblers with custom lasering
Pat Grady of Amsoil for the gift bags
And….
Rob Forehand of Action Auto Collision for the following certificates to……
Home Depot, Kohl's, Amazon, Red Robin, Schlotzky's, iTunes, Quik Trip & Johnny Carinos
While not in attendance Saturday night, the AMERI-FLEX / OCRS series also wishes to thank the following sponsors in addition to those previously mentioned:
David Grace of Carter-Maxwell
Bob Hurley Ford
A-1 Machine Shop
Car & Fleet Parts
Wesmar Racing Engines
M&W Aluminum Products
Maxwell Oil
Rod End Supply
Schoenfeld Headers
Brodix
Maxim Racing
H&R Block
and all of our various "Lap Sponsors" that supported our series on the special lap sponsored programs.
It was another exciting season for the series and even more great things are in store for 2018. Till then, we wish everyone a fantastic holiday season and come next spring, it will be time to Feel The Thunder!