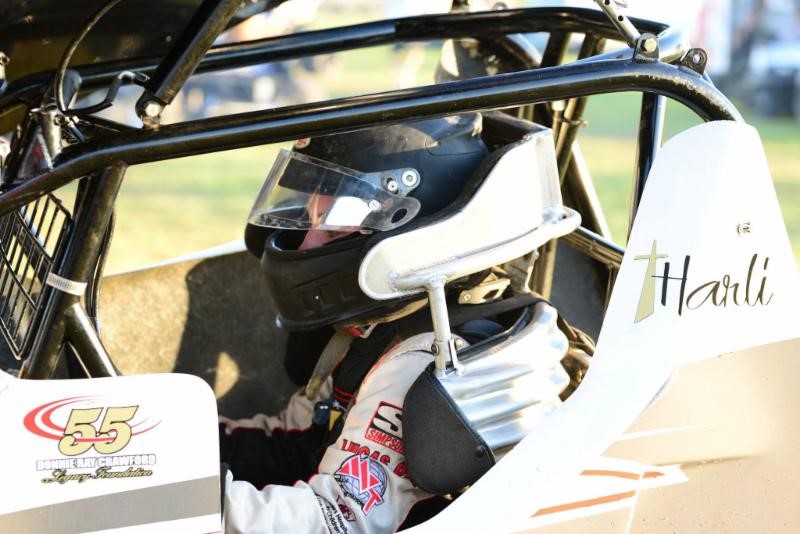 From Inside Line Promotions
TULSA, Okla. (January 16, 2018) – Harli White has great news following a successful partnership at the 32nd annual Lucas Oil Chili Bowl Midget Nationals.
White, who drove a CatSpot sponsored midget for Johnny Herrera Racing at the marquee event inside the River Spirit Expo Center, is thrilled to announce that CatSpot has joined Harli White Racing for the 2018 season.
"It's huge," she said. "You pray for a sponsor to come along that helps you out and you become family with them. My whole family and I have been praying for a moment like this to happen. We're all excited to get the season going and I think it's going to be bigger and better things to come thanks to CatSpot."
White and the CatSpot sponsored race car had some bright moments during the Chili Bowl. She advanced from sixth to fifth place in a heat race on Wednesday to open preliminary competition. Unfortunately, that narrowly missed a spot in a qualifier and relegated her to a C Main.
White maneuvered from fourth to win the C Main and she charged from 13 th to fifth place in a B Main, which was only one position shy of transferring into the main event.
"We didn't get that many laps on practice day because of a mechanical issue so we entered qualifying night blind and didn't have a lot to go off in terms of the setup," she said. "We got behind the eight ball and tried to work our way up there, but got caught up in a crash in the heat race. That really put us behind, but I knew we were fast."
White returned to the bullring on Saturday and she powered from third to win an E Main before her event closed with a DNF in a D Main.
"The way the track conditions were there weren't a lot of passes going on," she said. "We did what we could. We didn't tear up anything and we moved forward almost every time we were on the track all week. It was a tough week, but any time you're not racing in the morning on Saturday it's been a good week.
"I want to thank Johnny Herrera Racing for the great car as well as CatSpot for their support through not only the Chili Bowl, but moving forward into the 2018 season."