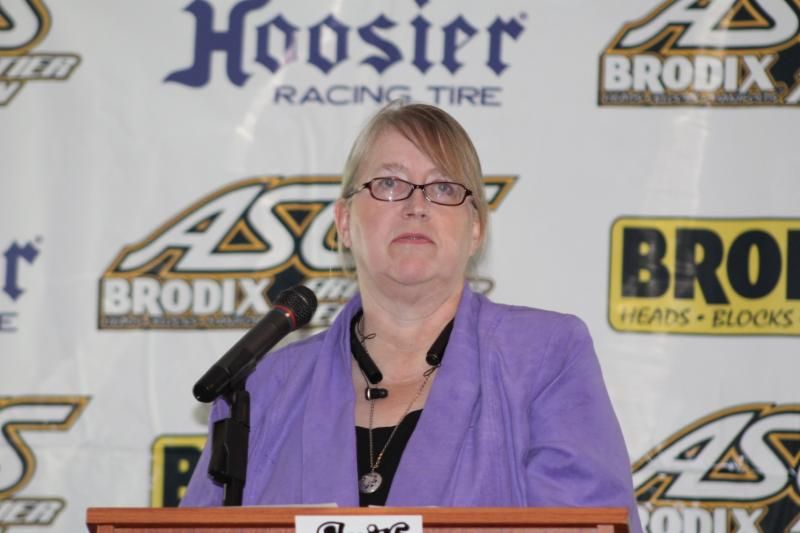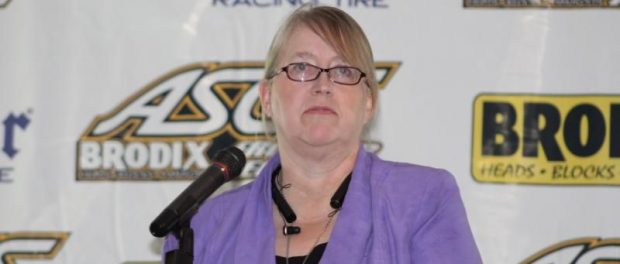 From Bryan Hulbert
TULSA, Okla. (February 19, 2018) – The sixth season of racing is on the horizon for the Brodix ASCS Frontier Region with the series' first female Competition Director taking charge for a lineup of 26 confirmed dates across Montana, South Dakota, and Wyoming with three awaiting confirmation.
Cary Berry-Smith, who has been involved in Motorsports for nearly a decade in aspects ranging from driver, publicist, and promoter has taken on the role of Competition Director. This marks the first time a woman has taken charge full-time of an ASCS sanctioned series.
"The simple answer is that I'm really excited to get this opportunity," commented Berry-Smith, who is the Supervisor of Student Media at the University of Wyoming when she's not at the races. "I really think dirt track racing in this region has a lot of potential; especially Sprint Cars. Their dynamics just make them so exciting, and that's something that we can really use to expand to a wider variety of fan."
On being the first woman to head an ASCS sanctioned series, Cary was very clear that she looks at it all very simple; if you give respect, you'll get respect, "The fact that I'm a woman doesn't change the fact that we are there to put on a quality show. I'm not going to treat them any different, and I don't expect to be treated differently. They know what's expected and they know the rules."
Kicking off the first of 18 races in the state of Montana on May 11 and 12 at Billings Motorsports Park, the three-eighths-mile oval will see a half-dozen races including the season-ending weekend on September 14 and 15. Electric City Speedway in Great Falls, Mont. follows with their first of seven events on May 18 and 19. The third Montana oval and the only one with a Lucas Oil American Sprint Car Series National Tour presented by Sawblade.com event in 2018, Gallatin Speedway goes green on June 8 with four more dates in addition too.
Filling in the remaining eight races include six Wyoming events with four at Sweetwater Speedway in Rock Springs, Wy. along with two dates at Gillette Thunder Speedway in Gillette, Wy. With two nights in South Dakota, the big half-mile Black Hills Speedway will see action on June 1 and July 27.
Questions regarding the Brodix ASCS Frontier Region can be directed to Cary Berry-Smith at (307) 532-1739 or by email to cary.berry.smith@gmail.com. Tech will be handled by Kass Cornella, who headed the series the past two seasons. Any official updates regarding the 2018 lineup for the Brodix ASCS Frontier Region will be posted to http://www.ascsracing.com.
For other news, notes, and information on the American Sprint Car Series, from the National Tour to any of the Regional Tours that make up the over 150 dates across the ASCS Nation in 2018, log onto http://www.ascsracing.com, follow on Facebook, on Instagram, and on Twitter (@LucasOilASCS).
2018 Brodix ASCS Frontier Region Lineup
Date – Track (City, State)
5/11/2018-Billings Motorsports Park (Billings, MT)
5/12/2018-Billings Motorsports Park (Billings, MT)
5/18/2018-Electric City Speedway (Great Falls, MT)
5/19/2018-Electric City Speedway (Great Falls, MT)
6/1/2018-Black Hills Speedway (Rapid City, SD)
6/2/2018-Gillette Thunder Speedway (Gillette, WY)
6/8/2018-Gallatin Speedway (Belgrade, MT)
6/9/2018- TBA
6/22/2018-Sweetwater Speedway (Rock Springs, WY)
6/23/2018-Sweetwater Speedway (Rock Springs, WY)
7/6/2018-Gallatin Speedway (Belgrade, MT)
7/7/2018-Gallatin Speedway (Belgrade, MT)
7/13/2018-Electric City Speedway (Great Falls, MT)
7/14/2018-Billings Motorsports Park (Billings, MT)
7/27/2018-Black Hills Speedway (Rapid City, SD)
7/28/2018-Gillette Thunder Speedway (Gillette, WY)
8/3/2018-Gallatin Speedway (Belgrade, MT)
8/4/2018- TBA
8/10/2018-Electric City Speedway (Great Falls, MT)
8/11/2018-Billings Motorsports Park (Billings, MT)
8/24/2018-Sweetwater Speedway (Rock Springs, WY)
8/25/2018-Sweetwater Speedway (Rock Springs, WY)
8/31/2018-Electric City Speedway (Great Falls, MT)
9/1/2018-Electric City Speedway (Great Falls, MT)
9/2/2018-Electric City Speedway (Great Falls, MT)
9/7/2018-Gallatin Speedway (Belgrade, MT)
9/8/2018- TBA
9/14/2018-Billings Motorsports Park (Billings, MT)
9/15/2018-Billings Motorsports Park (Billings, MT)