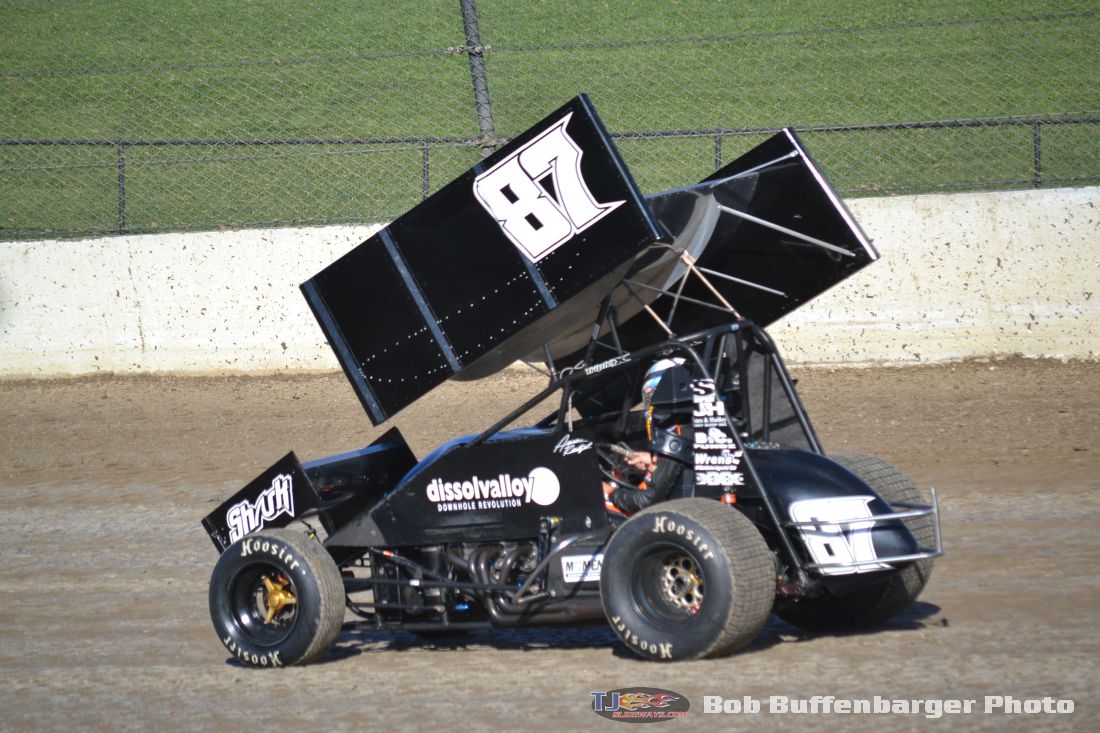 TULARE, Ca. (March 2018) — Aaron Reutzel made his trip to California with his new race team worthwhile by winning his first career World of Outlaws Craftsman Sprint Car Series feature event Friday night at Thunderbowl Raceway in Tulare, California. Reutzel with his newly formed Baughman-Reutzel Motorsports team in only their third start after trading the lead back and forth with Cory Eliason before pulling away in traffic over the final five laps.
Afterwards Retuzel was emotional after achieving a career long goal of winning a World of Outlaws feature.
"I don't know what to say, I'm trying not to cry," said Reutzel after climbing on the victory podium. "This is a dream come true. I've led Outlaw shows since 2015, I think I've led two every year since. You start to doubt yourself and think you can't do it. This is truly amazing and I'm so lucky to have the people I do behind me."
Eliason led the feature early until Sheldon Haudenschild closed in while trying to navigate a large group of slower cars on lap 10. Two laps later Haudenschild took advantage of a bobble by Eliason to take the lead in turns three and four.
Haudenschild continued a torrid pace through traffic. Behind him Eliason got out of shape and soon found himself under siege by Schatz for the second position. The completion of the race changed on lap 20 when Haudenschild's car shot up the race track in turns one and two and eventually came to rest against the turn four wall and out of the event.
Haudenschild's misfortune put Eliason back to the top position. Eliason pulled away after the restart, but late in the race found himself trading the lead back and forth with Reutzel on each end of the race track. With Donny Schatz lurking behind him.
After trading the top spot back and forth Eliason took the low line through turns one and two, allowing Reutzel to use his momentum at the top to take the lead. Over the final five laps Reutzel sliced through lapped traffic with amazing speed to pull away for the victory. Eilason held on for second with Schatz taking the final podium position.
For Reutzel challenging Eliason without giving away how he was running the race track appeared to pay off.
"I knew if I couldn't pass him right away I was at least trying to make him think I was running the bottom and I didn't want to show him my line, so that worked out pretty well there.," said Reutzel about dicing with Eliason for the lead. "He tried to run the bottom because he thought that's what I was doing, and I was able to slide right by."
For Eilason though it was not Reutzel's presence that made him move down the race track.
"The thought was I saw (Schatz) underneath me and I figured if I didn't block that line there was no way I was going to win," said Eliason after the feature.
For Schatz, who is not typically known for his prowless on heavy, bull ring ovals was pleased with his team's progress on such race tracks.
"Top three is very respectable finish for us here. We don't normally run good on race tracks like that. At some points in traffic it felt like great opportunity not get that, but that's the way it goes."
Reutzel was able to celebrate his first Outlaw win at a track he truly enjoys and has won at in the past.
"This track is truly special to me. I came here with Dennis Roth and won the Peter Murphy Classic and now to win my first Outlaw show here. It just fits my driving style, gassing it up on the fence."
World of Outlaws Craftsman Sprint Car Series
Thunderbowl Raceway
Tulare, CA
Friday March 9, 2018
Feature: 1. 87 – Aaron Reutzel, 2. 83 – Cory Eliason, 3. 15 – Donny Schatz, 4. 41S – Dominic Scelzi, 5. 21X – Carson Macedo, 6. 9 – Daryn Pittman, 7. 49 – Brad Sweet, 8. 7S – Tim Kaeding, 9. 14 – Jason Meyers, 10. 24 – Rico Abreu, 11. 57 – Giovanni Scelzi, 12. 18 – Ian Madsen, 13. 45 – Paul McMahan, 14. 29 – Willie Croft, 15. 4 – Parker Price-Miller, 16. 2 – Shane Stewart, 17. 41 – Jason Johnson, 18. 21 – Brian Brown, 19. 5 – David Gravel, 20. 26 – Joey Saldana, 21. 00 – Dane Lorenc, 22. 1S – Logan Schuchart, 23. 17 – Sheldon Haudenschild, 24. 49X – Tim Shaffer, 25. 88N – D.J. Netto, 26. 13 – Clyde Knipp, 27. 82JR – Kyle Hirst, 28. 1A – Jacob Allen.
Lap Leaders: