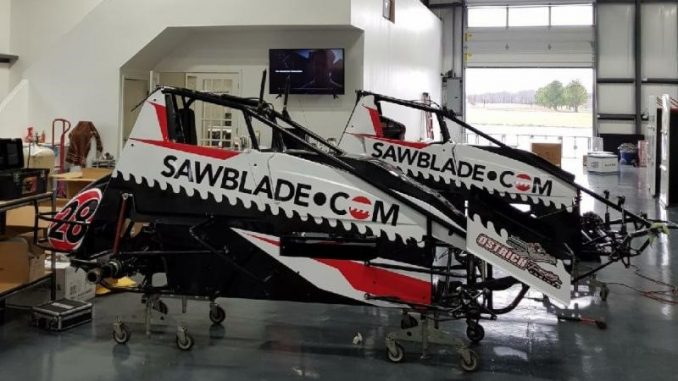 From Inside Line Promotions
TULSA, Okla. (March 11, 2018) – SawBlade.com is helping Australian sprint car driver Scott Bogucki realize a lifelong dream of becoming a professional sprint car driver.
Bogucki will tackle the Lucas Oil ASCS National Tour presented by SawBlade.com in 2018 thanks to support from SawBlade.com, which is redefining the way industrial, hardware and home use band saw blades are made and distributed.
Bogucki said the plans came together a couple of months ago thanks to the efforts of James Cooper from the Cooper Motorsports team, which is also backed by SawBlade.com, and Scottie McDonald of Dissolvalloy – a sponsor of Bogucki's team.
"James and Scottie are good friends and James said his team couldn't commit to the entire ASCS National Tour so we talked with Chris (Luke) of SawBlade.com and it all came together," Bogucki said. "SawBlade has stepped up their involvement with ASCS so it made sense to not only back the Cooper team, but me as well.
"It's been a dream of mine since I came here six years ago and worked on Johnny Herrera's crew to be a professional race car driver. I've seen the Madsen's and Brooke Tatnell and so many other Australians come over here and be successful and that's what I'm going to work hard to accomplish."
Bogucki will begin his chase for the Lucas Oil ASCS National Tour presented by SawBlade.com title next Friday and Saturday during the 45th annual Spring Nationals at Devil's Bowl Speedway in Mesquite, Texas.
"I know how hard this ASCS deal is," he said. "The competition is the toughest out there. I will work hard to keep trying to better myself every week."
Bogucki owns one of two sprint car teams that SawBlade.com is backing in 2018. Cooper Motorsports has been a contender for the ASCS Gulf South Region championship the last couple of seasons with Tommy Bryant as the driver and SawBlade.com as the main partner. The team opened the season last month in Florida with Tanner Thorson and John Carney II sharing driving duties. Bryant is expected to return to the cockpit in the near future.
Additionally, SawBlade.com, which was recently announced as the presenting sponsor for the ASCS National Tour, is sponsoring the tractor pulling team of David and Janet Esteb. The Esteb's will compete with the Lucas Oil Pro Pulling League this year.
"We're excited to have a SawBlade.com sponsored car on the ASCS National Tour with Scott Bogucki behind the wheel," SawBlade.com Founder Chris Luke said. "SawBlade.com is heavily involved in motor sports and we're looking forward to showcasing our products throughout the country thanks to our partnerships with the racing teams and ASCS."