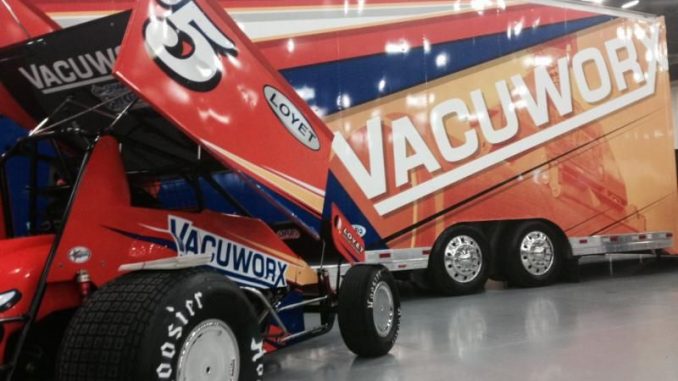 From Inside Line Promotions
STILLWATER, Okla. (March 19, 2018) – Zane Hendricks is slated to make his sprint car racing debut on April 6-7 when the Lucas Oil ASCS National Tour presented by SawBlade.com invades the dirt track at Texas Motor Speedway in Fort Worth, Texas.
The current USAC P1 Insurance National Midgets driver for Tucker-Boat Motorsports will pilot a sprint car for Brad Loyet, who is currently recuperating from injuries suffered in a shop accident earlier this year.
"I'm really excited about racing a sprint car for the first time," Hendricks said. "This deal just kind of came up out of nowhere. I can't thank Brad and Joe Loyet enough for this opportunity. I wouldn't be anywhere near where I am in my racing career without their help. Since he's unable to race himself this year, Brad has openings for funded drivers in his 410, 360 and midget cars. We encourage anyone who is interested to take advantage of the great opportunity to work with the Loyets."
There was no particular reason that Hendricks chose to make his first start at Texas Motor Speedway other than it fits his and Loyet's schedules.
"We just decided to race at Texas because Brad was anxious to get to a track soon and I had that weekend open," he said. "I'm excited about it and maybe a little nervous. I've never sat in a sprint car before. And it will definitely be the biggest track I've ever raced on. But that might be a good thing for my first time since the cars should get a bit more spread out than on a smaller track.
"This is the only sprint car race we have planned for now. We've talked a little bit in the past about maybe doing some non-wing sprint car stuff, like maybe with the WAR Series, sometime in the future. And we've considered someday racing a sprint car on a regular basis, especially since the cost of racing a 360 is about the same as a midget. But first we'll see how things go that weekend."
Hendricks's midget racing schedule for this season will remain intact.
"We're still focused on driving for Tucker-Boat Motorsports on the USAC tour this season," he said. "We are also planning on running about 12 to 14 POWRi National races."