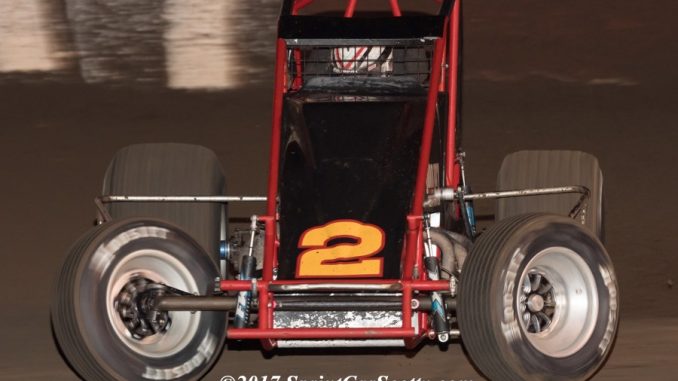 By Lance Jennings
TULARE, Ca. (April 11, 2018) – After a break in the schedule, the AMSOIL USAC/CRA Sprint Cars are back in action this Saturday, April 14th, at Tulare's Merle Stone Chevrolet Thunderbowl Raceway. Promoted by Steve Faria, the second point race will also feature the Light Up The World USAC Western States Midgets presented by CBD Living Water and the Western RaceSaver Sprint Cars. The spectator gates will open at 4:00pm, time trials at 5:00pm, and racing will start at 7:00pm. For more event information, visit the track's website at www.tularethunderbowl.com or call 559.688.0909. Is
Located on the Tulare County Fairgrounds, the lightning fast 1/3-mile oval has held seven USAC/CRA Sprint Car races and Mike Spencer won the last appearance on May 18, 2013. "The Kruser" Cory Kruseman topped the May 27, 2007 debut and Bryan Clauson set the 1-lap qualifying record of 14.606 on November 14, 2009. The series win list at Merle Stone Chevrolet Thunderbowl Raceway is at the bottom of this release.
Entering Saturday's race, "The Demon" Damion Gardner (Concord, California) has an eight point advantage over the competition. Driving Mark Alexander's #4 Trench Shoring / Weld Racing Spike, Gardner won the March 9th "Spring Showcase" at Canyon Speedway Park. The six-time champion has seventy-six USAC/CRA victories and will be looking to add another trophy to his collection.
Jake Swanson (Anaheim, California) ranks second in the chase for the championship. Racing Tom and Laurie Sertich's #92 Huntington Beach Glass & Mirror / Phil & Eileen King Triple X, Swanson led the first eight laps at Canyon Speedway Park before finishing second. Last year's USAC West Coast Sprint Car Champion has one career USAC/CRA triumph and will have his sights on Saturday's $3,000 payday.
R.J. Johnson (Laveen, Arizona) sits third in the USAC/CRA point standings. Making his debut in Dwight Cheney's #42 Racing Optics / Sander Engineering Maxim, Johnson scored third in the "Spring Showcase." The five-time USAC SouthWest Sprint Car Champion has six career USAC/CRA wins and will be looking to gain valuable points with a Tulare victory.
"The Hanford Hornet" Chad Boespflug (Hanford, California) is fourth in the championship point chase. Piloting Andy Reinbold and Todd Underwood's #19S AME Electrical / Ross Equipment Rentals Spike, Boespflug earned the March 9th Woodland Auto Display Fast Time Award and ran fifth in the main event. The former SCRA 360 Sprint Car Champion has returned to the Midwest to compete with the USAC National Sprints and local Indiana shows.
"Chargin" Charles Davis Jr. (Buckeye, Arizona) ranks fifth in the USAC/CRA championship standings. Driving his #50 RSS Industries / MP Environmental RSS, Davis scored a fifth place finish in the "Spring Showcase." The five-time Arizona Sprint Car Champion will miss Tulare to race in the USAC SouthWest "Cotton Classic" at Casa Grande.
Currently twenty-fourth in points, Gary Paulson (Woodland, California) leads the chase for Rookie of the Year honors.
Among the other drivers expected to be in action are Brody Roa, "The Big Game Hunter" Austin Williams, "The Cadillac" Cody Williams, Logan Williams, "Thunder" Tommy Malcolm, Matt McCarthy, A.J. Bender, Chris Gansen, "Hollywood" Danny Faria Jr., Austin Liggett, and more.
Tulare, California's Merle Stone Chevrolet Thunderbowl Raceway is located at the Tulare County Fairgrounds at the corner of Bardsley and K Streets. Adult Tickets are $25 Grandstand and $20 Bleachers, Senior Tickets are $23 Grandstand and $18 Bleachers, Kids (6-12) Tickets are $13 Grandstand and $10 Bleachers, and Kids (5 & Under) are FREE. Advance tickets are on sale and can be purchased by calling the track office at 559.688.0909. For more event information, visit the track's website at www.tularethunderbowl.com.