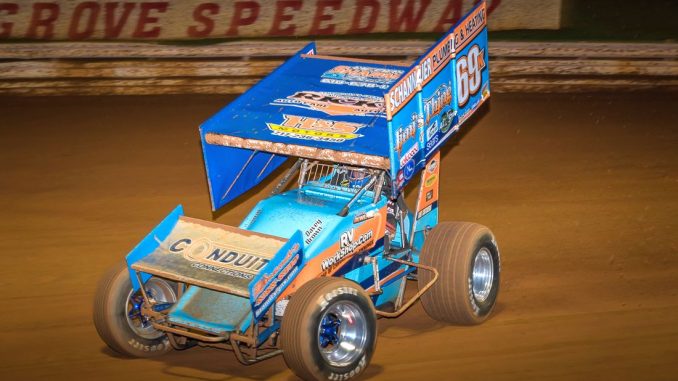 From Tyler Altmeyer
PORT ROYAL, Pa. (April 15, 2018) – For the second time in as many nights, and for the 37th time during his illustrious career, Fayetteville, Pennsylvania's Lance Dewease earned himself a trip to Arctic Cat All Star Circuit of Champions presented by Mobil 1 victory lane, this time during the third annual Keith Kauffman Classic at Port Royal Speedway on Saturday, April 14. It was a second consecutive Keith Kauffman Classic title for the recent National Sprint Car Hall of Fame inductee, now even with Steve Kinser, Doug Wolfgang, and Danny Lasoski on the all-time All Star Circuit of Champions win list.
By no surprise, Dewease's victory, a fifth consecutive against the All Star Circuit of Champions at the Port Royal Speedway "Speed Palace," was attained in impressive fashion, managing to outrun Greg Hodnett, Steve Buckwalter, Anthony Macri, and race leader, Aaron Reutzel, from the fifth starting position to secure the $5,000 payday. Dewease took command for the first time on lap 21, ultimately pulling ahead and crossing under the final checkers 2.149 seconds ahead of second place finisher, Aaron Reutzel.
Anthony Macri, who led the first 11 circuits before surrendering the top spot to Aaron Reutzel, stayed strong to finish third, followed by Steve Buckwalter and Greg Hodnett.
"It was far from autopilot for us tonight," Lance Dewease said in Port Royal Speedway victory lane. "It feels great to get this one in honor of Keith Kauffman. He is a true racing legend in this area and an even better person. It's really special that he gets to be around and witness a race that is a tribute to him. I also want to thank the fans for coming out and supporting this race tonight. Hopefully this nice weather sticks around for the rest of the summer."
Although impressive, Dewease's march to the front did not go unchallenged. In fact, up until the midpoint of the 30-lapper, it was Clute, Texas, native Aaron Reutzel who was in charge, taking the top spot away from Anthony Macri on lap 12 with a textbook slider through turns three and four. The pair drag raced to the start/finish line, but it was Reutzel credited with the lap by a margin of .2 seconds.
In the meantime, Dewease already battled his way to third, now setting his aim on Macri and Reutzel. With caution flags appearing on lap 16, the field was forced to stop for an open red giving teams an opportunity to refuel to assure they would make the remaining distance. The open red proved to be a turning point for Lance Dewease, giving the Don Kreitz, Jr.-owed, Schannauer Plumbing and Heating-backed, No. 69K entry an opportunity to undergo some set-up changes.
The changes made under the open red proved successful as Dewease was able to track down Reutzel by lap 21, soon driving underneath the Texan at the exit of turn four to officially take command. Dewease then drove away to win by over two seconds.
"If it wasn't for the red, Aaron [Reutzel] was going to win this race," Dewease explained. "He had the best race car of that stage of the race. Actually, I thought I was going to run third because Anthony Macri was running very well. He's turning into a talented young driver who is going to win a lot of races."
"I don't know if it was a heartbreak, or if I should be pumped up to be able to run with Lance Dewease like that," Aaron Reutzel explained, driver of the Baughman Reutzel Motorsports/No. 87 entry who will contend for an All Star Rookie of the Year title in 2018. "Lance is a guy I really look up to. He's a very humble guy and races everyone really clean. By far one of the smoothest drivers I have ever seen in my life. Just to be able to accomplish this much, especially against a guy like Lance Dewease, I'm beyond proud. That open red gave his guys an opportunity to make him better. I was already really good, so we didn't have much to modify. Regardless, I am beyond proud right now. This just goes to show what this team is capable of accomplishing."
The Arctic Cat All Star Circuit of Champions presented by Mobil 1 will conclude their first sweep through the Keystone State with a visit to Bedford Speedway in Bedford, Pa., later today – Sunday, April 15. The first and only appearance by America's Series in 2018, the annual Roy Morral Classic will headline competition at the Bedford Fairgrounds half-mile on Sunday evening awarding a $5,000 top prize.
In six prior Bedford Speedway appearances, the All Stars have crowned six different winners including Bill Rose, Lance Dewease, Trey Starks, Chad Kemenah, Greg Hodnett, and most recently, "Blackjack" Brian Brown.
Bedford Speedway will open pit gates at 2 p.m. on Sunday, April 15. The All Star drivers meeting will be conducted at 5:30 p.m. with hot laps following at 6 p.m. Other information, such as general admission gate times and ticket prices, can be found at the official online home of Bedford Speedway: www.bedfordspeedway.com.
Contingency Awards/Results: Port Royal Speedway – Saturday, April 14, 2018:
3rd Annual Keith Kauffman Classic
EMi Driver's Meeting: 47 entries
State Water Heaters Warm-Ups: Brock Zearfoss – 16.286 seconds
Lincoln Electric Fast Qualifier: Aaron Reutzel – 16.473 seconds
Ford Performance Heat #1: Greg Hodnett
All Pro Aluminum Cylinder Heads Heat #2: Cale Conley
Hunt Brothers Pizza Heat #3: Dylan Cisney
Mobil 1 Heat #4: Mike Wagner
Ford Performance Heat #5: Trey Starks
Elliott's Custom Trailers & Carts C-Main: Cole Duncan
JE Pistons Dash #1: Steve Buckwalter
Wix Filters Dash #2: Anthony Macri
Classic Ink USA B-Main: Logan Wagner
Daido Engine Bearings Main Event Winner: Aaron Reutzel (2nd)
MSD Performance Hard Charger Award: Brock Zearfoss (+11)
(Lincoln Electric, Daido Engine Bearings, MSD Performance: Need decal to qualify for contingency award)
Qualifying
Group (A)
1. 87-Aaron Reutzel, 16.473; 2. 1-Logan Wagner, 16.728; 3. 3-Jac Haudenschild, 16.743; 4. 27-Greg Hodnett, 16.821; 5. 3Z-Brock Zearfoss, 16.827; 6. 39M-Anthony Macri, 16.885; 7. 58-Aaron Ott, 17.394; 8. 33-Jared Esh, 17.426; 9. 14G-Coleman Gulick, 17.441; 10. 51-John Garvin, 17.671
Group (B)
1. 70-Dave Blaney, 17.026; 2. 4-Parker Price-Miller, 17.027; 3. 7K-Cale Conley, 17.09; 4. 20-Ryan Taylor, 17.15; 5. 91-Anthony Fiore, 17.234; 6. O7-Gerard McIntyre, 17.317; 7. 22-Brandon Spithaler, 17.343; 8. 12-Blane Heimbach, 17.566; 9. 1080-Jordan Mackison, 17.782; 10. 35-Tyler Esh, 18.053
Group ( C )
1. 13-Paul McMahan, 16.797; 2. 48-Danny Dietrich, 16.969; 3. 17B-Steve Buckwalter, 17.096; 4. 5-Dylan Cisney, 17.163; 5. 14-Tony Stewart, 17.519; 6. D4-Danny Holtgraver, 17.58; 7. 71-Ayrton Olsen, 17.941; 8. 95-Hunter Mackison, 17.962; 9. 98T-Joe Trenca, 19.006
Group (D)
1. 3G-Carson Macedo, 17.134; 2. 11S-TJ Stutts, 17.23; 3. 55-Mike Wagner, 17.233; 4. 9-Daryn Pittman, 17.242; 5. 17BB-Bill Balog, 17.283; 6. 11-Cole Duncan, 17.762; 7. 94-Ryan Smith, 17.82; 8. 10H-Chad Kemenah, 17.969; 9. 2-AJ Flick, 18.6
Group (E)
1. 24-Lucas Wolfe, 17.121; 2. 69K-Lance Dewease, 17.137; 3. 49x-Tim Shaffer, 17.19; 4. 44-Trey Starks, 17.217; 5. 55K-Robbie Kendall, 17.495; 6. 98-Carl Bowser, 17.572; 7. 17-Caleb Helms, 17.645; 8. 47K-Kody Lehman, 17.813; 9. 10-Joe Kata, 18.296
Heat #1 – Group (A) (8 Laps) – Top 4 Transfer
1. 27-Greg Hodnett [1]; 2. 87-Aaron Reutzel [4]; 3. 39M-Anthony Macri [6]; 4. 14G-Coleman Gulick [9]; 5. 58-Aaron Ott [7]; 6. 33-Jared Esh [8]; 7. 51-John Garvin [10]; 8. 3-Jac Haudenschild [2]; 9. 1-Logan Wagner [3]; 10. 3Z-Brock Zearfoss [5]
Heat #2 – Group (B) (8 Laps) – Top 4 Transfer
1. 7K-Cale Conley [2]; 2. 20-Ryan Taylor [1]; 3. 70-Dave Blaney [4]; 4. 12-Blane Heimbach [8]; 5. 4-Parker Price-Miller [3]; 6. O7-Gerard McIntyre [6]; 7. 91-Anthony Fiore [5]; 8. 22-Brandon Spithaler [7]; 9. 1080-Jordan Mackison [9]; 10. 35-Tyler Esh [10]
Heat #3 – Group (C) (8 Laps) – Top 4 Transfer
1. 5-Dylan Cisney [1]; 2. 17B-Steve Buckwalter [2]; 3. 48-Danny Dietrich [3]; 4. 13-Paul McMahan [4]; 5. 14-Tony Stewart [5]; 6. 71-Ayrton Olsen [7]; 7. D4-Danny Holtgraver [6]; 8. 95-Hunter Mackison [8]
Heat #4 – Group (D) (8 Laps) – Top 4 Transfer
1. 55-Mike Wagner [2]; 2. 9-Daryn Pittman [1]; 3. 11S-TJ Stutts [3]; 4. 94-Ryan Smith [7]; 5. 3G-Carson Macedo [4]; 6. 10H-Chad Kemenah [8]; 7. 17BB-Bill Balog [5]; 8. 11-Cole Duncan [6]; 9. 2-AJ Flick [9]
Heat #5 – Group (E) (8 Laps) – Top 4 Transfer
1. 44-Trey Starks [1]; 2. 69K-Lance Dewease [3]; 3. 49X-Tim Shaffer [2]; 4. 24-Lucas Wolfe [4]; 5. 98-Carl Bowser [6]; 6. 17-Caleb Helms [7]; 7. 55K-Robbie Kendall [5]; 8. 47K-Kody Lehman [8]; 9. 10-Joe Kata [9]
Dash #1 (4 Laps)
1. 17B-Steve Buckwalter [1]; 2. 87-Aaron Reutzel [3]; 3. 69K-Lance Dewease [6]; 4. 44-Trey Starks [2]; 5. 7K-Cale Conley [4]; 6. 20-Ryan Taylor [5]
Dash #2 (4 Laps)
1. 39M-Anthony Macri [1]; 2. 27-Greg Hodnett [4]; 3. 55-Mike Wagner [2]; 4. 13-Paul McMahan [3]; 5. 5-Dylan Cisney [5]; 6. 9-Daryn Pittman [6]
C-Main (10 Laps) – Top 2 Transfer
1. 11-Cole Duncan [2]; 2. 3Z-Brock Zearfoss [8]; 3. 2-AJ Flick [7]; 4. 47K-Kody Lehman [3]; 5. 22-Brandon Spithaler [1]; 6. 10-Joe Kata [6]
B-Main (12 Laps) – Top 4 Transfer
1. 1-Logan Wagner [1]; 2. 58-Aaron Ott [5]; 3. 3-Jac Haudenschild [2]; 4. O7-Gerard McIntyre [8]; 5. 17-Caleb Helms [10]; 6. 4-Parker Price-Miller [3]; 7. 33-Jared Esh [9]; 8. 10H-Chad Kemenah [12]; 9. 98-Carl Bowser [7]; 10. 17BB-Bill Balog [14]; 11. 11-Cole Duncan [18]; 12. 51-John Garvin [17]; 13. 55K-Robbie Kendall [15]; 14. 71-Ayrton Olsen [11]; 15. D4-Danny Holtgraver [16]; 16. 91-Anthony Fiore [13]; 17. 3G-Carson Macedo [4]; 18. 14-Tony Stewart [6]
A-Main (30 Laps)
1. 69K-Lance Dewease [5]; 2. 87-Aaron Reutzel [3]; 3. 39M-Anthony Macri [2]; 4. 17B-Steve Buckwalter [1]; 5. 27-Greg Hodnett [4]; 6. 55-Mike Wagner [6]; 7. 5-Dylan Cisney [10]; 8. 94-Ryan Smith [20]; 9. 9-Daryn Pittman [12]; 10. 20-Ryan Taylor [11]; 11. 48-Danny Dietrich [13]; 12. 24-Lucas Wolfe [17]; 13. 1-Logan Wagner [21]; 14. 13-Paul McMahan [8]; 15. 3Z-Brock Zearfoss [26]; 16. 12-Blane Heimbach [19]; 17. 7K-Cale Conley [9]; 18. O7-Gerard McIntyre [24]; 19. 70-Dave Blaney [14]; 20. 14G-Coleman Gulick [18]; 21. 10H-Chad Kemenah [25]; 22. 4-Parker Price-Miller [27]; 23. 51-John Garvin [28]; 24. 3-Jac Haudenschild [23]; 25. 49X-Tim Shaffer [15]; 26. 44-Trey Starks [7]; 27. 58-Aaron Ott [22]; 28. 11S-TJ Stutts [16] Lap Leaders: Anthony Macri (1-11), Aaron Reutzel (12-20), Lance Dewease (21-30)