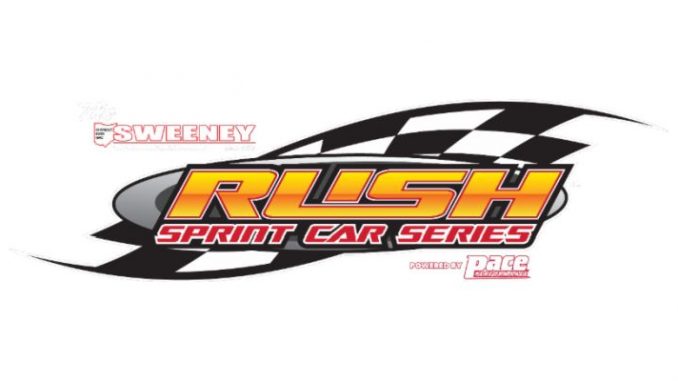 From RUSH
The Sweeney Chevrolet Buick GMC RUSH Racing Series powered by Pace Performance is proud to add Pancho's Racing Products as a new marketing partner to the Series. Pancho's will present the upcoming "Battle of the Bay" Speedweek for the Late Model Tour and will also be a 2018 supporting sponsor of both the Late Model and new RUSH Sprint Car divisions. Pancho's joins several new companies that have gotten involved with RUSH thus far in 2018 including Wrisco Industries, Dynamic Drivelines, Dirt Defender, Racing Electronics, Frankland Racing Supply, Bonnell's Rod Shop, and Schwartzmiller Ground Maintenance.
The inaugural "Battle of the Bay" Speedweek presented by Pancho's Racing Products will take place this week in the Mid-Atlantic kicking off the 2018 Sweeney Late Model Touring Series on Wednesday night (April 18) for the first ever race in the First State at Delaware International Speedway followed up by a first ever stop on Thursday at Georgetown (DE) Speedway. On Friday, the Series moves to Maryland at Potomac Speedway before wrapping up on Saturday at Virginia's Winchester Speedway. All events will pay $2,000 to-win. There will be a $3,000 point fund for the four events with $1,000 going to the champion paying down 10 positions. Drivers MUST be a RUSH member (Weekly or Tour) and MUST display the Pancho's Racing Products decal to be eligible for the point fund.
As part of Pancho's marketing package, they will also award a $300 product package for the both the 2018 RUSH Late Model and RUSH Sprint Car "Manufacturers Nights" presented by MSD Performance. The inaugural Sprint Car "MFG Night" will take place at Lernerville Speedway on Friday, August 31.
Pancho's Racing Products is owned by Duane "Pancho" Lawler, a former "410" Sprint Car and Super Late Model competitor. His son Cory has worked his way up from the Micro Sprints and debuted last year in the RUSH Late Models running a limited schedule throughout the region. For 2018, Cory is one of the top contenders for the "Futures Cup" Championship and will also follow the entire Sweeney Touring Series.
"We're thrilled to add Pancho's Racing Products as an important marketing partner to our Series and very appreciative of his generosity in greatly contributing to the 'Battle of the Bay' point fund.," expressed RUSH Series Director Vicki Emig. "We got to know Pancho and his son Cory last year when Cory started competing with RUSH. In fact, they towed the whole way up to Tri-City for Manufacturers Night then ran in the Touring season finale at Lernerville. Pancho's is a big name in central and eastern Pennsylvania along with the Mid-Atlantic and hopefully with his marketing through RUSH we can expand his presence throughout our entire region. Presenting the 'Battle of the Bay' along with awarding product on the Late Model and Sprint Car Manufacturers Nights is a perfect way to get great exposure for his their company."
Located at 1754 Carlisle Pike in Hanover, Pa., Pancho's Racing Products supplies both new and used parts for Sprint Cars and Late Models, and in fact is the largest new and used Sprint Car super store in the country. Last February, Pancho's purchased MBH Race Cars and are producing them right in Hanover, Pa. Pancho's also sells Rocket race cars. On the Sprint Car side, Pancho's sells new Triple XXX and Maxim chassis and also has roller kits available. For more information, check out their website at www.panchosracingproducts.com or call 717-646-0090. Be sure to "like" their Facebook page at www.facebook.com/panchosracingproductsinc and "follow" then on Twitter @Panchos_Racing.