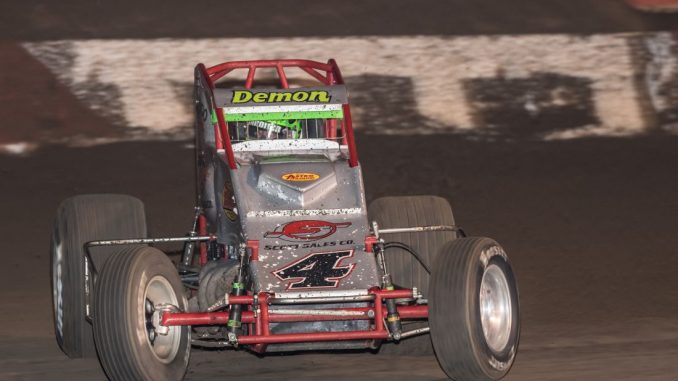 From Scott Daloisio
PERRIS, Ca. (April 17, 2018) – This Saturday night when Perris Auto Speedway hosts the annual Sokola Shootout for the Amsoil USAC/CRA Sprint Cars, it will mark the latest ever start for sprint cars at the track in its 23-season history. In addition to the USAC/CRA Series, The PAS Senior and Young Gun Sprint Cars will also be in action. Spectator gates will open at 5:00 P.M. with racing at 7:00.
The track's first sprint car race of the year was slated to take place seven weeks ago on March 3rd. However, the race was canceled due to rain and unusually cold temperatures. Thus, this Saturday's race becomes The PAS 23rd sprint car season opener.
"This is by far the latest for our first sprint car race of the season," promoter Don Kazarian said shaking his head. "For years our sprint car season opener was in February. In recent years we moved it to March, but it did not quite work out for us this year. It was not only us. The rain wreaked havoc with tracks from one end of California to the other. It also hammered the World of Outlaws Sprint Car Series. The Outlaws made their annual early season California swing and had five of the eight races rained out."
"I am not only excited about Saturday's race, but also for the entire sprint car season," Kazarian said. "Damion Gardner is seeking his seventh championship and that would tie him with Ron Shuman for first on the all-time list going back to 1946 in the combined history of CRA, SCRA and USAC/CRA. However, it is not going to be easy. There are a lot of good young drivers coming up and they are starting to press him pretty hard. Brody Roa, Jake Swanson, Austin Williams and R.J. Johnson just to name a few. Any of them could be in victory circle with the big trophy this Saturday night, so Damion is going to have his work cut out for him. We also have "Showtime" Danny Sheridan coming back on Saturday. He was very popular in the past and even though he has not raced with us in quite some time, he will be a contender."
As fired up as the drivers will be, so will the fans. This will be the first sprint car race at The PAS in more than five months.
"As much as the drivers want to get at it, so do the fans," Kazarian stated with a smile. "They are passionate about sprint car racing and many of them have not been to a race since last November. They have a big case of "Cabin Fever." A lot of fans were not happy that we had to cancel the race in March due to the weather, so they will be chomping at the bit to see this week's race. It is going to be a great night."
Saturday's race will be the first of eight sprint car races at the famous Riverside County half-mile clay oval in 2018. Highlights among the other seven races are the May 26th Salute to Indy, California Racer's Hall of Fame Night on August 18th, the September 22nd Glenn Howard Classic and the three nights of the 23rd Annual Budweiser Oval Nationals presented by All Coast Construction in November.
This week's race is dedicated to the memories of longtime CRA car owner and club President Gary Sokola and his son Mark. The elder Sokola was very strict when it came to safety and was among those who pushed for the standardization of the 410 engine in sprint car racing. Mark was a driver who started in three-quarter midgets before graduating to the CRA Sprint Car Series.
"Gary did a great job when he was president of CRA in the 1970's and 1980's," Kazarian said. "He ruled with an iron fist and he was adamant about making the sport safe. He had no qualms telling a driver to pack it up and go home if he deemed his car as unsafe. He sure is missed"
Adult tickets for Saturday are $25.00. Seniors 65 and over get in for $20.00. For active military members with proper id, teens 13-18 with their school id and kids 6-12, it is just $5.00. Children 5 and under are free. Parking on the fairgrounds is $8.00.
Advance tickets for all PAS events, including this Saturday, the July 4th Night of Destruction and November's 23rd Annual Budweiser Oval Nationals presented by All Coast Construction, are available 24 hours a day online at https://pas.tix.com/Schedule.aspx?OrgNum=7 or by calling 1-800-595-4849. For fans who do not want to buy advance tickets, there will be plenty available for everyone at the ticket window each race night.
Perris Auto Speedway wants to thank its corporate partners for the 2017 season. All Coast Construction, Amsoil, Austin Hutchinson Realtor, Ayers Hotel & Spa, Brass and Bass Firearms & Fishing Supplies, Budweiser, Bud's Tire Pro, Center Point Church, Champion Towing, City of Perris, Country Values Magazine, Daytona Boat & RV Storage, Ed Moore Bullet Proof Driveshaft, Edelbrock, Flowdynamics, Full Throttle Scissor Lift Rental, Green Sheet, Greg Smith Equipment, Harley's Custom Cycles, HD Industries, Hoosier Tires, Indiana Truck Salvage, K&N Engineering, Living Water's Hospice, Luke's Transmission, Moreno Valley Magazine of Values, Paul Oil Company, Pepsi-Cola, Pick-A-Part Auto Salvage, Pole Position, Precision Engine of Temecula, PrintItNow.com, Scott Sales, Shaver Specialties, Square H, Sunstate Equipment, Swedish Speed, Original Tommy's Burgers, Trench Shoring, Valley News and Vista Paint.
To keep up with all the latest Perris Auto Speedway news, photos, gossip and receive special offers, please use the following links:
Facebook: https://www.facebook.com/pages/Perris-Auto-Speedway/113876798686480?ref=hl
Twitter: Perris Auto Speedway on Twitter.
Instagram: https://www.instagram.com/perrisautospeedway/
Website: http://perrisautospeedway.com/