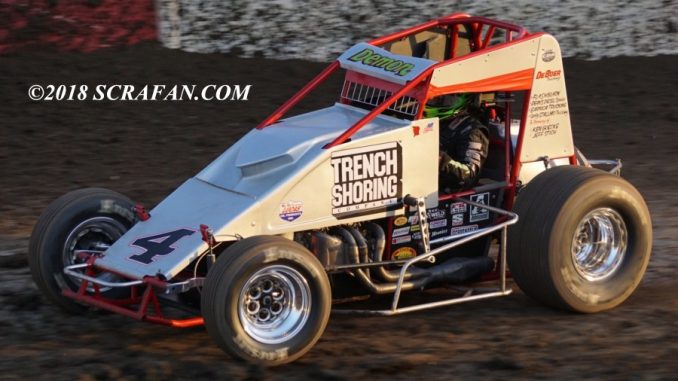 From Lance Jennings
PERRIS, Ca. (April 18, 2018) – After battling at Tulare, the AMSOIL USAC/CRA Sprint Cars are back in action this Saturday, April 21st, at Perris Auto Speedway." Promoted by Don Kazarian, the annual "Sokola Shootout" is the 205th USAC/CRA "home track" event and will also feature the PAS Senior Sprint Cars and the PAS Young Gun Sprint Cars. The spectator gates at the American Cancer Society Night Benefiting the Up, Down 'n Dirty 4 a Cure Mud Run will open at 5:00pm and racing at "America's Premier Dirt Track" will start at 7:00pm. For more event information, visit the track's website at www.perrisautospeedway.com or call 951.940.0134.
The "Sokola Shootout" has been a popular race on the West Coast since "The Cowboy" Tony Jones won the inaugural show at Manzanita Speedway on March 17, 2001. Originally called the "Sokola Classic" to honor past CRA President and USAC Sprint Supervisor Gary Sokola, the event has grown to also honor former driver Mark Sokola and their contributions to racing. Last year, Richard Vander Weerd earned his second "Sokola Shootout" victory ahead of "The Demon" Damion Gardner, R.J. Johnson, "The Big Game Hunter" Austin Williams, and Brody Roa. The "Sokola Shootout" win list is at the end of this release.
"The Demon" Damion Gardner (Concord, California) enters the third point race on top of the standings. Piloting Mark Alexander's #4 Trench Shoring / Weld Racing Spike, Gardner led seven laps at Tulare before scoring fourth at the checkered flags. To date, "The Demon" has posted one feature win, one heat race victory, two top-10 finishes, and 29 feature laps led. The six-time champion has two "Sokola Classic" wins and will be looking to claim his 77th USAC/CRA victory.
After scoring third at Tulare, Brody Roa (Garden Grove, California) has climbed to second in the point chase. Racing the BR Performance #91R HD Industries / Burris Racing Maxim, Roa has two top-10 finishes to his credit. The 2016 USAC West Coast 360 Champion has three career USAC/CRA wins and will have his sights on adding the "Sokola Shootout" to his resume.
Jake Swanson (Anaheim, California) sits third in the championship standings. Driving Tom and Laurie Sertich's #92 Huntington Beach Glass & Mirror / Phil & Eileen King Triple X, Swanson earned Tulare's Saldana Racing Products / Racing Optics "Hard Charger Award" with a fifth place run from twentieth. With two top-10 finishes and 8 feature laps led, last year's USAC West Coast 360 Champion will be looking to score his second USAC/CRA feature win.
R.J. Johnson (Laveen, Arizona) ranks fourth in the chase for the championship. Piloting Dwight Cheney's #42 Racing Optics / Sander Engineering Maxim, Johnson scored thirteenth at the Tulare County Fairgrounds. The five-time USAC SouthWest Sprint Car Champion has one top-10 finish and will have his sights on his seventh USAC/CRA triumph.
"The Cadillac" Cody Williams (Corona, California) has risen to fifth in the USAC/CRA standings. Racing Jack Jory's #44 John Jory Corporation / AMA Plastics Spike, Williams finished sixth in the Tulare main event. With one top-10 finish, the 2008 National Non-Wing Co-Rookie of the Year will be looking to earn his second series victory.
Currently twenty-fifth in points, Gary Paulson (Woodland, California) leads the chase for Rookie of the Year honors.
Among the other drivers expected to be in action are "The Big Game Hunter" Austin Williams, Logan Williams, A.J. Bender, Matt McCarthy, Richard Vander Weerd, "Thunder" Tommy Malcolm, Chris Gansen, Max Adams, "Hollywood" Danny Faria Jr., Jace Vander Weerd, "The Bear" Jeremy Ellertson, "Showtime" Danny Sheridan, Jason McDougal, and more.
Perris Auto Speedway is located on the Lake Perris Fairgrounds at 18700 Lake Perris Drive in Perris, California. Adult tickets are $25, Senior tickets (65 and over) are $20, Active Military (with ID), Students (13-18), and Kids tickets (6-12) are $5. Children's tickets (5 and under) are FREE. For more event information, visit the track's website at www.perrisautospeedway.com or call 951.940.0134.
The AMSOIL USAC/CRA Sprint Car Series thanks Hoosier Tire, All Coast Construction, BR Motorsports, ButlerBuilt Professional Seat Systems, Circle Track Performance, Competition Suspension Incorporated, Extreme Mufflers, Five Star Grafix, Keizer Aluminum Wheels, King Racing Products, Pyrotect Racing Cells, Racing Optics, Rod End Supply, Saldana Racing Products, surfNsprint.com, Ultra Shield Race Products, and Woodland Auto Display for their support. If you or your company would like to become part of the series, contact PR Director Lance Jennings at lwjennings@earthlink.net.
For more information on USAC/CRA, visit the United States Auto Club (USAC) website at www.usacracing.com. You can also find exclusive content on the USAC/CRA Facebook, Twitter, and Instagram pages.
Loudpedal Productions has USAC/CRA DVDs and videos on demand available for purchase at www.loudpedal.tv and 805.407.7229.
SOKOLA CLASSIC / SHOOTOUT WINNERS:
2001-Tony Jones, 2002-Jeremy Sherman, 2003-Jeremy Sherman, 2004-Cory Kruseman, 2005-Mike Kirby, 2006-Mike Kirby, 2007-Not Held, 2008-Not Held, 2009-Rickie Gaunt, 2010-Damion Gardner, 2011-Mike Spencer, 2012-Nic Faas, 2013-Bryan Clauson, 2014-Damion Gardner, 2015-Richard Vander Weerd, 2016-Bryan Clauson, 2017-Richard Vander Weerd.
AMSOIL USAC/CRA SPRINT CAR POINT STANDINGS:
1. Damion Gardner-154, 2. Brody Roa-141, 3. Jake Swanson-136, 4. R.J. Johnson-112, 5. Cody Williams-107, 6. Austin Williams-89, 7. Logan Williams-87, 8. A.J. Bender-87, 9. Matt Rossi-81, 10. Matt McCarthy-80, 11. Richard Vander Weerd-79, –. Austin Liggett-79, 13. Tommy Malcolm-72, 14. Chad Boespflug-69, 15. Charles Davis Jr.-67, 16. Chris Gansen-62, 17. Stevie Sussex-58, 18. Max Adams-55, 19. Zack Madrid-54, 20. Isaac Chapple-49, –. Ryan Bernal-49.
Thanks