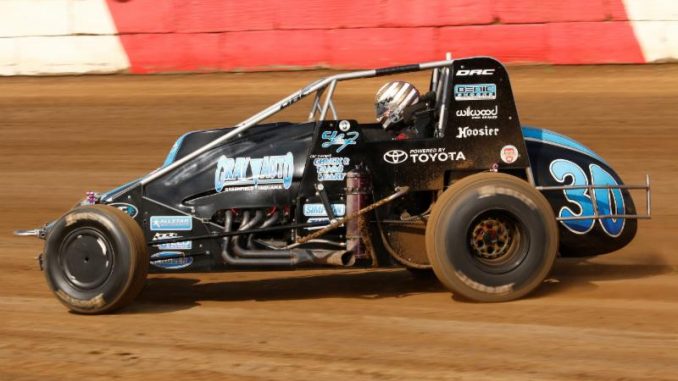 From Richie Murray
TERRE HAUTE, Ind. (April 28, 2018) — When a new season beckons, a number of new driver/team combos come to the forefront to make a splash on the USAC Silver Crown Champ Car Series scene, which begins this Sunday, April 29, at the Terre Haute Action Track with the "Sumar Classic."
Just one year ago, it was the new combination of driver Chris Windom and team owner Gene Kazmark who stole the spotlight in their debut together at Terre Haute. For 2018, Windom once again finds himself in a similar realm, taking on a new endeavor, but with an experienced team. There's no other team that has been more of a consistent front runner over the past two-plus decades than Gene Nolen's team. With USAC Triple Crown champ Jerry Coons, Jr. from Tucson, Ariz. as a teammate, you couldn't ask for a better one-two punch than Nolen has in his familiar yellow cars this season.
Windom signed up for a full season campaign with Nolen, whose cars captured the 1998 and 2002 "Sumar" with driver Tony Elliott. Windom, the 2016 series driver champ from Canton, Ill. is one of four past "Sumar" winners in this year's field for the 18th running of the event, including three-time series champ Kody Swanson of Kingsburg, Calif. (2014), Shane Cockrum of Benton, Ill. (2015) and Greenfield, Indiana's C.J. Leary (2016).
A handful of drivers have reached the peak of victory in a Silver Crown car, but not yet at Terre Haute. Indianapolis, Indiana's Tyler Courtney scored the victory in the most recent dirt race in September's "4-Crown Nationals" at Rossburg, Ohio's Eldora Speedway. Ione, California's Justin Grant and Kokomo, Indiana's Shane Cottle have gotten the job done at each of the Illinois miles – Grant at Springfield in 2017 and Cottle at Du Quoin in 2007. David Byrne's lone win came on the pavement at Lucas Oil Raceway in Brownsburg, Ind. in 2014, but the Shullsburg, Wisconsin driver has shown continuous improvement on the dirt and could be a contender come Sunday.
Brady Bacon heads a list of USAC National feature winners in Sprints and Midgets who are striving to break through for their first win in the Silver Crown Series. Broken Arrow, Oklahoma's Bacon is a two-time National Sprint champ who's making his first series start for the Klatt Enterprises team. Past "Joe James/Pat O'Connor Memorial" Salem (Ind.) Speedway Sprint Car winner Jacob Wilson of Crawfordsville, Ind. returns to action after being sidelined by injury since last August. Steve Buckwalter of Royersford, Pa. has been a standout in wing sprint cars and midgets over the years, collecting an Indiana Midget Week victory at Gas City I-69 Speedway in 2010. Two-time USAC Sprint Car winner Bill Rose of Plainfield, Ind. has a plethora of laps throughout the years at the Terre Haute Action Track, coming oh-so-close to victory on multiple occasions.
Past HPD Midget champ Austin Nemire of Sylvania, Ohio is back for a full-season run in his Nemire-Lesko Racing ride. Binghamton, New York's Coleman Gulick returns to the series for the first time since 2012. Terre Haute Action Track veterans Matt Goodnight of Winchester, Ind. and Troy, Missouri's Chris Fetter make the trek back to Terre Haute in their self-owned machines.
Past Silver Crown Rookies of the Year Aaron Pierce of Muncie, Ind. (2004), Casey Shuman of Tempe, Ariz. (2016) and Columbus, Indiana's Joss Moffatt (2017) will be joined by this year's new crop of Rookies. Warsaw, Indiana's Neil Shepherd, Denton, North Carolina's Johnny Petrozelle, Mechanicsburg, Pennsylvania's Dave Berkheimer and Korey Weyant of Springfield, Ill. each possess past Silver Crown experience at Terre Haute.
Meanwhile, New Castle, Indiana's Kyle Robbins and Pendleton, Indiana's have extensive experience under their belt on the Terre Haute half-mile in sprints and midgets, but this will be their first foray into gassing up a Silver Crown on the dirt after each made their debut on the pavement earlier this month at ISM Raceway in Phoenix.
Perhaps the most versatile background of any one driver in this year's Rookie class is Pleasant Valley, New York's Chris Dyson, the two-time American LeMans Series champion and three-time 24 Hours of LeMans competitor who recently finished as the runner-up at the 12 Hours of Sebring in a Trans Am competition, has made a handful of starts with USAC in midgets and sprints over the last few years, mainly on the west coast.
Austin Mundie of Dallas, Texas and Mike Haggenbottom of Levittown, Pa. come to Silver Crown racing from similar backgrounds in wing sprint car racing. Mundie comes from the 305 and 360 sprint car ranks, cutting his teeth at legendary venues such as Devil's Bowl Speedway. Haggenbottom is hardly a Rookie when it comes to seat time, but he arrives in the Silver Crown Series with an impressive resume that includes a URC Sprint Car title, a stint in ARCA and five Tri-State Racesaver Series championships.
Pit gates open at 1pm while the grandstands open at 2pm. An open pit party will take place from 2-3pm. Silver Crown cars hit the track for hot laps beginning at 4pm.
The pit party is free for everyone purchasing a ticket for the race. The pit area will be open from 2-3pm, allowing fans up-close and personal access to the drivers and cars of the USAC Silver Crown Champ Car Series. You can also watch and listen to USAC's pre-race show, "The Lowdown Before It Goes Down" LIVE from the pit area.
Tickets for the "Sumar Classic" can be purchased now at https://usacracing.ticketspice.com/2018-sumar-classic-at-terre-haute. Adult infield tickets start at just $15 while children age 11 and under are FREE! Adult grandstand tickets are $25.
The Terre Haute Action Track is located at 3901 South US Hwy 41, Terre Haute, IN, 47807.
For fans who are unable to make the trip in-person, the "Sumar Classic" will be streamed live on http://www.SpeedShiftTV.com/. If you miss the love coverage or would like to watch the full event, you can catch it again a day later, on-demand, at http://www.Loudpedal.TV/.
"SUMAR CLASSIC" ENTRY LIST:
04 (R) Neil Shepherd/Warsaw, In (Shepherd Racing)
07 Jacob Wilson/Crawfordsville, In (Wilson Brothers Racing)
6 Brady Bacon/Broken Arrow, Ok (Klatt Enterprises)
7 (R) Kyle Robbins/New Castle, In (Kr Racing)
8 (R) Johnny Petrozelle/Denton, Nc (Cornell-Petrozelle Racing)
9 (R) Chris Dyson/Pleasant Valley, Ny (Chris Dyson Racing)
16 Austin Nemire/Sylvania, Oh (Nemire-Lesko Racing)
17 Chris Windom/Canton, Il (Gene Nolen Racing)
18 (R) Travis Welpott/Pendleton, In (Welpott Racing)
20 Jerry Coons, Jr./Tucson, Az (Gene Nolen Racing)
26 Aaron Pierce/Muncie, In (Sam Pierce)
30 C.J. Leary/Greenfield, In (Leary Racing)
31 (R) Dave Berkheimer/Mechanicsburg, Pa (Berkheimer Racing)
32 Joss Moffatt/Columbus, In (Williams & Wright Racing)
39 Matt Goodnight/Winchester, In (Goodnight Racing)
40 David Byrne/Shullsburg, Wi (Byrne Racing)
47 (R) Austin Mundie/Dallas, Tx (Les Butler)
53 Steve Buckwalter/Royersford, Pa (Set Racing)
55 Casey Shuman/Tempe, Az (Bateman Racing)
63 Kody Swanson/Kingsburg, Ca (Depalma Motorsports)
66 Bill Rose/Plainfield, In (Bill Rose Racing)
71 Shane Cockrum/Benton, Il (Hardy Boys Racing)
81 Shane Cottle/Kokomo, In (Curtis Williams)
89 Chris Fetter/Troy, Mo (Fetter Racing)
91 Justin Grant/Ione, Ca (Hemelgarn Racing)
97 Tyler Courtney/Indianapolis, In (Hans Lein)
99 (R) Korey Weyant/Springfield, Il (Scott Weyant)
114 Coleman Gulick/Binghamton, Ny (Team Scorpion)
124 (R) Mike Haggenbottom/Levittown, PA (Haggenbottom Racing)
(R) represents a USAC Silver Crown Champ Car Series Rookie of the Year contender