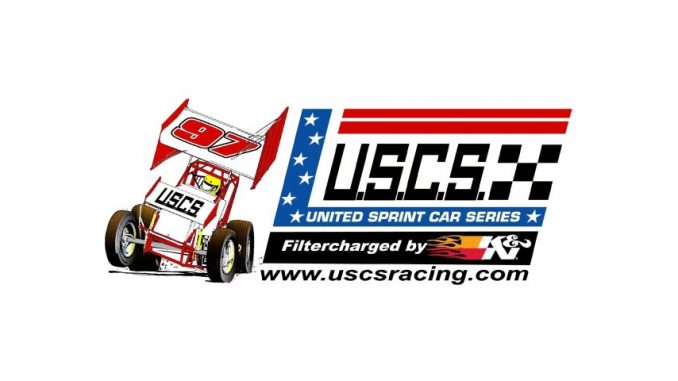 From Pete Walton
ATLANTA, Ca. (April 25, 2018) – The USCS Outlaw Thunder Tour presented by K&N Filters headlines a high-speed 2018 racing season-opener of SPECIAL EVENTS at Lexington 104 Speedway near Lexington, Tennessee on Saturday, April 28th. The event, entitled as the "Tennessee Tangle" 2018 Round #1 promises to bring some of the top winged sprint ca drivers in America to West Tennessee's fastest 3/8-mile clay oval this weekend. Through last weekend, the United Sprint Car Series has been off to one of its best starts and has averaged 25 sprint cars at twelve USCS events thus far in 2018.
The "Tennessee Tangle" event will also include another USCS sanctioned division, the www.rockauto.com USCS 600 Sprint Car Series winged mini sprints on the evening's racing card to create a USCS double-header. A total of 100 laps of main events are scheduled for the six divisions.
The "Tennessee Tangle" version 2018 will be the first-ever visit of the USCS Mini Sprint division to the speedway since it was re-configured four years ago. It will be the third visit for the USCS Sprint Cars at Lexington 104 Speedway in the 2005 when the track was called Bargerton Speedway.
The track returned to the USCS schedule during the 2017 season with two events. The July 2nd event was won by Derek Hagar from Marion, Arkansas and the second stop of 2017 on August 26thwas won by sprint car legend Sammy Swindell of Germantown, Tennessee. 22 entries competed in the USCS sprint car division on both of those occasions.
The event is expected to draw top winged sprint car drivers from at least five states and several drivers who were recognized as among the top 25 in the Nation in the most recent Sprint Car Hall of Fame Driver of the Year poll.
Joining the two USCS racing series on the action-packed season opener race car are the GM Performance 602 Late Model Sportsman, the E-MODS, Street Stocks under Nesmith rules and the Front Wheel Drive (Hummers) division. All this promises to keep the high-speed Family entertainment rolling from the first USS Hoosier Speed Dash until the final main event receives the checkered flag.
Lexington 104 Speedway is located 4.5 miles South of Interstate 40 Exit #101 at 2800 Sand Ridge Bargerton Rd., Lexington, TN 38351. For directions or more info about Lexington 104 Speedway please visit www.lexington104speedway.com or call 731-968-8333 or USCS at 770-865-6097.
For schedule info or rules on the United Sprint Car Series or www.rockauto.com USCS 600 Sprint Car Series please visit www.uscsracing.com or call 770-460-7223 or 770-865-6097.