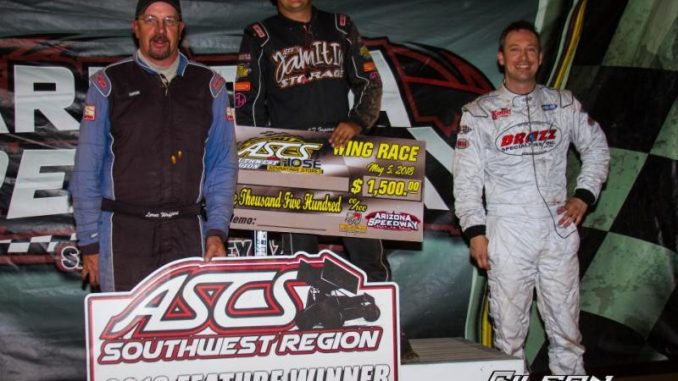 From Bryan Hulbert
QUEEN CREEK, Ariz. (May 5, 2018) – Making it to Victory Lane for the first time in 2018, Arizona's J.T. Imperial picked up the win Saturday night at Arizona Speedway with the ASCS Southwest Region.
Rolling off fifth, Imperial jumped to second in pursuit of Matt Rossi the first two laps before falling to third as New Mexico's Lorne Wofford took over the chase for the lead. Overtaking Rossi with 18 laps complete, Imperial followed Wofford's No. 18 to reclaim the runner-up spot.
Holding point from Lap 19 to 21, Imperial cleared Wofford for the top spot prior to a late race caution. Bunching the field for the restart, Wofford would not be able to use the restart to his advantage as Imperial crossed the line with an advantage of 1.307 seconds.
Wofford would hold onto to second with Washington's Gary Taylor coming from 11th to earn the final podium step. Matt Rossi would settle for fourth with Billy Chester making the top-five.
From 12th, Josh Shipley came to sixth with Colton Hardy seventh. Jesse Baker, Kyle Danielson, and Rick Ziehl completed the top-ten.
The ASCS Southwest Region is in action again at Central Arizona Speedway in Casa Grande, Ariz. on Saturday, May 12. For other news, notes, and information on the American Sprint Car Series, from the National Tour to any of the Regional Tours that make up the over 150 across the ASCS Nation in 2018, log onto http://www.ascsracing.com, follow on Facebook, on Instagram, and on Twitter (@LucasOilASCS).
Race Results:
ASCS Southwest Region
Arizona Speedway – Casa Grande, Ariz.
Saturday, May 5, 2018
Car Count: 17
Heat 1 (8 Laps): 1. 22-Jesse Baker, [2]; 2. 02-Matt Rossi, [1]; 3. 17-Kyle Danielson, [4]; 4. 2B-Billy Chester III, [5]; 5. 20Z-Rick Ziehl, [6]; 6. 8-Gary Taylor, [7]; 7. 01-Josh Shipley, [8]; 8. 7K-Mason Keefer, [9]; 9. 71H-Corey Hurley, [3]
Heat 2 (8 Laps): 1. 75X-JT Imperial, [1]; 2. 2-Alex Pettas, [3]; 3. 18-Lorne Wofford, [5]; 4. 33-Steve Cushman, [2]; 5. 74-Colton Hardy, [6]; 6. 98-Matt Lundy, [4]; 7. 57-Jarrett Martin, [7]; 8. 7-Mark Clark, [8]
A Feature (25 Laps): 1. 75X-JT Imperial, [5]; 2. 18-Lorne Wofford, [2]; 3. 8-Gary Taylor, [11]; 4. 02-Matt Rossi, [1]; 5. 2B-Billy Chester III, [7]; 6. 01-Josh Shipley, [12]; 7. 74-Colton Hardy, [9]; 8. 22-Jesse Baker, [8]; 9. 17-Kyle Danielson, [3]; 10. 20Z-Rick Ziehl, [4]; 11. 7K-Mason Keefer, [16]; 12. 98-Matt Lundy, [13]; 13. 71H-Corey Hurley, [17]; 14. 33-Steve Cushman, [10]; 15. 57-Jarrett Martin, [14]; 16. 7-Mark Clark, [15]; 17. 2-Alex Pettas, [6]