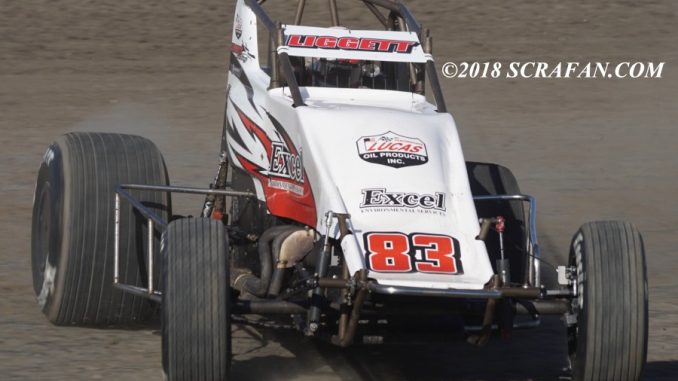 From Lance Jennings
HANFORD, Ca. (May 7, 2018) — This Saturday, May 12th, the USAC West Coast Sprint Cars are set to make their final appearance of the year at the Keller Auto Speedway at Kings Fairgrounds. Promoted by Bubby Morse, the Hanford, California oval will also feature the Western RaceSaver Sprint Cars, IMCA Stock Cars, and Mini Stocks. The pit gates will open at 1:00pm, front gates will open at 4:30pm and racing is scheduled for 7:00pm. For more information, visit the track's website at www.kellerautospeedway.com or call 559.651.1990.
To date, the Kings County Fairgrounds has hosted forty-eight USAC West Coast Sprint Car shows. Richard Vander Weerd leads all drivers with nine victories and veteran Peter Murphy set the 1-lap qualifying track record of 15.290 on March 13, 2010. On April 7th, Brody Roa took the lead from Jake Swanson on lap 24 to earn his second victory of the campaign. A complete series win list at Keller Auto Speedway at Kings Fairgrounds is at the end of this release.
Entering the fourth point race, Austin Liggett (Tracy, California) sits atop the standings with a 25-point lead over the competition. Racing the family owned #83 Excel Environmental Services / Lucas Oil Maxim, Liggett ran second to Troy Rutherford at Santa Maria on April 28th. To date, the 2012 Rookie of the Year has two top-10 finishes and 28 feature laps led to his credit. This Saturday, Austin will be looking for his sixth series win of his career.
After finishing fourth at Santa Maria, Steve Hix (Ventura, California) has climbed to second in the point chase. Driving his #57 No Limit Powder Coating / Delano Roofing Triple X, Hix has one heat race victory, three top-10 finishes and 3 feature laps led on the season. At Hanford, Steve will have his sights on his first USAC West Coast Sprint Car win.
Tristan Guardino (Fremont, California) ranks third in the chase for the championship. Piloting the family owned #15T Dorso's Automotive / Allied Auto Sales Maxim, Guardino led five laps at Santa Maria before taking third at the checkered flags. At press time, the 2016 Turkey Night Sprint Car Winner has one heat race victory and two top-10 finishes in the campaign. With three career triumphs, Tristan will be looking to add the Kings County Fairgrounds to his resume.
Koen Shaw (Fresno, California) sits fourth in the championship point chase. Racing the family owned #88K PMS Investments / Shaw Structures Unlimited KPC, Shaw charged from twelfth to score seventh at Santa Maria. To date, the Micro Sprint standout has one Saldana Racing Products / Racing Optics Hard Charger Award and three top-10 finishes on the season. This Saturday night, Koen will have his sights on claiming his first $1,500 series victory.
After missing the action at Santa Maria, Richard Vander Weerd (Visalia, California) has fallen to fifth in the USAC West Coast standings. Piloting the family owned #10 Vander Weerd Construction / Stone Gate Development Maxim, Richard has two Woodland Auto Display Fast Time Awards, two heat race victories, and two top-10 finishes on the season. The 2011 Champion has nineteen series wins and will be looking for his tenth Hanford triumph.
Currently twelfth in points, Britton Bock (Calistoga, California) leads the chase for Rookie of the Year honors. Austin Ervine (Bakersfield, California) and Dalton Hill (Madera, California) are also in contention.
Among the other drivers expected to be in action are "Hollywood" Danny Faria Jr., Shannon McQueen, Brandon Wiley, Jace Vander Weerd, Ryan Timmons, Ryan Bernal, Ryan Stolz, Trent Carter, Kevin Barnes, Brent Owens, and more.
Keller Auto Speedway at Kings Fairgrounds is located at 801 South 10th Avenue in Hanford, California. Adult tickets are $15, Senior tickets are $12, Student tickets are $8, and Kids (5 and Under) are FREE. Camping is available on the fairgrounds and for more event information, visit www.kellerautospeedway.com or call 559.651.1990.
The USAC West Coast Sprint Car Series thanks AMSOIL, Hoosier Tire, BR Motorsports, ButlerBuilt Professional Seat Systems, Chris Kearns Presents, Competition Suspension Incorporated, Extreme Mufflers, Five Star Grafix, Keizer Aluminum Wheels, King Racing Products, Pyrotect Racing Cells, Racing Optics, Rod End Supply, Saldana Racing Products, Ultra Shield Race Products, and Woodland Auto Display for their support. If you or your company would like to become part of the series, email PR Director Lance Jennings at lwjennings@earthlink.net.
For more information, visit www.westcoastsprintcars.com, and www.usacracing.com. You can also find exclusive content on the USAC West Coast Facebook, Twitter, and Instagram pages.
Loudpedal Productions has USAC West Coast Sprint Car DVDs and videos on demand available for purchase at www.loudpedal.tv and 805.407.7229.
USAC WEST COAST SPRINT CAR POINT STANDINGS: 1. Austin Liggett-206, 2. Steve Hix-181, 3. Tristan Guardino-180, 4. Koen Shaw-166, 5. Richard Vander Weerd-156, 6. Danny Faria, Jr.-153, 7. Shannon McQueen-150, 8. Brandon Wiley-140, 9. Jace Vander Weerd-137, 10. Ryan Timmons-135, 11. Ryan Bernal-131, 12. Britton Bock-129, 13. Austin Ervine-115, 14. Ryan Stolz-114, 15. Trent Carter-107, 16. Troy Rutherford-82, 17. Kevin Barnes-77, … Brody Roa-77, 19. Jake Swanson-74, 20. Jordan Linson-61.