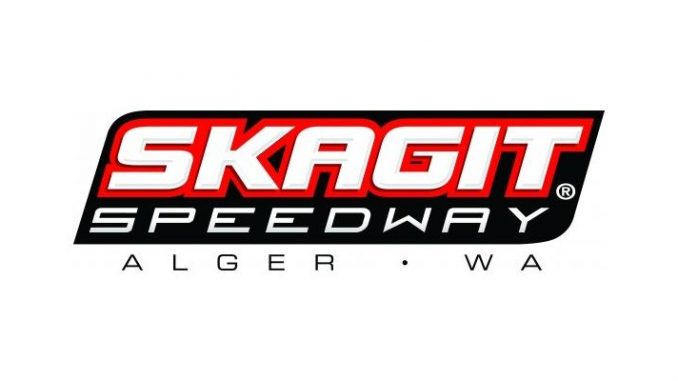 From Kaleb Hart
ALGER, Wa. (May 12, 2018) – Speed was the name of the game at Skagit Speedway Saturday night where all three classes in action burned up the high banked 3/10" mile clay oval for exciting action that saw the final checkered flag fall at 920pm. When the dust settled, Cory Swatzina, Lawrence O'Connor and Vance Hibbard stood in victory lane as the night's winners.
The Washington Modified Tour was first on the agenda for the evening. Craig Moore led the first two laps but a lap three restart saw Lawrence O'Connor use the middle groove to shoot around turns one and two to take the top spot at the conclusion of lap three. O'Connor appeared to be the only one who could consistently hit the moisture in the middle, using it to build up a huge advantage that was only chopped down by a caution on lap 19. On the ensuing restart, O'Connor maintained a couple car length advantage over the father-son pair of Craig and Kyler Moore to score the win, with Kyler taking second and Craig third. Heat wins went to Tyson Blood, Zack Simpson and Kevin Smith.
Cory Swatzina put on a masterful performance in the Cook Road Shell Sportsman Sprints to grab his first win of 2018. Swatzina grabbed the lead from Steve Parker on lap 13, diamonding the corner in turns 3 and 4 to run underneath Parker and snag the top spot at the halfway point of the feature. Parker stayed close, nosing underneath Swatzina once again on lap 19, but a similar move in turns 3 and 4 got Cory enough momentum to slam the door shut on Steve as well as pass a slower car to secure some breathing room as he went the rest of the way to pick up the win. Parker would settle for runner up with Kelsey Carpenter coming from 11th to finsih third. Brett McGhie was fast time. Heat wins went to Trevor Cook, Swatzina and Devin Barnes.
The never ending Vance Hibbard retirement tour made its first appearance of the year at Skagit Speedway, as the veteran driver led all 17 laps of the main event. Hibbard is racing for Veteran's Suicide Awareness this season, and it was his first of five nights where he is raising funds to donate to the charitable cause. Jon Gunderson finished second with Brian Michelson coming home third. Hibbard and Gunderson won the heats.
Washington Modified Tour
Heat 1 – Tyson Blood, Craig Moore, Jeff Blanton, Dan Butenschoen, Josh Richardson, Tim Baker, Mel Decker
Heat 2 – Zack Simpson, Lawrence O'Connor, Adam Holtrop, James Wolford, Ben Gunderson, Mike Steltz, Brandon Berg
Heat 3 – Kevin Smith, Jeremy Martin, Kyler Moore, Mike Knox Jr, Rick Smith, Cliff Ballenger
Main – Lawrence O'Connor, K Moore, C Moore, K Smith, Simpson, Blood, Knox Jr, R Smith, Holtrop, Blanton, Wolford, Steltz, Gunderson, Richardson, Decker, Butenschoen, Ballenger, Martin, Baker, Berg
Lap Leaders – Moore 1-2 O'Connor 3-25
Cook Road Shell Sportsman Sprints
Fast Time – Brett McGhie 12.781
Heat 1 – Trevor Cook, Brett McGhie, Kelsey Carpenter, Bailey Sucich, Bill Rude, Frank Sherman
Heat 2 – Cory Swatzina, Bert Johnson Jr, Michael Bollinger, Joe Lyon, Zach Keefs
Heat 3 – Devin Barnes, Steve Parker, Ashleigh Johnson, Malachi Gemmer, Eric Turner
Main – Cory Swatzina, Parker, Carpenter, McGhie, Bollinger, Sucich, Cook, Lyon, Barnes, Johnson, Johnson Jr, Rude, Gemmer, Turner, Sherman, Keefe
Lap Leaders – Parker 1-12 Swatzina 13-25
Outlaw Tuners
Heat 1 – Vance Hibbard, Brian Michelson, Clint Meins, Brandon Jensen
Heat 2 – Jon Gunderson, TJ Campbell, Rob Dozark, Matt Dunnigan
Main – Vance Hibbard, Gunderson, Michelson, Meins, Campbell, Jensen, Dunnigan, Dozark
Lap Leaders – Hibbard 1-17