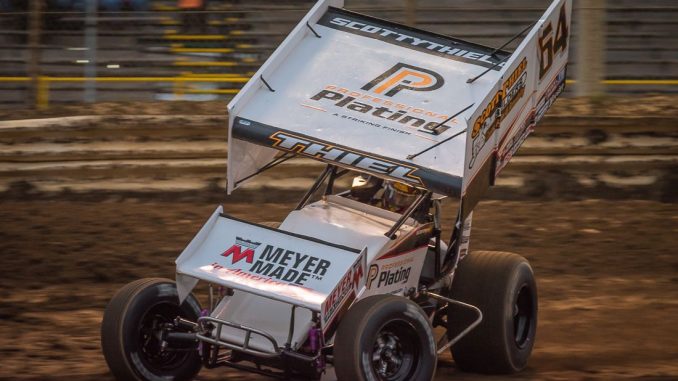 From Gared Tennyson
BEAVER DAM, Wi. (May 26, 2018) — Scotty Thiel held Bill Balog off in the closing laps to lead all 30 laps of the Bumper to Bumper Interstate Racing Association A main, and pick up his first IRA victory of the season during night 1 of the Hopf Farms Bullring Showdown.
With 27 winged 410 sprint cars in attendance, Phillip Mock set Osborn and Son quick time over former MSA champion Brandon McMullen and Mike Reinke. Steve Meyer would qualify 4th and series point leader Scotty Thiel rounded out the top 5.
Heat Race 1 saw 2016 IRA champion Jeremy Schultz pass Ben Schmidt as the green flag flew and carried the lead all the way to the finish and a heat race win. Schmidt hung on for 2nd over quick qualifier Phillip Mock. Steve Meyer would cross in 4th ahead of Matt Vandervere.
In the 2nd heat race Scotty Thiel charged from 3rd to the lead making him the only driver to win a heat race in all 3 regular IRA events this season. Russel Borland would bring his Weiss Trucking 23 home in 2nd over hometown favorite Scotty Neitzel. Brandon McMullen and Todd King would finish out the top 5.
Heat Race 3 was dominated by Illinois' Jake Blackhurst over 4th starting Mike Reinke. Bill Balog would have to settle for a 3rd place finish over Todd Daun and Wayne Modjeski.
Scott Uttech lead all 8 laps of the B main in route to the victory. Trey Datweiler would bring his 23d across in 2nd ahead of Nick Matuszewski. Dave Uttech came home in 4th and Keith Fellner in 5th.
The feature invert draw gave Scotty Thiel the coveted pole position for the 30 lap feature with Brandon McMullen outside the front row. On the green flag Thiel jumped out to the early lead. Jeremy Schultz quickly settled into 2nd with Blackhurst in 3rd. An early caution gave Bill Balog the chance to pass Blackhurst and move into 3rd. Thiel continued to dominate over Schultz and Balog. The caution would fly multiple times again, first for Blackhurst blowing a tire, then for a red flag involving Matt Vandervere and Phillip Mock. Jeremy Schultz would also blow a tire sending him into the wall bringing out the caution again. Thiel would hold Balog off at every restart and drive his Shartner Stone, Scott Thiel Motorsports 64 machine into Beaver Dam victory lane claiming his first IRA victory of the year. Bill Balog would settle for second saying he hates to run 2nd but Thiel just beat him tonight. Mike Reinke would finish on the final step of the podium. Steve Meyer who won the previous feature at Beaver Dam in 2018 finished 4th and Russel Borland would claim his first top 5 of 2018.
Bumper to Bumper Interstate Racing Association
Beaver Dam Raceway
Beaver Dam, WI
Saturday May 26, 2018
Qualifications: 1. 1M-Phillip Mock, 00:12.088[1]; 2. 10W-Brandon McMullen, 00:12.146[4]; 3. 02-Mike Reinke, 00:12.212[5]; 4. 85M-Steve Meyer, 00:12.246[3]; 5. 64-Scotty Thiel, 00:12.326[25]; 6. 17B-Bill Balog, 00:12.358[16]; 7. 5J-Jeremy Schultz, 00:12.366[13]; 8. 23-Russel Borland, 00:12.377[6]; 9. 25-Jake Blackhurst, 00:12.453[19]; 10. 73-Ben Schmidt, 00:12.469[26]; 11. 5-Bryon Walters, 00:12.517[7]; 12. 19-Todd Daun, 00:12.528[17]; 13. 4K-Kris Spitz, 00:12.533[11]; 14. 2W-Scott Neitzel, 00:12.536[18]; 15. 14AJ-Wayne Modjeski, 00:12.600[12]; 16. 10V-Matt VandeVere, 00:12.639[14]; 17. 22-Todd King, 00:12.812[22]; 18. 18-Keith Fellner, 00:12.815[8]; 19. 7-Scott Uttech, 00:12.838[10]; 20. 4B-Scott Biertzer, 00:12.964[23]; 21. 43-Jereme Schroeder, 00:13.137[21]; 22. 68-Dave Uttech, 00:13.174[20]; 23. 12-Michael Decker, 00:13.538[9]; 24. 63-Nick Matuszewski, 00:13.711[27]; 25. 29-Hunter Custer, 00:14.115[15]; (DNS) 97X-Alan Gilbertson, ; (DQ) 23D-Trey Datweiler, 00:13.174[24]
Heat Race #1 (10 Laps): 1. 5J-Jeremy Schultz, [2]; 2. 73-Ben Schmidt, [1]; 3. 1M-Phillip Mock, [4]; 4. 85M-Steve Meyer, [3]; 5. 10V-Matt VandeVere, [6]; 6. 4K-Kris Spitz, [5]; 7. 7-Scott Uttech, [7]; 8. 68-Dave Uttech, [8]; 9. 29-Hunter Custer, [9]
Heat Race #2 (10 Laps): 1. 64-Scotty Thiel, [3]; 2. 23-Russel Borland, [2]; 3. 2W-Scott Neitzel, [5]; 4. 10W-Brandon McMullen, [4]; 5. 22-Todd King, [6]; 6. 4B-Scott Biertzer, [7]; 7. 23D-Trey Datweiler, [9]; 8. 12-Michael Decker, [8]; 9. (DNF) 5-Bryon Walters, [1]
Heat Race #3 (10 Laps): 1. 25-Jake Blackhurst, [2]; 2. 02-Mike Reinke, [4]; 3. 17B-Bill Balog, [3]; 4. 19-Todd Daun, [1]; 5. 14AJ-Wayne Modjeski, [5]; 6. 43-Jereme Schroeder, [7]; 7. 63-Nick Matuszewski, [8]; 8. 18-Keith Fellner, [6]; (DNS) 97X-Alan Gilbertson,
B-Main (12 Laps): 1. 7-Scott Uttech, [1]; 2. 23D-Trey Datweiler, [3]; 3. 63-Nick Matuszewski, [2]; 4. 68-Dave Uttech, [5]; 5. 18-Keith Fellner, [4]; 6. 12-Michael Decker, [6]; 7. 29-Hunter Custer, [7]; (DNS) 5-Bryon Walters, ; (DNS) 97X-Alan Gilbertson,
A-Main (30 Laps): 1. 64-Scotty Thiel, [1]; 2. 17B-Bill Balog, [4]; 3. 02-Mike Reinke, [6]; 4. 85M-Steve Meyer, [7]; 5. 23-Russel Borland, [10]; 6. 10W-Brandon McMullen, [2]; 7. 2W-Scott Neitzel, [11]; 8. 25-Jake Blackhurst, [5]; 9. 4B-Scott Biertzer, [17]; 10. 19-Todd Daun, [12]; 11. 4K-Kris Spitz, [16]; 12. 7-Scott Uttech, [19]; 13. 68-Dave Uttech, [22]; 14. 23D-Trey Datweiler, [20]; 15. 22-Todd King, [15]; 16. 12-Michael Decker, [24]; 17. (DNF) 5J-Jeremy Schultz, [3]; 18. (DNF) 73-Ben Schmidt, [9]; 19. (DNF) 14AJ-Wayne Modjeski, [13]; 20. (DNF) 29-Hunter Custer, [25]; 21. (DNF) 63-Nick Matuszewski, [21]; 22. (DNF) 10V-Matt VandeVere, [14]; 23. (DNF) 1M-Phillip Mock, [8]; 24. (DNF) 18-Keith Fellner, [23]; 25. (DNF) 43-Jereme Schroeder, [18]