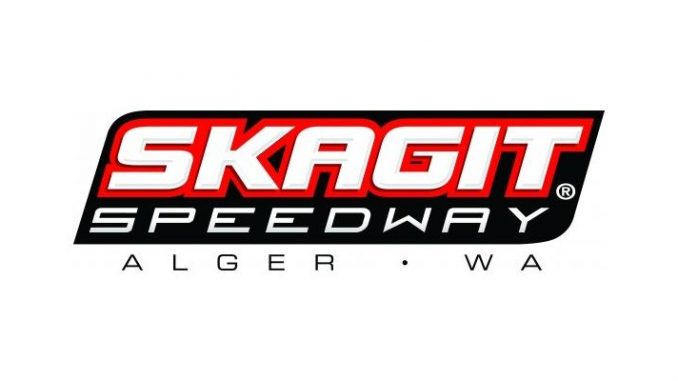 From Kaleb Hart
ALGER, Wa. (June 9, 2018) – In the final warmup before the 47th annual Jim Raper Memorial Dirt Cup, Colton Heath scored a momentum building win in the Budweiser 360 Sprints. Joining Heath in victory lane were Trevor Cook, Rick Smith and Jon Gunderson.
The night belonged to Colton Heath in the Budweiser 360 Sprint feature. After setting quick time, Heath ran fourth to second in his heat race, setting him up with a sixth place starting spot for the main event. It was obvious early that his new Shark Racing Engine was hitting hard, as Colton rolled to third early and began running down race leader Steve Reeves and second place running Eric Fisher. Colton closed fast, throwing a slidejob on Fisher on lap nine to take over second that almost cleared Reeves at the same time. On the next set of corners, Colton cleared Reeves to take the lead and was absolutely checked out from there, rolling to a huge margin of victory as he took the win. Fisher would pass Reeves for second, with Trevor Cook working his way into third. Heath was fast time. Fisher and Brock Lemley were the heat winners.
Last week, it Jayme Barnes working to the inside of Trevor Cook to take the lead and eventual win in the Cook Road Shell Sportsman Sprints. This week, it was Cook working to the inside of Barnes and taking the lead from him en route to a dominating performance as he went the rest of the way unchallenged for the victory. Barnes would take second and Steve Parker was third. The fast qualifier was Cory Swatzina. Cook and Barnes took the wins in the heat races.
Rick Smith ran to his first win of 2018 in the Modified division. Smith was running second on a lap 22 restart when race leader Graham Cook ran into a problem with his left run tire, spinning out in turn one. Smith inherited the lead and capitalized on his good fortune, holding off Mel Decker and Craig Moore to take the win. Heat race winners were Cook and Kevin Smith.
Jon Gunderson picked up his second win of the season in the Outlaw Tuners. Clint Meins led the first six laps before Gunderson swooped around him on the high side of turn two. Meins battled back to pull even with Gunderson a few laps later but could not reclaim the top spot as Gunderson collected top honors, followed by Meins and Brian Michelson. Brandon Jansen and Matt Shaw won the heats.
Budweiser 360 Sprints
Fast Time – Colton Heath 12.136
Heat 1 – Eric Fisher, Colton Heath, Steve Reeves, Trevor Cook, Michael Hodel
Heat 2 – Brock Lemley, Greg Hamilton, Bud Ashe, Steve James
Main – Colton Heath, Fisher, Cook, Reeves, Hamilton, Lemley, Ashe, James, Hodel
Lap Leaders – Reeves 1-9 Heath 1-25
Cook Road Shell Sportsman Sprints
Fast Time – Cory Swatzina 11.722
Heat 1 – Trevor Cook, Devin Barnes, Cory Swatzina, Brett McGhie, Kelsey Carpenter, Bill Rude, Malachi Gemmer
Heat 2 – Jayme Barnes, Jake Helsel, Steve Parker, Bailey Sucich, Michael Bollinger, Ashleigh Johnson
Main – Trevor Cook, J Barnes, Parker, D Barnes, McGhie, Helsel, Swatzina, Carpenter, Sucich, Johnson, Rude, Bollinger, Gemmer, Ryan Cully
Lap Leaders – J Barnes 1-6 Cook 6-25
Modifieds
Heat 1 – Graham Cook, Jeff Blanton, Craig Moore, Cliff Ballenger, Adam Holtrop, Ben Gunderson
Heat 2 – Kevin Smith, Mel Decker, Rick Smith, Shane Snyder, Dan Butenschoen
Main – Rick Smith, Decker, Moore, Holtrop, Blanton, Ballenger, Cook, Gunderson, K Smith
Lap Leaders – Blanton 1 K Smith 2-5 Cook 6 K Smith 7-11 Cook 12-21 R Smith 22-25
Outlaw Tuners
Heat 1 – Brandon Jansen, Rob Dozark, Matt Dunnigan, TJ Campbell
Heat 2 – Matt Shawn, Clint Meins, Jon Gunderson
Main – Jon Gunderson, Meins, Brian Michelson, Shaw, Jansen, Dozark, Campbell
Lap Leaders – Meins 1-6 Gunderson 7-17