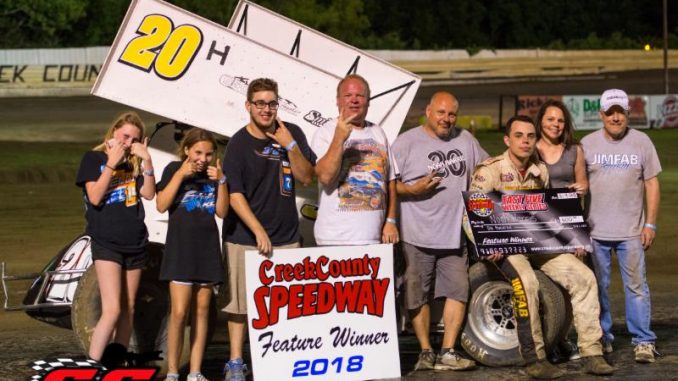 From Bryan Hulbert
SAPULPA, Okla. (June 9, 2018) – The Fast Five Weekly Series at Creek County Speedway rolled through the season's ninth round of action with Noah Harris getting the win with the Champ Sprints, along with Chad Davis in the Modifieds, Logan Applegate in Dwarf competition, and the McSperitt cousins continuing their dominance in Factory Stock and Mini Stocks.
Picking up his first win of the season one week ago, it didn't take long for Noah Harris to return to Victory Lane in Champ Sprint competition. Charging from seventh for his second win in as many races, the No. 20h was trailed to the finish by 11th starting Alex DeCamp with Jaiden Hughes on the final podium step. From 15th, Chance Morton made it to fourth with Matt Sherrell rolling to fifth from 14th.
Six wins in nine Modified A-Features, Chad Davis is seemingly unstoppable with a run from sixth to win. Kendall Shultz followed from fifth with Joshua Tyre in third. Colin Wiseley and Casey Buechler made the top-five.
Just over a month absent from Victory Lane, Logan Applegate got back to the top in Dwarf Car action. Winning from the pole, the No. 31 had Sam Champlain in second with Rex Johnson on the final podium step. Mike Howard and Larry Pense rounded out the top-five.
For the McSperitt cousins, the wins just keep on coming as Austin McSperitt topped Factory Stocks for the sixth time, while Kevin McSperitt grabbed win No. 5 in the Mini Stocks.
Coming from fifth to win in the Factory Stocks, Austin McSperitt had Bobby Wolfe in tow with Jimmy Owen third for the third time this season. Calvin Lewis and Jerry Higgins made the top-five. In Dwarf action, Kevin McSperitt had Justin Melton following with Leroy Burger, Michael Longacre, and Justin Cartwright in fifth.
Up next at Creek County Speedway will be a Thursday night special with the Lucas Oil American Sprint Car Series presented by Sawblade.com on Thursday, June 14 for Round 5 of the 2018 ASCS Sizzlin' Summer Speedweek. Admission is $20 for adults with seniors and military admitted for $15. Youth 11-14 get in for $6 with kids under 10 free into the grandstands.
Creek County Speedway's Fast Five Weekly Series of Champ Sprints, Modifieds, Dwarf Cars, Factory Stocks, and Mini Stocks returns for Round Eight on Saturday, June 16, 2018. Gates open at 5:00 P.M with Hot Laps at 7:00 P.M. Races get underway at 7:30 P.M. (CT).
Admission prices are $10 for adults. Youth 11-14 get in for $6 and kids 10 and under get into the grandstands for free. Pits are $30 (under 10 years of age is $15).
Creek County Speedway is located at 18450 West Hwy. 66 between Sapulpa and Kellyville. For more information on Creek County Speedway, including a complete lineup of events and directions, log onto http://www.creekcountyspeedway.co or call (918) 247-RACE (7223) or (918) 838-3777. The track can also be found on social media at https://www.facebook.com/CreekCountySpeedway.
Race Results:
Creek County Speedway – Sapulpa, Okla.
Saturday, June 9, 2018
2018 Season Round 9
Champ Sprints
A Feature (25 Laps): 1. 20H-Noah Harris, [7]; 2. 84-Alex DeCamp, [11]; 3. 222-Jaiden Hughes, [3]; 4. 17M-Chance Morton, [15]; 5. 22XX-Matt Sherrell, [14]; 6. 23-Jimmy Taylor, [5]; 7. 23A-Travis Ashwood, [9]; 8. 52-Dillon Rupe, [22]; 9. 55-John Hunt, [16]; 10. 2-Mickey Walker, [12]; 11. 54-Will Scribner, [8]; 12. 53-Brett Wilson, [10]; 13. 51-Jackie York, [4]; 14. 28-Zach Alley, [6]; 15. 62-James Shoun, [2]; 16. 777-Bailey Hughes, [21]; 17. 22T-Frank Taft, [17]; 18. 22-David Stephenson, [20]; 19. 13$-Len Larkin, [19]; 20. (DNF) 5$-Danny Smith, [13]; 21. (DNF) 11-Michael Tyre II, [1]; 22. (DNF) 23X-Donovan Wise, [18]
Heat 1 (8 Laps): 1. 11-Michael Tyre II, [1]; 2. 84-Alex DeCamp, [6]; 3. 23-Jimmy Taylor, [4]; 4. 51-Jackie York, [3]; 5. 54-Will Scribner, [5]; 6. 55-John Hunt, [8]; 7. 13$-Len Larkin, [2]; 8. 52-Dillon Rupe, [7]
Heat 2 (8 Laps): 1. 23A-Travis Ashwood, [5]; 2. 22XX-Matt Sherrell, [7]; 3. 28-Zach Alley, [4]; 4. 2-Mickey Walker, [6]; 5. 62-James Shoun, [1]; 6. 22T-Frank Taft, [2]; 7. 22-David Stephenson, [3]
Heat 3 (8 Laps): 1. 20H-Noah Harris, [4]; 2. 5$-Danny Smith, [6]; 3. 17M-Chance Morton, [7]; 4. 53-Brett Wilson, [5]; 5. 222-Jaiden Hughes, [2]; 6. (DNF) 23X-Donovan Wise, [1]; 7. (DNF) 777-Bailey Hughes, [3]
Modifieds
A Feature (20 Laps): 1. 52-Chad Davis, [6]; 2. 77-Kendall Shultz, [5]; 3. 4-Joshua Tyre, [4]; 4. 1-Collin Wiseley, [7]; 5. 9X-Casey Buechler, [1]; 6. 17-Brandon Dean, [10]; 7. 23G-Robbie Gates, [17]; 8. 99-Matt French, [8]; 9. 03-Toby Cooper, [9]; 10. 20-James Esmond, [2]; 11. 8S-Chris Spencer, [15]; 12. 98B-Allan Beatty, [12]; 13. 7E-Jim Estes, [13]; 14. 121-Blake Fogle, [3]; 15. 29-jonpaul larson, [14]; 16. 7T-Taylor Howell, [16]; 17. (DNF) 39-Ho Dean, [11]
Heat 1 (8 Laps): 1. 121-Blake Fogle, [4]; 2. 9X-Casey Buechler, [1]; 3. 99-Matt French, [9]; 4. 4-Joshua Tyre, [6]; 5. 03-Toby Cooper, [2]; 6. 39-Ho Dean, [7]; 7. 7E-Jim Estes, [3]; 8. 8S-Chris Spencer, [5]; 9. 23G-Robbie Gates, [8]
Heat 2 (8 Laps): 1. 77-Kendall Shultz, [6]; 2. 52-Chad Davis, [7]; 3. 20-James Esmond, [3]; 4. 1-Collin Wiseley, [8]; 5. 17-Brandon Dean, [4]; 6. 98B-Allan Beatty, [2]; 7. 29-jonpaul larson, [5]; 8. 7T-Taylor Howell, [1]
Dwarf Cars
A Feature (20 Laps): 1. 31-Logan Applegate, [1]; 2. 34-Sam Champlain, [4]; 3. 39-Rex Johnson, [5]; 4. 26-Mike Howard, [6]; 5. X15-Larry Pense, [12]; 6. 4-Chuck Briggs, [3]; 7. 52-Paul York, [10]; 8. 57-Paul Kaseman, [9]; 9. 88-Dakota Champlain, [8]; 10. (DNF) 35-Jason Miles, [2]; 11. (DNF) 33-Jeff Robertson, [11]; 12. (DNF) 110-Robert Watson, [7]
Heat 1 (8 Laps): 1. 4-Chuck Briggs, [4]; 2. 39-Rex Johnson, [5]; 3. 31-Logan Applegate, [3]; 4. 110-Robert Watson, [6]; 5. 57-Paul Kaseman, [2]; 6. 33-Jeff Robertson, [1]
Heat 2 (8 Laps): 1. 34-Sam Champlain, [4]; 2. 35-Jason Miles, [3]; 3. 26-Mike Howard, [5]; 4. 88-Dakota Champlain, [1]; 5. (DNF) 52-Paul York, [6]; 6. (DNF) X15-Larry Pense, [2]
Factory Stocks
A Feature (20 Laps): 1. 12-Austin McSperitt, [5]; 2. 5W-Bobby Wolfe, [4]; 3. 1-Jimmy Owen, [3]; 4. 44-Calvin Lewis, [2]; 5. 66-Jerry Higgins, [10]; 6. 77-Donald Scotty Wilson, [6]; 7. (DNF) 04-Bill Newton, [8]; 8. (DNF) 4U-Donnie Wright, [1]; 9. (DNF) 33-Jeff Gerritson, [7]; 10. (DNF) 11-Robert Scott, [9]
Heat 1 (8 Laps): 1. 5W-Bobby Wolfe, [4]; 2. 44-Calvin Lewis, [3]; 3. 77-Donald Scotty Wilson, [5]; 4. 33-Jeff Gerritson, [2]; 5. (DNF) 11-Robert Scott, [1]
Heat 2 (8 Laps): 1. 1-Jimmy Owen, [3]; 2. 12-Austin McSperitt, [4]; 3. 4U-Donnie Wright, [2]; 4. 04-Bill Newton, [1]; 5. 66-Jerry Higgins, [5]
Mini Stocks
A Feature (20 Laps): 1. 88-Kevin McSperitt, [3]; 2. 4BJR-Justin Melton, [1]; 3. 7B-Leroy Burger, [4]; 4. 0X-Michael Longacre, [2]; 5. 24-Justin Cartwright, [6]; 6. 45-Jimmy Masterson, [14]; 7. 36-Kenny Grumadas, [8]; 8. 39-Kimberly Tyre, [7]; 9. 26-Adrien Hickman, [10]; 10. 23-Cody Mcclain, [12]; 11. (DNF) 44-Daniel Denton, [13]; 12. (DNF) 39B-RJ Vanzant, [5]; (DNS) 3R-Robert Lockhart, ; (DNS) 68-Justin Ford,
Heat 1 (8 Laps): 1. 4BJR-Justin Melton, [5]; 2. 88-Kevin McSperitt, [6]; 3. 39B-RJ Vanzant, [7]; 4. (DNF) 39-Kimberly Tyre, [4]; (DNS) 3R-Robert Lockhart, ; (DNS) 68-Justin Ford, ; (DQ) 44-Daniel Denton, [3]
Heat 2 (8 Laps): 1. 7B-Leroy Burger, [6]; 2. 0X-Michael Longacre, [5]; 3. 24-Justin Cartwright, [7]; 4. 36-Kenny Grumadas, [4]; 5. 26-Adrien Hickman, [3]; 6. 23-Cody Mcclain, [2]; 7. (DNF) 45-Jimmy Masterson, [1]