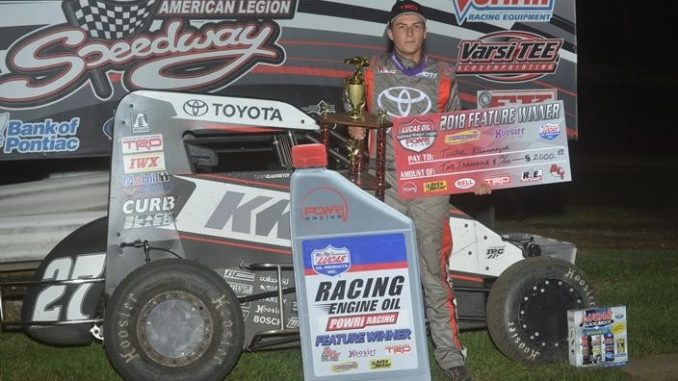 From POWRi
FAIRBURY, Il. (July 8, 2018) – Never short for close-quarter racing and action, Fairbury American Legion Speedway delivered with Tucker Klaasmeyer and Logan Seavey battling it out all the way to the line on the last lap in the POWRi Lucas Oil National Midget League feature event. With a collision at the line resulting in Seavey flipping wildly into turn one and Klaasmeyer spun around, Klaasmeyer claimed his fourth victory of 2018 with the league.
By virtue of passing points, Klaasmeyer started on the pole for the 30-lap feature event, sharing the front row with Keith Kunz/Curb-Agajanian Motorsports teammate Tanner Carrick. At the drop of the green flag, Klaasmeyer jockeyed for the lead with Seavey and Joe B. Miller, only for Seavey to take the early lead.
As Seavey rolled the bottom, Klaasmeyer stayed committed to the thin cushion on the high side of the semi-banked quarter mile, cleaning off the crumbs in the top groove with only a handful of drivers sharing in the cause. With a third of the race completed, Klaasmeyer caught Seavey and narrowly took over the lead as the laps wound down. With two laps remaining, Klaasmeyer's Keith Kunz/Curb-Agajanian Motorsports teammates Ryan Robinson and Holly Shelton got together on the backstretch, resulting in both machines upside down and the red displayed.
Returning to racing, Seavey had one last shot at Klaasmeyer as the drivers remained committed to their respective lines; Seavey rolling the bottom as Klaasmeyer pounded the top. Coming out of four and to the checkered, the drivers collided at the line with Klaasmeyer narrowly edging Seavey. Klaasmeyer ended up spun from the contact with Seavey flipping into turn one. Jake Neuman took third with Joe B. Miller in fourth. Tanner Carrick rounded out the top five.
"That was a little sketchy," commented Tucker Klaasmeyer. "But, that was a helluva a fun race. I didn't know if the top was finally going to come in. But, hat's off to my team and family; this is pretty awesome to get number four already. There's more races this weekend, so hopefully we can keep it going. It's been a pretty special year, hopefully we can keep it going and try to snag the points lead this week. I'm looking forward to tomorrow."
"I hate it for my team," said Logan Seavey. "We have a long week and a tore up car sucks. We were just racing hard for the lead and racing hard coming to the checkered. We'll just keep working hard, come back, and go again tomorrow at Sun Prairie. That's a really fun race track and Keith brings great racecars every night."
"We were fast," stated Jake Neuman. "The car was fast. We started eighth and I lost brakes about halfway through and fell back to probably ninth or tenth. I had nowhere to go but the top. Nobody else was up there so might as well pound the cushion. I'm ready for Sun Prairie tomorrow. We'll see if we can finally bring a first home."
Midgets
Speedway Motors Heat Race Winners: Heat 1: 67 – Logan Seavey, Heat 2: 71k – Tanner Carrick, Heat 3: 51 – Joe B Miller
Mesilla Valley Transportation Feature Winner: 27 – Tucker Klaasmeyer
POWRi Lucas Oil National Midget League Feature Results (30 Laps): 1. 27 – Tucker Klaasmeyer 2. 67 – Logan Seavey 3. 3n – Jake Neuman 4. 51 – Joe B Miller 5. 71k – Tanner Carrick 6. 5d – Zach Daum 7. 21ks – Karter Sarff 8. 72 – Sam Johnson 9. 9k – Kyle Schuett 10. 7 – Austin Brown 11. 5t – Presley Truedson 12. 10c – Dalton Camfield 13. 51b – Adam Taylor 14. 14jr – Holley Hollan 15. 86c – Devin Camfield 16. 3b – Shelby Bosie 17. 20 – Cody Weisensel 18. 67k – Holly Shelton 19. 71 – Ryan Robinson 20. 87c – David Camfield, Jr.