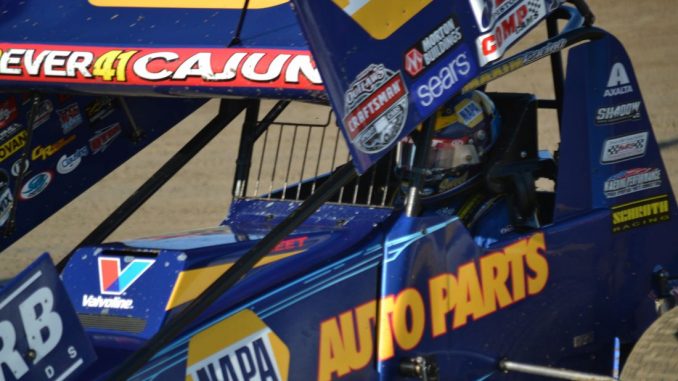 By T.J. Buffenbarger
ROSSBURG, Ohio (July 14, 2018) — Brad Sweet's charge to the front was disrupted in unusual fashion on Saturday during the 35th Annual Kings Royal at Eldora Speedway. Sweet was closing in on leader Donny Schatz quickly over the final 10 laps of the feature when he came across his Kasey Kahne Racing teammate Daryn Pittman to put Pittman a lap down.
Many of us expected lapping Pittman to be quick and painless. Instead Pittman ended up exchanging slide jobs with his teammate and cost him valuable time that appeared to impact his pursuit of Schatz significantly. Sweet ended up losing to Schatz by less than a second.
Afterwards Sweet was frustrated but didn't see angry with Pittman during the post-race press conference.
"I was surprised," said Sweet of how hard Pittman raced while lapping him. "I'm not mad at Daryn, he probably just didn't know where I was running. I'm just frustrated at the situation. I feel like if that would have went a little better I could have ripped three and four there without having to follow him. I feel like it gets me to Donny (Schatz) on the white flag instead of the checkered and I feel like Donny had know idea I was coming. He may have known I was coming, but he wasn't running my line. It was going to be clean shot to the checkered. It would have been a hell of a finish. I think the crowd would have went nuts. That's how you dream of winning."
For Sweet it was also frustrating for him to end up behind Schatz again at another one of the crown jewel events in sprint car racing.
"Obviously, to be the best you have to beat the best. I've been chasing this 15 car year after year for the last few years. Knoxville and here, but that's what is going to put him down in history as one of the best, if not the best is the fact when he shows up at these big races and win them like he does. It pushes me to a whole other level. Watching and racing him night in and night out. If eel like we get closer and he can shift into another gear sometimes."
Overall Sweet seemed pleased with his performance at the Kings Royal.
"We have nothing to be ashamed of tonight," said Sweet. "We laid it all on the line and ran second by a tenth of a second at the Kings Royal to Donny Schatz. I'm not going to be too pissed off tonight."