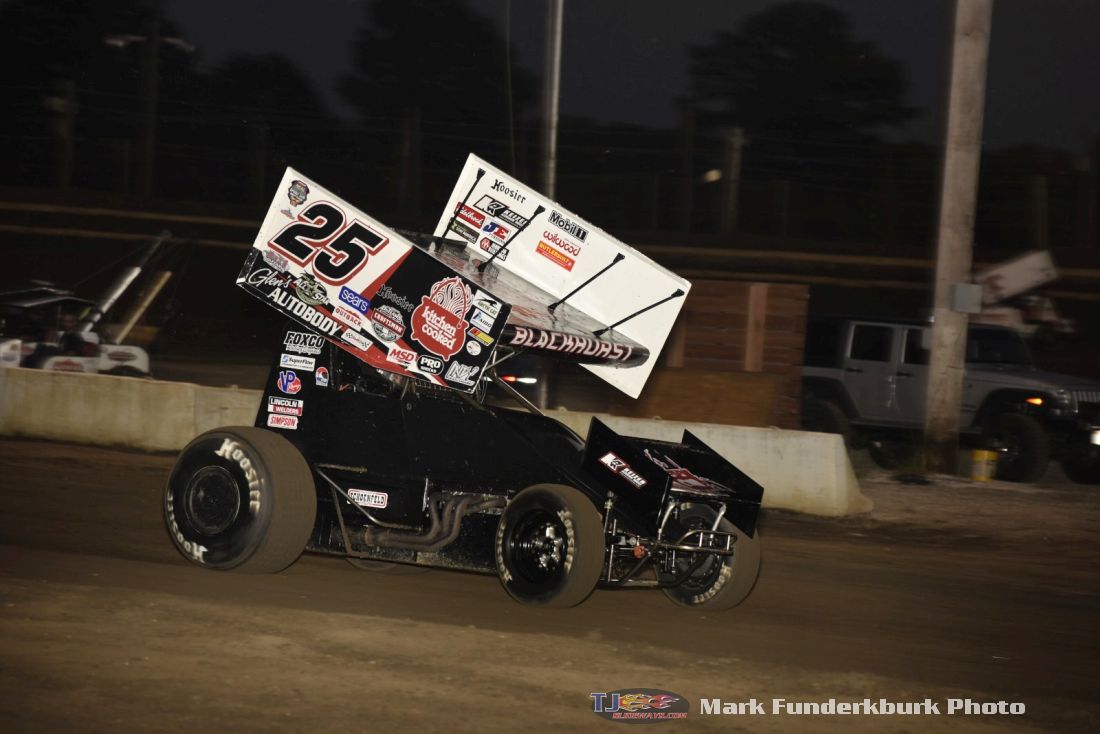 From Mike Babicz
WILMOT, Wi. (August 4, 2018) — Jake Blackhurst of Hanna City, Illinois added his name to the prestigious Interstate Racing Association (IRA) Founders Trophy with his first win at Wilmot Raceway on Saturday, August 4. Blackhurst joins Dale Blaney from Ohio, who won the first two Founders features in 2014 and 2015, and 8-time IRA Champion Bill Balog, originally from Alaska now residing in Hartland, Wisconsin, who won in 2016 and 2017.
In his first full season with the IRA, Blackhurst won his third feature overtaking IRA Rookie Brandon McMullen of Plymouth who led the first 20 laps. "Brandon is a good driver, and things just came my way," said Blackhurst, whose previous wins were at Dodge County Fairgrounds Speedway in Beaver Dam and Langlade County Fairgrounds in Antigo. "It means a lot to win such a prestigious race."
The IRA was founded 51 years ago by Ray Toft, Whitey Harris and the late Junior Dodd. Wilmot was the original home track of the IRA for many years prior to it becoming a traveling series.
Darrell Dodd, Junior's son and former IRA and Wilmot champion, presented the traveling trophy sponsored by Southeastern Wisconsin Racing Hall of Fame which houses the award at the Museum in Hartland.
"These young guys make it a real challenge," said Scotty Neitzel of Beaver Dam who came on in the closing laps to overtake McMullen for second after starting tenth. "Maybe we can move up one spot when we come back in two weeks (Saturday, August 18)."
"I just let it get to me the closing laps when we got into traffic," said McMullen, noting it was his first podium finish with the IRA. "It would have been nice to win, but it's still a good run."
"I never saw this race track before and it was a challenge," said Kyle Cummins of Princeton, Indiana after scoring the win in the 25-lap Lucas Oil Powri WAR League – Autometer Wisconsin WingLess Sprint Challenge feature. "It feels good to win my first feature in Wisconsin. Hopefully we will get a chance to come back again."
Korey Weyant of Springfield, Ill. was second. Mitch Wissmiller of Saybrook, Ill. was third. Rob Caho Jr. of Wyoming, MN was fourth. Landon Smith of Brownsburg, IN was fifth.
Matt Vandervere of Zion, Ill. was moved up from 18th starting spot to finish fourth. Salem's Kris Spitz moved up to fifth from 20th starting spot.
Waukesha;s Mark Heinert chalked up his second 20-lap Wisconsin-Illinois Mini-Sprint feature of the season. "It was a tricky track," said Heinert, noting he won the feature two weeks before fair night last season and is hoping to make it a repeat when he returns on August 18. "The car was set up perfectly."
Genoa City's Morgan Sheppard who led the early part of the main ended up second. C.J. Malueg of Johnsburg, Ill. was third. Tim Brannam of Holiday Hills, Ill. was fourth. Kenosha's Mike Neau was fifth.
The BADGER Midgets return to Wilmot's one-third mile clay oval for the Harry Turner Classic in their final appearance of the season Saturday, August 11. AutoMeter Wisconsin WingLess Sprints, Modifieds, street stocks and Vintage Modifieds are also on the card. Grandstands open at 5:00 p.m. with on track activity at 5:45 p.m. and racing to follow. Grandstand admission is $15.00 for ages 12 and over; $5.00 for ages 7-11 with 6 & under admitted free. Active military personnel with an ID card receive a $5.00 discount.
The Annual Kenosha County Fair begins on Wednesday, August 15. Oval racing will be on Friday, August 17 featuring the Dirt King Late Models Dairyland Duel plus the rescheduled Tommy Homan Street Stock Special along with modifieds and Bandit 4-Cylinder Stock Cars.
On Saturday, August 18 will be an all sprint car program featuring the Bumper to Bumper IRA Sprints in the Roger Iles Tribute plus the AutoMeter Wisconsin WingLess Sprints and the Wisconsin-Illinois Mini-Sprints.
The fair winds up with Derby Icons presenting a doubleheader of demolition derbies on Sunday, August 18. Grandstand action with be UTV-ATV Stadium Racing on Wednesday, August 15 with the truck and tractor pull along with the combine demolition derby Thursday, August 16.
Wilmot Raceway is located on the Kenosha County Fairgrounds in Wilmot, Wisconsin.
SUMMARY – WILMOT RACEWAY, WILMOT, WISCONSIN – SATURDAY, AUGUST 4, 2018 – 5TH ANNUAL INTERSTATES RACING ASSOCIATION(IRA) FOUNDERS NIGHT
BUMPER TO BUMPER IRA OUTLAW WINGED SPRINTS: 30-LAP FEATURE: 1. Jake Blackhurst, Hanna City, IL; 2. Scott Neitzel, Beaver Dam; 3. Brandon McMullen, Plymouth; 4. Matt Vandervere, Zion, IL; 5. Kris Spitz, Salem; 6. Russel Borland, Kewauskum; 7. Scott Uttech, New Berlin; 8. Steve Meyer, Sheboygan Falls; 9. Jeremy Schultz, Beaver Dam; 10. Wayne Modjeski, Oak Creek; 11. Trey Datweiler, Herscher, IL; 12. Mike Decker, Silver Lake; 13. Jereme Schroeder, Lake Villa, IL; 14. Todd Daun, Pleasant Prairie; 15. Raymond Hensley, Trevor; 16. Hunter Custer, Chippewa Falls; 17. Ben Schmidt, Howards Grove; 18. Austin Deblauw, Holiday Hills, IL; 19. Phillip Mock, Pleasant Prairie; 20. Scott Biertzer, West Bend; 21. Jimmy Fifield, Newark, IL; 22. Mike Reinke, Howards Grove; 23. Scotty Thiel, Sheboygan; 24. Patrick Haynes, Bradley, IL.
10-LAP "B" MAIN: 1. Deblauw; 2. K. Spitz; 3. Decker; 4. Schroeder; 5. Custer; 6. Haynes; 7. Keith Fellner, Sturtevant; 8. Joey Moughan, Springfield, IL; 9. Johnny Fahl, Brown Deer; 10. Nick Matuszewski, Antigo; 11. Rick Kelsey, Waukesha.
10-LAP HEAT WINNERS: Meyer; Schmidt; Modjeski.
FAST QUALIFIER: Reinke(:12.983 seconds).
AUTOMETER WISCONSIN WINGLESS SPRINTS-LUCAS OIL POWRI WAR LEAGUE CHALLENGE: 25-LAP FEATURE: 1. Kyle Cummins, Princeton, IN; 2. Korey Weyant, Springfield, IL; 3. Mitch Wissmiller, Saybrook, IL; 4. Rob Caho Jr., Wyoming, MN; 5. Landon Simon, Brownsburg, IN; 6. Slater Helt, Harrisonville, MO; 7. T.J. Artz, Lincoln, NE; 8. Mitchell Davis, Auburn, IL; 9. Jordan Mattson, Milwaukee; 10. Doug Schenck, Cottage Grove; 11. Chris Dodd, Trevor; 12. Dennis Spitz, Lewisburg, KY; 13. Jimmy Kouba, Byron, MN; 14. Jimmy Sivia, Winthrop Harbor, IL; 15. Jake Kouba, Minneapolis, MN; 16. Natalie Klemko, Grayslake, IL; 17. Craig Lager, Union Grove; 18. Matt Vandervere, Zion, IL; 19. James Lyerla, Hillsboro, IL; 20. Jori Hughes, Tower, MN; 21. Patrick Haynes, Bradley, IL; 22. Katlynn Leer, Moulton, IA.
1st 12-LAP "B" MAIN: 1. D. Spitz; 2. Jake Kouba; 3. N. Klemko; 4. Clinton Bruns, Little Rock, IA; 5. Brandon Stevenson, Holstein, IA; 6. Randy Stanford, Kenosha; 7. Chris Klemko, Bristol; 8. Jim Wehrman, Kenosha; 9. Tom Eller, Zion; 10. Bryon Walters, Wilmot; 11. George Gaertner Jr., Salem; 12. Mike Dapra, Knoxville, IA; 13. Chris Howerton, McHenry, IL; 14. Dan Swim, Kenosha.
2nd 12-LAP "B" MAIN: 1. Jimmy Kouba; 2. Lager; 3. Haynes; 4. Jeff Pellersels, Woodbury, MN; 5. Steve Thomas, Rantoul, IL; 6. Greg Olsen, Round Lake Heights, IL; 7. Austin Sears, Macomb, IL; 8. Jordan Paulsen, Trevor; 9. William Huck, Mukwonago; 10. Kevin Hinich, Kenosha; 11. Tyler Tischendorf, Waupaca; 12. Steve Clott, Madison; 13. Allen Hafford, Beach Park, IL; 14. Vince Bartolotta, Muskego.
8-LAP HEAT WINNERS: Cummins; Schenck; Vandervere; Sivia; Caho Jr.
WISCONSIN-ILLINOIS MINI-SPRINTS: 20-LAP FEATURE: 1. Mark Heinert, Waukesha; 2. Morgan Sheppard, Genoa City; 3. C.J. Malueg, Johnsburg, IL; 4. Tim Brannam, Holiday Hills, IL; 5. Mike Neau, Kenosha; 6. Adam Schroeder, Zion, IL; 7. Ron Brannam, Barrington, IL; 8. Jeff Schmidt, Slinger; 9. Kevin Frederiksen, Hales Corners; 10. John Kirk, Johnsburg; 11. Ion Stear, Harvard, IL; 12. Mike Ungar, Madison; 13. Bob Jeziorski, Kewaskum.
8-LAP HEAT WINNERS: Malueg; T. Brannam.
FAST QUALIFIER: Heinert(:15.144 seconds).