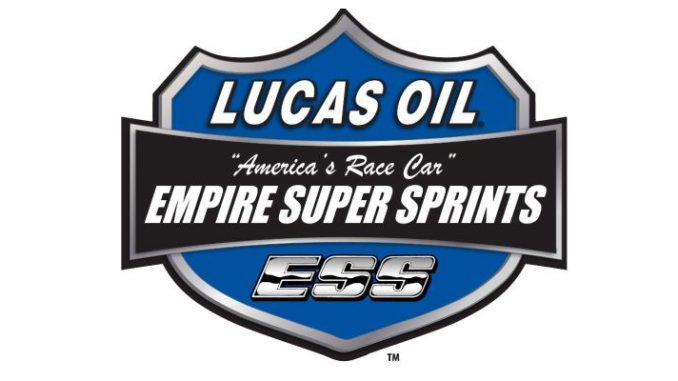 By Dean Reynolds
CANANDAIGUA, NY – Quebec's Steve Poirier moved from his sixth place starting position past Paul Kinney on lap eight and never looked back collecting his third Lucas Oil Empire Super Sprints (ESS) Mach 1 Chassis A-Main. The win worth $2,085 came over ESS' largest field to date with 43 sprint cars filling the pits at the Ontario County Fairgrounds with the A-Main completed in just over eight minutes.
For Poirier, it was a set up he once found successful several years back that he went to and it did the trick, "We went to a set up we tried like five or six years ago that made the car fast in the middle and up on top, " Poirier said on the set up try, "The last four or five races here we have not been that good so we went back to a shock combination that we put aside that wasn't the best at other tracks but it worked here."
Poirier quickly moved through the field and then was pressuring the Kinney machine after he took over the lead on lap six from Josh Pieniazek. "We were so good at the beginning when the track was clean from top to bottom," he continued, "I got by Paul and then I could run where I was the most comfortable"
Poirier began to open up a sizable lead so eyes then moved to the positions behind him that were occupied by Kinney, Pieniazek, Matt Tanner, Jason Barney and soon by 13th place starting Chuck Hebing. It was Hebing that did his charge to front passing all several laps past halfway.
"I don't look at the scoreboard here but when they told me it was Chuck that got second I knew he past a lot of cars because I knew where he started," Poirier mentioned, "Chuck is real good here and they told me he was faster at the end. That didn't surprise me as I didn't feel as fast at the end when the clean groove of the track moved to the bottom only."
The win was Poirier's 68th career with ESS and closed him even more on Barney and Coleman Gulick for the overall point lead. Poirier has some thinking to do, "We weren't going to go for the championship when the year started but we have finished every race but one and we are in the points," he went over the season plans, "Next weekend there is a race on Friday and then Sunday, it will be tough to stay down for all weekend with us busy at work. We will see how we do after Can-Am an make the decision and the next two weekends are close to home. I think I will have to talk to the boss as well (Poirier owns his business)"
For Hebing, it was just a matter of not finishing high enough in his heat race, "We were in just such a tough heat and the track was fast mostly on top which made it hard to pass," he said on the beginning of the night, "You don't want to be in the dash but we did try a few things."
Hebing earned the hard charger bonus as was faster than Poirier at the end, "When I got up to second I could see Steve up ahead and that means you know you're close but we just ran out of laps," Hebing then went on about his ser up, "We have been real good here for about the last month or so with this shock package we have so we go on to next weekend and see if we can get some good finishes."
For Tanner, his third place finish backs up his win in the CNY Speedweek finale'. But at the start of the race his #90 went backwards instead. That was a surprise after timing fast time in his group and winning his heat easily.
"I was just driving too hard. The top was starting to go away and I was just trying to stay up there and make it work," said Tanner on the early stages, "Once to calmed down and started to go where the track was fast I started to move back up front."
Tanner did pick up several spots including Barney on the last lap, "It was good to get by Jason and get a podium finish," he said, "We have just got a good set up here and Utica-Rome, we come in to each track thinking we have a shot,"
Barney did take fourth from eighth with pole starting Pieniazek taking fifth for his best career ESS finish. Kinney, Jeff Cook, Danny Varin, Paulie Colagiovanni and Mike Mahaney rounded out the top ten.
Lucas Oil Empire Super Sprints
Mach 1 Chassis A-Main at Land of Legends – Steve Poirier ($2,085), Chuck Hebing ($1,185), Matt Tanner ($850), Jason Barney ($655), Josh Pienazek ($630), Paul Kinney ($495), Jeff Cook ($430), Danny Varin ($420), Paulie Colagiovanni ($435), Mike Mahaney ($400), Shawn Donath ($395), Dan Douville ($545), Billy VanInwegen ($300), Jared Zimbardi ($425), Coleman Gulick ($300), Joe Trenca ($300), Darryl Ruggles ($300), Dalton Herrick ($350), Scott Holcomb ($100), Matt Billings ($100), Dave Axton ($350), Sam Reakes IV ($350), Jeff Trombley ($350), Cory Turner ($300), Steve Doell ($350), Alysha Bay ($300).
DNQ – Jonathan Preston, Max McLaughlin, Pete Richardson, Keith Granholm, Chad Miller, Dan Kuhn, Dan Bennett, Kevin Carlson, Derrick Juliano, Sean Durand, Steve Hutchinson Jr., Cory Sparks, James Hanson, Kelly Hebing, Josh Flint, Mike Kiser, Erik Karlsen.
E3 Spark Plugs Fast Time – Colagiovanni, Poirier, Tanner, Barney $25
Car Mate Trailers Heats – Douville, Kinney, Tanner, Pieniazek $25
Engler Machine and Tool Halfway – Poirier $50
Pinnacle Pole Award – Pieniazek $50
Insinger Performance Hard Charger – Hebing (11 pos), $50
Canadian Sprint Car Nationals 14th Anniversary – Zimbardi $50
Fondations 55 Last Car Lead Lap – Herrick $50
Lacaillade Masonry B-Main – Trombley, Reakes IV – $50
Fondations 55 Pick 5 – Pieniazek $25
SUNY Canton Smart Finish – Donath $35
Danny Willmes Enterprises/Cobra Coaches Dash – Hebing ($125), Zimbardi ($75), Axton ($50), Doell ($50)
Around Town Plumbing and Heating Just Missed – Kiser, Preston $25
Ashley Lynn Winery Podium – Poirier, Hebing, Tanner $10
Hoosier Tire – Douville $200
For more Information on the Lucas Oil Empire Super Sprints:
Web: www.empiresupersprints.com
Twitter: @ESSprints
Facebook: https://www.facebook.com/EmpireSuperSprints