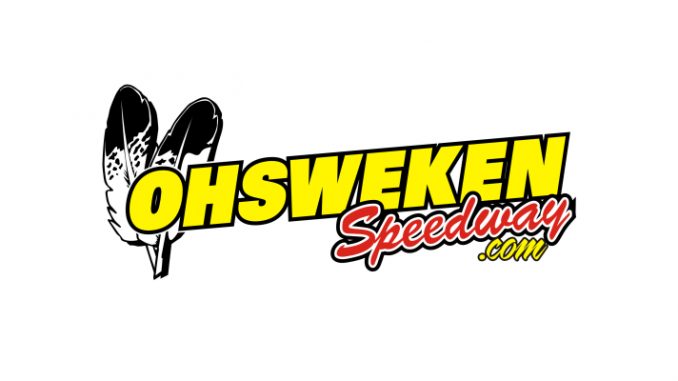 By Clayton Johns
OHSWEKEN, Ont. (August 14, 2018) – Ohsweken Speedway continues its exciting season of Friday Night Excitement on August 17 as Jibs Action Sports presents the Kids Race for the Canadian National Autism Foundation and Autograph Night. Representatives from Kids Race will be on hand to help raise awareness for children living with autism. Fans will also have the chance to meet their favourite drivers on track at intermission for hero cards, photos and treats as part of Autograph Night.
The night also marks the second challenge race of the season for the Kool Kidz-Corr/Pak 360 Sprint Cars, who welcome the travellers of the Southern Ontario Sprints to town for a showdown.
Race time is 7:30pm with grandstand gates opening at 6:00pm. Adult admission is just $14 while Seniors (65+) and Youths (13-17) are only $10. Kids aged 7-12 are only $3 and Kids 6 and under are free. This pricing is in effect for all weekly Friday Night Excitement shows in 2018.
Kool Kidz-Corr/Pak 360 Sprint Cars
Dylan Westbrook extended his lead last Friday night with his seventh Kool Kidz-Corr/Pak 360 Sprint Car win of the season when he held off a hard-charging Scott Kreutter. Westbrook, the defending division champion, now holds a 76-point lead over Caistor Centre driver Cory Turner with five scheduled points features remaining. Jim Huppunen is currently third, but there are just 13 points separating him, fourth-place Mack DeMan and fifth-place Tyler Hendricks. Ryan Turner sits sixth in the standings ahead of Steve Lyons, Chris Steele, Mike Thorne and Shawn Sliter, who round out the top-10.
Strickland's GMC Crate Sprint Cars
The Strickland's GMC Crate Sprint Cars have a new point leader as Shone Evans took over the top spot last week following a pair of runner-up finishes. The lead is a slim one though, just eight points over St. Thomas, Ont. native Jesse Costa. Holly Porter is third, but just holds only a 12-point advantage over Aaron Turkey. Lucas Smith sits fifth with only a two-point advantage over sixth-place Hannah Ferrell. Jacob Dykstra, Dereck Lemyre, Jerry Hill and Josh Hansen complete the current top-10 with four points nights remaining.
Middleport Mechanical Thunder Stocks
A smooth and consistent week for Dave Bailey saw his point lead atop the Middleport Mechanical Thunder Stock standings grow to 47 markers over Logan Shwedyk. Ken Saragent sits third and is just nine points back of Shwedyk. Trevor DeBoer and Christopher Hale round out the top-five. The Middleport Mechanical Thunder Stock division is the only one at the track where each of the drivers in the top-five have earned a win already this season. Billy Bleich Jr. sits sixth, just four points back of Hale while the most recent winner Ryan Beagle is seventh. Mark Bazuin, Jim Lampman and Blake Bomberry Jr. occupy the remainder of the top-10.
HRW Automotive Mini Stocks
A strong run last Friday night cemented Gillian Hils' lead at the top of the HRW Automotive Mini Stock standings. Her advantage is 39 points over Matt Nuell, who earned his first Feature win two weeks ago. Nick Masi has slipped to third in the standings, but is only four points back of Nuell. Sean Iftody is fourth and Jonathan Ayrton currently hold the fifth spot. Behind them, Dusty DeBoer, Tristan Da Silva, Kyle Wert, Mike Sarantakos and Tim DeBoer complete the top-10 with five races remaining.
_____________________
About Jibs Action Sports: Jibs Action Sports opened in 2010 to supply customers with a great choice of freestyle skate park equiment. Jibs is now one of Canada's best suppliers of BMX bikes, freestyle scooters, and skateboards. Visit Jibs Action Sports at 425 Guelph Line in Burlington, 2107 Highway 7, Unit 8 in Vaughan and 1822 Whites Road North in Pickering or shop from the comfort of home at www.jibsactionsports.com.
Canadian Sprint Car Nationals Tickets and Camping Available Now!
Advanced reserved seating tickets are on sale now for the 14th annual Canadian Sprint Car Nationals on September 14-15 are on sale now! The event features two full nights of Sprint Car action, including Saturday's $10,000-to-win Feature Event. Visit www.ohswekenspeedway.ticketforce.com or call 519-717-0023 to order and for more information. For the full 2018 schedule of events, click here.
Ohsweken Speedway Live Stream
Can't make it to the track or don't live within driving distance? No problem! Check out all of Ohsweken's weekly Friday Night Excitement action live online for free via the Ohsweken Speedway Live Stream. The stream goes live at 7:30pm EST each race night at www.OhswekenSpeedway.ca and on our official Facebook page.
2018 SEASON
Ohsweken Speedway's 23rd season of weekly Friday Night Excitement features four divisions of racing, including the Kool Kidz-Corr/Pak 360 Sprint Cars, Strickland's GMC Crate Sprint Cars, Middleport Mechanical Thunder Stocks and HRW Automotive Mini Stocks. Visit www.OhswekenSpeedway.com to view the schedule or call (519) 717-0023 for more information.