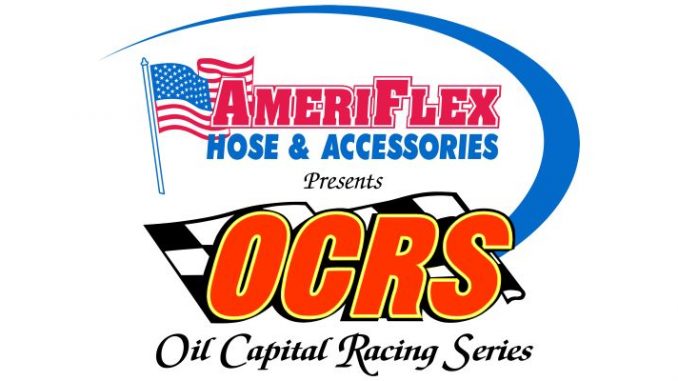 John Lemon
OCRS PR
Tulsa Okla. (August 27, 2018) – The wild n' wicked sprint cars of the AMERI-FLEX / OCRS series will be back in action this Labor Day weekend with the "Sprint Spectacular Summer Showdown" at the Caney Valley Speedway in Caney Kansas. This event will be held over 2-days, Friday August 31st & Saturday September 1st. Start time on Friday night will be 7:30pm and the Saturday starting gun will fire off at 7pm. Friday night's admission will be ONLY 5 BUCKS with kids 12 & under FREE! Saturday's tickets are $15 with discounts for kids, seniors & military personnel!
The sprint drivers will partake in 3 to 4 segments to qualify into the Ameri-Flex Hose & Accessories main event on Saturday. First up will be the Stranglehold Racing Productions Time Trials where the racers will have 2-laps around the 1/4 mile oval to lay down their best time. The Drive Shafts Inc heat race, the A-1 Machine Shop heat race and the Car & Fleet heat races will follow suit as segment number two then a round of qualifiers (2nd set of heat races) will also be a part of the program.
Drivers will be awarded points based on their performances for these 3 segments and the top 12 in points will lock into the main event. Drivers who do not lock-in from the first 3 segments will be placed into segment number four. That will be the Wesmar Racing Engines semi main where the top 8 cars at the finish will move onward to the Ameri-Flex 30-lap main event that will pay $1500 win and $400 to start. (Drivers must compete both nights to receive full pay).
Another part of this weekend holiday special will be the Grand National Trailer Dash that will be held on Friday night. 10 drivers will compete in a 12-lap affair with $500 set up for the winner and a minimum of $100 to start the dash. Factory Stocks and USRA B-Mods will compete on both nights with the new "Stock car" class joining in on the fun on Saturday night.
Just a sampling of the drivers that are expected to attend this special event are……………..
Alex Sewell, Shayla Waddell, Zach Chappell, Whit Gastineau, Andrew Deal, Sheldon Barksdale, Mickey Walker, Johnny Kent, Joe Bob Lee, Casey Wills, Perry Pickard, Alison Slaton, Shane Sellers, Robert Sellers, Frank Taft, David Baxter, Noah Gass, Joseph Miller and more!
Complete details on the Sprint Spectacular Summer Showdown format can be viewed at: ocrsracing.net
What: Sprint Spectacular Summer Showdown featuring the AMERI-FLEX / OCRS Sprint Cars
Where: Caney Valley Speedway / Caney Kansas
When: Friday August 31st & Saturday September 1st.
Friday Info:
Time: Gates open at 4:30p / Hot laps 7pm / Racing at 7:30p (OCRS drivers meeting at 6:30p)
Tickets: $5 for everyone except kids 12 & under are FREE! / Pit Pass: $30
Saturday Info:
Time: Gates open at 4:30p / Hot laps 6:30pm / Racing at 7:00p (OCRS drivers meeting at 6:00p)
Tickets: $15 Gen Admission / $10 Military & Seniors / $5 kids 7-12yrs / 6yrs & under FREE / Pit Pass: $35
Track Phone: (620) 330-0485
Track website: www.caneyvalleyspeedway.net
Track Location: The track is just 1/2-mile west of the junction (intersection) of US 75 and US 166 on CR 1600.