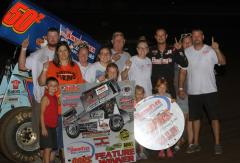 By John Rittenoure
Ada, Oklahoma (September 15, 2018) – Zach Chappell felt like he had to act quickly to have any chance at winning the Ameri-Flex / OCRS 12th annual Oklahoma State Championship at Oklahoma Sports Park on Saturday.
Chappell was starting outside front row next to pole sitter Shayla Waddell, and he felt as if he would need to do something quick if he wanted the lead. And Chappell did just that, passing Waddell early in the opening lap then pulled away to post his second straight and third victory of the season.
"She was so fast in her heat race I was scared that if she got out there and got away from us in that clean air we all were going to have our hands full," Chappell said of Waddell who earlier easily won her heat race with a strong run. "She was in a different time zone."
Waddell got a good jump on the start to beat Chappell into the first turn. However, the defending Ameri-Flex / OCRS champion was able to throw a slider on Waddell before the two reached the backstretch and Chappell came away with the lead.
"She got the jump on the start and I saw an opportunity," Chappell said. "I told myself if we are going to have a chance this is going to be it. We got a good slide on her and it stuck.
"The track was good. Where it was black is where I was the quickest. On the cushion and down on the bottom it was very fast. This is the fastest I have seen this track."
Waddell knew she would have her hands full keeping the likes of Chappell, series points leader Alex Sewell, Whit Gastineau and Sheldon Barksdale behind her.
"I felt we were really fast in the heat race and I knew in the feature it would be tough," said Waddell of her pole starting position. "I was able to get a little jump on Zach then he was able to slide me back. I got a little high. He was differently faster."
Once out front Chappell pulled away in his Ameri-Flex sponsored DSO powered Maxim sprinter. Barksdale and Sewell were able to pass Waddell for second and third respectively. On lap four Sewell went high and fell out of the top five which allowed Gastineau to take over third.
The only yellow flag in the 25-lap race came on lap 22 when Mickey Walker blew an engine. Walker pulled off in turn four and quickly exited his sprinter as fire was seen coming from his muffler. The fire was quickly put out and Walker was not hurt.
The race restarted with Barksdale and Gastineau chasing Chappell. A lap later Gastineau got past Barksdale for second leaving Barksdale with a third. Waddell held on to fourth over Sewell who was trying to work his way back into the battle to catch Chappell. Joe Bob Lee finished sixth and Johnny Kent was the York Plumbing Hard Charger recipient with his seventh-place finish after starting 14th.
Chappell has been working out of town during the week and could not thank his crew enough for making the win possible.
"These guys are working their heart out on this race car," Chappell said of his crew. "With me working in Dallas I don't have as much time to work on the race car. I can't thank them enough."
The Ameri-Flex Challenge III is next on the schedule and Chappell feels he is peaking at the right time for the crown jewel on the Ameri-Flex / OCRS schedule that pays $3,000 to win and $1,000 to start.
"We have a little momentum behind us," said Chappell. "We have been doing some small stuff to the car that seems to be working really well. Hopefully, we can go to Salina and pick us up another one."
The Waddell team started off the night making a statement winning two of the three heat races. Waddell won the first heat pulling away from the field and rookie teammate Alison Slaton picked up her first OCRS victory with an easy win in the third heat.
"She did a good job. I am really proud of her," Waddell said of Slaton who came back to finish eighth in the feature.
Overall Waddell was happy with her teams' efforts.
"It was a good run for us," Waddell said. "Anytime you can finish in the top five with these guys is a good thing.
"I really want to thank Nick (Newton) who does the work on this car. It is crazy what all he does. Also, Chris Cunningham at Production Engines, A and W Custom Designs, T Clark Enterprises, David Grace Motorsports, and Ameriflex."
Ameri-Flex / OCRS Sprint Car Series
Oklahoma Sports Park – Ada, Oklahoma
September 15, 2018
Car count: 17
(Pos-Car-Driver-Start)
Drive Shafts, Inc. Heat 1 (8 laps)
1, 76S-Shayla Waddell[2]. 2, 8-Alex Sewell[5]. 3, 50Z-Zach Chappell[3]. 4, 29-Duane Baker[1]. 5, P78-Perry Pickard[6].
A1 Machine Shop Heat 2 (8 laps)
1, 5L-Joe Bob Lee[1]. 2, 33-Gary Owens[2]. 3, 2W-Whit Gastineau[5]. 4, 2-Mickey Walker[3]. 5, 55-Johnny Kent[6]. 6, 7D-David Baxter[4].
Car and Fleet Parts Heat 3 (8 laps)
1, 2A-Alison Slaton[1]. 2, 20S-Sheldon Barksdale[5]. 3, 23-Donovan Wise[3]. 4,1X-Jimmy Taylor[2]. 5, 5P-Patrick Prescott[4].
AmeriFlex Hose & Accessories A Feature (25 laps)
1, 50Z-Zach Chappell[2]. 2, 2W-Whit Gastineau[4]. 3, 20S-Sheldon Barksdale[3]. 4, 76S-Shayla Waddell[1]. 5, 8-Alex Sewell[6]. 6, 5L-Joe Bob Lee[5]. 7, 55-Johnny Kent[14]. 8, 2A-Alison Slaton[7]. 9, 33-Gary Owens[8]. 10, P78-Perry Pickard[13]. 11, 1X-Jimmy Taylor[12]. 12, 5P-Patrick Prescott[15]. 13, 2-Mickey Walker[11]. 14, 29-Duane Baker[10]. 15, 23-Donovan Wise[9]. 16, 7D-David Baxter[16].
Lap Leaders: Zach Chappell 1-25.
Contingency Award Recipients
Ameri-Flex Hose A Feature Winner: Zach Chappell
Drive Shafts, Inc. Heat: Shayla Waddell
A-1 Machine Heat: Joe Bob Lee
Car & Fleet Heat: Alison Slaton
York Plumbing Hard Charger Award: Johnny Kent +7
Wesmar Racing Engines Recipient: Perry Pickard
M&W Aluminum Hard Luck Award: David Baxter
Amsoil High Point Driver Award: Shayla Waddell
Rod End Supply Recipients: Jimmy Taylor Patrick Prescott, Mickey Walker