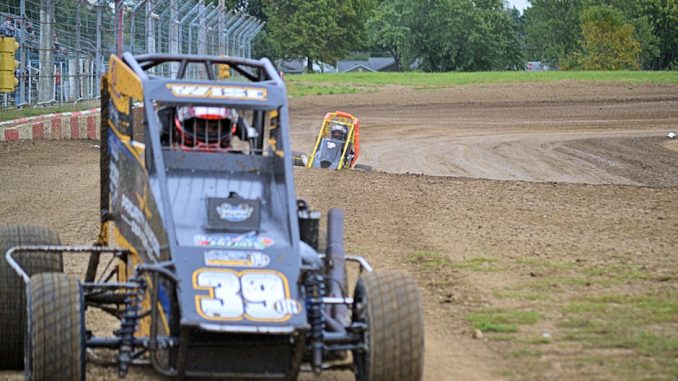 From MCB
Montpelier,In (9-29-2018)-Zeb Wise won the 20 lap midget feature Saturday night at Montpelier Motor Speedway. Veteran Davey Ray took the early lead with Wise on his bumper, but had mechanical troubles. Wise took the top spot and never looked back.
Chase Jones, Chet Gerke, Nick Spiedel and Tyler Nelson followed Wise. They were all strong but Wise could not be caught tonight.
A great field of 33 midgets contested four heats with winners Chase Jones, Nick Siepel, Zeb Wise and Stratton Briggs. B main went to Tom Hunt.
Midgets
33 Entries
Heat 1 – 8 Laps
1 33 Chase Jones 2 21d Justin Dickerson 3 88t Tyler Nelson 4 25 Jon Watson 5 12B Kyle Kriegbaum 6 3D Brandon Dailey 7 20N Mark Nieft 8 17K Brent Watson 9 88 Scott Orr
Heat 2 – 8 Laps
1 21N Nick Spiedel 2 11l Aaron Leffel 3 35 Chris Baue 4 11G Corey Guingrich 5 12 Tom Hunt 6 5C Tyler Key 7 84 Bill Dunham 8 29w Brandon Watson 9 7M Critter Malone
Heat 3 – 8 Laps
1 39bc Zeb Wise 2 29R Davey Ray 3 10 Chett Gherke 4 7S Jon Steed 5 83 Jeff Beasley 6 2B Thomas Bigelow 7 DW7 Kevin Blue 8 63 Bryce Dues
Heat 4 – 8 Laps
1 71 Stratton Briggs 2 3 Alex Watson 3 73V Blake Vermillion 4 5V Jesse Vermillion 5 4B Donny Bigelow 6 11T Ben Taylor 7 41A Oliver Akard 8 32 Nick Hamitton
B Main (10 Laps)
1. 12 Tom Hunt 2. 83 Jeff Beasley 3. 2B Thomas Bigelow 4. DW7 Kevin Blue 5 29w Brandon Watson 6 5C Tyler Key 7 11T Ben Taylor 8 20N Mark Nieft 9 32 Nick Hamitton 10 12B Kyle Kriegbaum 11 84 Bill Dunham 12 41A Oliver Akard 13 3D Brandon Dailey 14 63 Bryce Dues 15 4B Donny Bigelow 16 17K Brent Watson 17 12 Tom Hunt 18 DW7 Kevin Blu
A Main (20 Laps)
1 39bc Zeb Wise 2 33 Chase Jones 3 10 Chett Gherke 4 21N Nick Spiedel 5 88t Tyler Nelson 6 3 Alex Watson 7 35 Chris Baue 8 11G Corey Guingrich 9 21d Justin Dickerson 10 5V Jesse Vermillion 11 11l Aaron Leffel 12 7S Jon Steed 13 DW7 Kevin Blue 14 83 Jeff Beasley 15 73V Blake Vermillion 16 12 Tom Hunt 17 2B Thomas Bigelow 18 71 Stratton Briggs 19 25 Jon Watson 20 29R Davey Ray