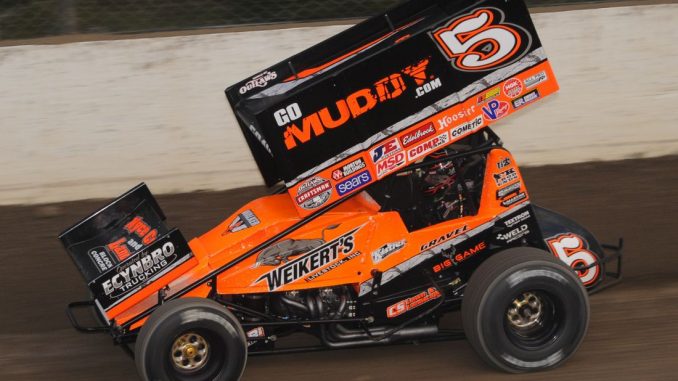 By T.J. Buffenbarger
Two of the World of Outlaws series teams involved in "silly season" decided to give us a lot to talk about in about a two hour span when Kyle Larson Racing and CJB Motorsports officially announced their plans for the 2019 season.
Both teams were among the most rumored for change shortly after the Knoxville Nationals. With the news Shane Stewart is going to CJB for 2019, putting David Gravel on the free agent market, means we will see at least two more teams with new faces behind the wheel for next season (and possibly more).
It's fair to say both KLR and CJB didn't perform to the expectations many of us in the media expected for this upcoming season. Both are in the top five in points, but if you told me six wins would be the total between Stewart and Gravel this year I would have considered that a low estimate. I felt strongly that Gravel could be in line to be the arch rival to Donny Schatz on the Outlaw tour this season, but that never came to fruition with Kasey Kahne Racing and Brad Sweet getting faster throughout the 2018 season.
The biggest question I have at the moment is how well Jackson and Stewart work together? I could see this combination possibly ending up at each end of the spectrum. It's either going to work extremely well or won't work at all. By the time they reach the Kings Royal we should have a decent read on how the Stewart / CJB combination will work. The potential for the Stewart / CJB combination is
When it comes to the remaining teams and drivers involved in the World of Outlaws ride carousel this off season they face the daunting task that the ultimate goal of toppling a driver/crew chief combination with that much experience. At the end of the day everyone is chasing a combination like Donny Schatz and Ricky Warner with years of experience working together and the backing of Tony Stewart Racing. Chemistry on tour doesn't mean being best friends, it means being able to go about business and do the job at hand. Over the past decade TSR has done just that.
As plans are revealed for the combination at KLR, Gravel's future, and other possible driver/team combinations that can reach the end goal is to find chemistry that can produce results to rival the 15 car. Developing that kind of success is a daunting task. It will be interesting to see how the new driver/team combinations are working around July of next year.