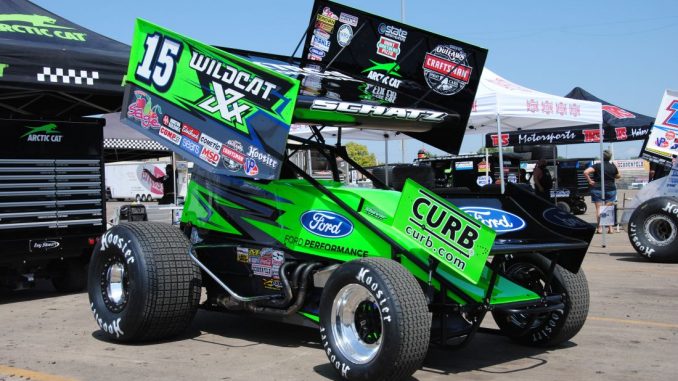 From TSR
Brownsburg, Ind. (Nov. 27, 2018) – Tony Stewart/Curb-Agajanian Racing (TSR) announced staffing changes pertaining to the organization's World of Outlaws (WoO) Craftsman Sprint Car Series No. 15 entry driven by 10-Time series champion, Donny Schatz.
In recent weeks, TSR and Ford Performance have ramped-up the development of the highly anticipated Ford sprint car engine program and look to have powerplants competing in the WoO Series in the coming months. In support of the program, TSR has transitioned longtime and respected mechanic Rick Warner into a role leading the team's research and development efforts in conjunction with the dedicated Ford Performance team.
"For the 2019 racing season, we have moved Rick Warner into a lead R&D position as we look to ramp-up our Ford engine program," said team owner, Tony Stewart. "This is an extremely important project for Tony Stewart Racing as an organization and I can't think of more innovative and passionate individual to lead the development. Ricky's mechanical experience and knowledge is unsurpassed and he will be integral in the development of TSR's future with Ford Performance.
"The accomplishments that Rick [Warner] and Donny Schatz have achieved together have helped shaped the modern-era of sprint car racing. Not only am I fortunate to have both of them as part of my organization as an owner, I also benefit from having both of them in my corner as a driver and a teammate. As we develop our Ford engine program, having both their input will be invaluable."
Schatz, who will return to the seat of his iconic No. 15 machine for the 2019 season, sits third on the all-time WoO Sprint Series Feature event win list with 283 victories. Coming off his sixth consecutive season of 20+ WoO Sprint Series victories, Schatz will welcome a familiar face in the role of crew chief as Steve Swenson has been promoted into the position.
"Steve [Swenson] and Donny [Schatz] have a strong working relationship that will allow the team to move into a new dynamic flawlessly," said Stewart. "The foundation that Rick [Warner], Donny [Schatz] and Steve [Swenson] have worked to build will be an asset as we transition as an organization. We're also pleased to welcome Jakob Weaver to the No. 15 team for the 2019 season."