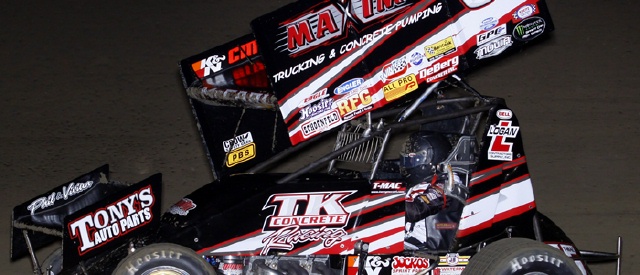 By Bill W
May 3, 2011 – With much attention centered on Terry McCarl and his first night at Knoxville Raceway in 2011 in the VerMeer Motorsports #55, in the end, he was upstaged by his 16 year old son, Carson, who became the youngest sprint car winner in history at Knoxville when he won the 305 main event. TMAC would battle to a top ten finish on a one-lane track, but in the end, was elated with the 305 results. He'll be back this weekend at Knoxville, and also plans on Huset's Sunday.
Coming out 23rd on the grid in a 29-car field, TMAC posted the seventh quick time of the night. "The track blew off quite a bit as time trials went on, but there were some good times coming out late," he says. "(Quick timer) Brooke (Tatnell) went out a few spots in front of me and had fast time. We were off a bit. I'm accustomed to qualifying well, so seventh was a little disappointing. It ended up helping us in the heat, because we had to make some changes."
The Altoona, Iowa driver would win convincingly in his heat race after starting sixth. "The car was awesome," says TMAC. "It could not have been better. I did my warm-up lap before the heat and it was nice. It was lockdown, even on the straightaways where it was slick for everyone. It was the most fun I've had in a sprint car in a long time. It was really good for my confidence and me. The harder I drove it the better it was. The thing just stuck to the bottom."
A new format saw the top twelve qualifiers who made it through their heat race redraw for the feature. "The guys did a great job getting the car hooked up in the heat," says the six-time Knoxville track champ. "I was looking forward to the feature. I didn't mind the redraw. Whatever we can do to make a better show for the fans, I am for. As it turned out, I probably drew the worst number I could have with an 11 (out of 12)."
Danny Lasoski put himself in the front row. "They might as well have handed Danny the trophy after we drew, because you're not going to catch him on the pole on a track like that," says TMAC. "On a decent track, I would have been fine with him on the pole and myself back in row six, but that wasn't what we had. It was what it was."
TMAC trailed son Austin to the checkers in a ninth place finish. "A lot of thoughts went through my head," he says. "I was thinking, 'This sucks. I'm going 100 M.P.H. and I'm bored. I knew the fans must have been bored and that bothers me.' I was also thinking, 'This sucks, but this is the best we can run given the circumstances, and Carson won tonight!'"
TMAC described his feelings about Carson's win. "It was very emotional," he says. "It's something you dream about, and I'm sure he's dreamed a lot about it. The funny thing is, I told him, 'No matter what, you're not going to win your first race. If you load the car up without tearing it up, that's a win for all of us, especially me. Let's just go out and learn and do our best.' Doggone it, he went out and won!"
Carson has a good nucleus around him. "He's fortunate to have Steve Fitzpatrick, who has been a WoO crew chief, and works on Austin and Carson's car," says TMAC. "Brad Goebel, who was recently with Seth Bergman is pretty sharp, along with Jeff Morris and TJ Williamson. It's one big happy family down there."
Despite being short on words in Victory Lane, Carson was all smiles. "It was unbelievable," says TMAC. "He had some good friends there too. My only regret is not getting in the picture with him in Victory Lane, but I didn't want to take anything away from his moment there and his night. I do regret it, because it was a special time."
Many would like to see TMAC at a race like the Salina Highbanks in Oklahoma tonight. "I'd like to do some races like Salina with the Outlaws tonight, but we need some more nightly sponsors with the #24 car and we need a truck to get there," he says. "We've got some great deals going to get people involved. As it is, we'll run the #55 at Knoxville on Saturday, and hopefully, Huset's with the #24 on Mother's Day."
To check out opportunities to partner with TMAC Motorsports, visit www.TerryMcCarl.com or call 515 957-0020!
Terry and Austin Interviewed on Iowa Sports Live!
Follow the link as TMAC and Austin talk about the year ahead and just about everything else for 60 minutes…
http://www.ustream.tv/recorded/14321455
Front Row Challenge/Ultimate Challenge
The 16th Annual Front Row Challenge and the 10th Annual Ultimate Challenge will be held Monday and Tuesday, August 8 and 9, 2010 at the Southern Iowa Speedway in Oskaloosa, Iowa. Order your seats NOW by calling McTwo Promotions, Inc. at 515 957-0020. Visit www.OskyChallenges.com for further details.
Websites for the McCarl Gang!
Driverwebsites.com develops the websites for the McCarl boys. Check out www.TerryMcCarl.com, as well as www.AustinMcCarl.com and www.CarsonMcCarl.com!
In"Terry"gation
TMAC speaks about the negatives of the internet for promoters…
TMAC Answers: People get on the Internet and they don't realize the damage they are doing. They criticize every little move promoters make. They are tearing down the sport. It's a tough thing to do to promote. When they stop having sprint car races, I guess they'll stop criticizing.
Got a question for TMAC? Send it to us at sprntcar@iowatelecom.net, and we may answer it in this section! Put "? for TMAC" in your subject line.
This Month in TMAC History!
On May 31, 1986, TMAC was 10th quick in Daryl Arends' #1A. It was his rookie season at Knoxville. After finishing fourth in a heat race that Robby Unser won, he would post what was at the time, a career-best sixth place finish. Danny Lasoski won ahead of Dean Lindsey, John Stevenson, Rick Salem and Unser.
"Tuesdays with TMAC"!
"Tuesdays with TMAC" is an up close and personal look at colorful sprint car veteran Terry McCarl. To receive "Tuesdays with TMAC", send an e-mail to sprntcar@iowatelecom.net with "TMAC" in the subject line.
TMAC Motorsports would like to thank sponsors Deanfield Farms, Eagle Chassis, DeBerg Concrete, AmeriCashAdvance.com, RFG, Phil and Vivian, Mark Burch Motorsports, Ryan Yager Trucking, Vortex Racing, Hoosier Tire, Chris Spaulding – Attorney at Law, Schoenfeld Headers, K&N Filters, Don Ott Engines, HRP, All Pro Cylinder Heads, Bob and Beulah Elder, Country Builders Construction, Engler Injection, T&P Brothers, Winters, DriverWebsites.com, CM Rock, Jocko's Sprint Parts, Sander, Brown and Miller, Morris Automotive, Chase Graphics, Pro Shocks, Mac Tools, Ben Cook, Bell Helmets, Burnettt's Rock and Landscaping, Morgan Strawberry Farms, Bulldog Pest Control, Aurora Rod Ends, Crow Safety, Justice Brothers, KSE Steering, CIP Racing Hoods, Strange Performance, Saldana Racing Products, Scribner Plastics, Waterman Fuel Pumps, Weiland Racing, Butlerbuilt, PBS Bushings.