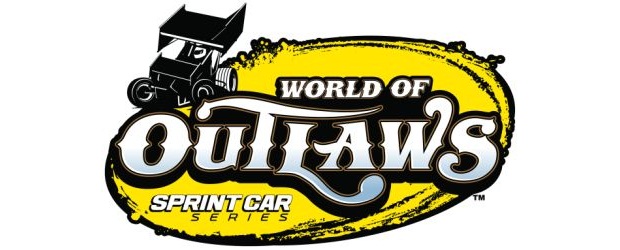 From the World of OutlawsCONCORD, N.C. — May 27, 2011 — Mother Nature dealt another blow to the World of Outlaws Sprint Car Series on Friday, May 27 just as the drivers meeting had wrapped up. Heavy rains and strong wind gusts pelted the 4/10th's mile track just northeast of downtown Charlotte throughout the afternoon and early evening until race officials determined that they would not be able to get the track race ready. The 'Greatest Show on Dirt,' will now run event following Saturdays Top Gear 300 NASCAR Nationwide race at nearby Charlotte Motor Speedway.
Pit gates will open at 2 pm on Saturday, May 28 with spectator gates opening at 5 p.m. Hot laps begin at 7:15, Qualifying at 7:45 and racing action begins at 8:15. For all ticketing questions, contact Charlotte Motor Speedway at www.CharlotteMotorSpeedway.com or by calling 1-800-455-FANS
Donny Schatz his charged to first victory of 2011 at the Attica (Ohio) Speedway Park on Friday, May 20th. Craig Dollansky and Tim Shaffer gave the four time champion all he could handle but Schatz prevailed for his 106th career win. Joining the trio in the top-5 was Sam Hafertepe Jr. and 2010 series champion Jason Meyers.
The live telecast on SPEED network will not be available on Saturday, May 28 but fans can watch all of the racing action on DIRTVision for just $9.99 at www.DIRTvision.com beginning at 7:30 p.m. Fans can also see highlights from the race on the Sunday edition of SPEED Center.
WINNERS – There have been 16 World of Outlaws Sprint Car Series A-Feature events in 2011. The winners include: Steve Kinser – 4 (Volusia Speedway Park on Feb. 11 and 12, Pike County Raceway on Feb. 25, the Dirt Track at Las Vegas on March 4); Joey Saldana – 3 (Las Vegas Motor Speedway on March 3, Thunderbowl Raceway on March 19, Eldora Speedway on May 6); Sammy Swindell – 3 (Royal Purple Raceway on Feb. 26, Merced Speedway on April 1, Tri-State Speedway on April 30); Craig Dollansky – 2 (Silver Dollar Speedway on March 12, Salina Highbanks Speedway on May 3);Jason Sides – 2 (Volusia Speedway Park on Feb. 13, Calistoga Speedway on April 2); Daryn Pittman – 1 (Williams Grove Speedway on May 13); Donny Schatz – 1 (Attica Raceway Park on May 20.)
NEW ONLINE HOME – Make sure to check out the all-new WorldofOutlaws.com for the latest news and results, plus exclusive driver interviews, video and pictures. Also listen to every event live at DIRTVision.com .
World of Outlaws Sprint Car Series Championship Standings, through May 20, 2011

| | | | | | | | |
| --- | --- | --- | --- | --- | --- | --- | --- |
| Pos. | Driver | Total | Diff | Wins | T5 | T10 | QT |
| 1. | Joey Saldana | 2241 | | 3 | 10 | 12 | 3 |
| 2. | Steve Kinser | 2214 | -27 | 4 | 7 | 14 | 1 |
| 3. | Donny Schatz | 2197 | -44 | 1 | 9 | 11 | 1 |
| 4. | Jason Meyers | 2146 | -95 | 0 | 5 | 12 | 1 |
| 5. | Jason Sides | 2145 | -96 | 2 | 7 | 12 | 1 |
| 6. | Craig Dollansky | 2120 | -121 | 2 | 7 | 10 | 1 |
| 7. | Paul McMahan | 2079 | -162 | 0 | 4 | 9 | 4 |
| 8. | Cody Darrah | 2029 | -212 | 0 | 4 | 8 | 0 |
| 9. | Sammy Swindell | 1993 | -248 | 3 | 8 | 9 | 2 |
| 10. | Lucas Wolfe | 1976 | -265 | 0 | 0 | 6 | 0 |
| 11. | Chad Kemenah | 1942 | -299 | 0 | 1 | 4 | 1 |
| 12. | Kraig Kinser | 1938 | -303 | 0 | 2 | 6 | 0 |
| 13. | Bill Rose | 1768 | -473 | 0 | 0 | 1 | 0 |
| 14. | Ben Gregg | 1598 | -643 | 0 | 0 | 0 | 0 |
| 15. | Sam Hafertepe Jr. | 1029 | -1212 | 0 | 2 | 5 | 0 |
| 16. | Lance Dewease | 982 | -1259 | 0 | 0 | 2 | 0 |
| 17. | Jac Haudenschild | 944 | -1297 | 0 | 1 | 2 | 0 |
| 18. | Terry McCarl | 804 | -1437 | 0 | 0 | 1 | 0 |
| 19. | Daryn Pittman | 780 | -1461 | 1 | 2 | 3 | 0 |
| 20. | Danny Lasoski | 763 | -1478 | 0 | 1 | 3 | 0 |