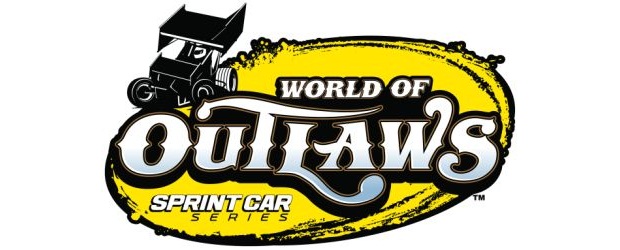 By Katie Boyer
CONCORD, N.C. – June 7, 2011 – The World of Outlaws Sprint Car Series make its way this weekend to the hallowed ground of Knoxville Raceway for the doubleheader Mediacom Shootout on Friday, June 10, and Saturday, June 11. Several weeks of intense racing action have tightened the standings, leaving only a 90-point margin between first and sixth, and fans don't have to miss a minute of the excitement this weekend at Knoxville. DIRTVision will have both nights available exclusively on a video Cybercast for only $19.95 at http://www.DIRTVision.com.
Last year it was Brooke Tatnell who took the Friday night win and Jac Haudenschild who won on night number two. So who will it be this weekend? Paul McMahan has been on a tear the past two weeks, shattering track records, earning his seventh quick time of the season, and earning two series wins in the past two weekends. Steve Kinser is another driver who has been making his presence known in the chase for his 21st series championship. After a wrist injury that required surgery after a violent crash at I-96 only just over a week ago, he put on a show for fans at Lakeside Speedway and took the win, adding to his lead for most wins this season, with four of his five victories coming on half-mile tracks similar to Knoxville. Current points leader Joey Saldana and Jason Sides, who sits sixth in the standings, have each won two races this season on half-mile tracks. Sammy Swindell is another force to be reckoned with. Although he hasn't won a World of Outlaws race at Knoxville since 1999, his previous finishes at the half-mile speak for themselves, with more than a dozen wins.
On Friday and Saturday, the action begins at 6:45 p.m. central standard time. It's free to register and listen, and it's only $19.95 for two full nights of racing. You don't want to miss this!
The next DIRTVision video Cybercast will be the opening rounds of the World of Outlaws Late Model Series Firecracker 100 June 23-24 from Lernerville Speedway. Other upcoming Cybercasts include the World of Outlaws Sprint Car Series Don Martin Memorial Silver Cup on July 19 and the Commonwealth Clash on Sept. 24. For the full Cybercast schedule, click the 2011 Cybercast Schedule at DIRTVision.com.
Fans can follow DIRTVision on Twitter by clicking http://twitter.com/dirtvision.
For technical questions about DIRTVision, please e-mail DIRTVision@dirtcar.com.
DIRTVision.com is brought to fans around the world by several important sponsors and partners, including ButlerBuilt Professional Seat Systems and Aggressive Hydraulics.